We've rounded up our best soup recipes for one! Each of these soup recipes is easy to make, incredibly delicious and will serve one or maybe two people. These soups are pure comfort in a bowl! From French Onion Soup to Broccoli Cheddar Soup, you are sure to find a few favorites.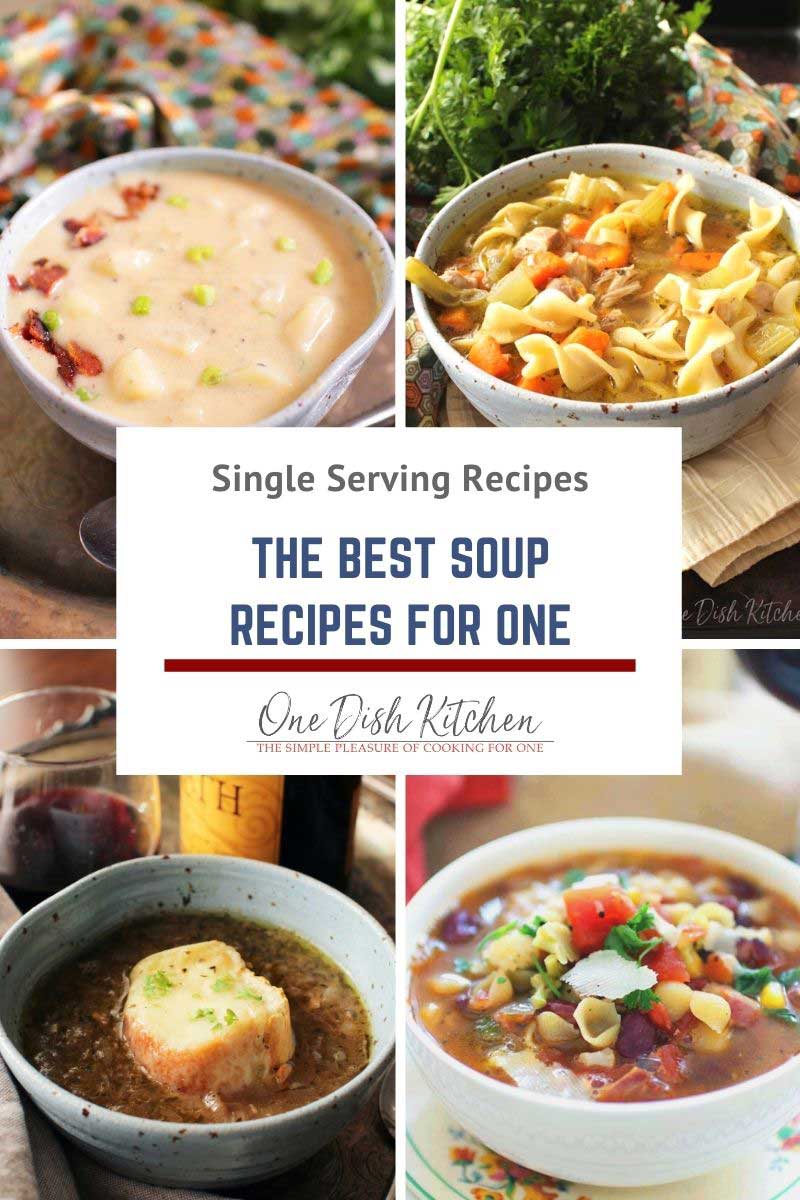 Nothing beats a big bowl of hot, hearty soup when you're thinking about lunch or dinner. We've rounded up our best fall soup recipes for one (or maybe 2), an outstanding stew recipe for one, and a few fantastic side dish recipes that are perfect to enjoy with a big bowl of soup.
There are few things more comforting than a big bowl of soup on a cool evening - in fact, quick-cooking soups such as the ones we have here make the ultimate weeknight meal.
Nearly every one of the soup recipes listed below cook quickly and don't need a whole lot of fancy ingredients. In fact, you might just decide to make a new soup every night of the week.
Why These Recipes Work
Each of these soup recipes are very easy to make.
No fancy ingredients are needed.
Every soup recipe listed will serve one or possibly two people.
RELATED: 4 Single Serving Pumpkin Recipes
Soup Recipes
These small batch soup recipes are sure to warm you up from head to toe. They're each easy to make and so good too!
When you click on each recipe, be sure to see the many ways we suggest using up any leftover ingredients.
Sometimes, a comforting bowl of soup is all you need. These easy soup recipes are our absolute favorites and I hope you find a few you really enjoy.
RELATED: The Best Cookie Recipes For One
Expert Tips
If you'd like to make two servings of any of these soup recipes, double the ingredients.
If you'd like to make your soup creamier, add a little heavy cream of plain yogurt.
If you would like to freeze any soup made with pasta, leave the pasta out and add it when you are ready to eat the soup. Freezing pasta can make the noodles mushy.
Consider garnishing your soup with cooked and crumbled bacon, chopped fresh herbs or cilantro, or a sprinkling of shredded cheese.
Frequently Asked Questions
Best Side Dishes To Serve With These Soup Recipes
RELATED: 20 Single Serving Breakfast Recipes Worth Waking Up For
For more information on the cooking and baking dishes I use in our "recipes for one", please visit our FAQ page.
For examples of the dishes used at One Dish Kitchen, please visit our Store page.
RELATED: Empty Nest Recipe Ideas - The Joy Of Cooking For Two
If you've tried any of these soup recipes or any recipe on One Dish Kitchen please let me know how you liked it by rating the recipe and telling me about it in the comment section below.
If you take a picture please tag us on Instagram (@onedishkitchen) we'd love to see it!