We've rounded up our best soup recipes for one! Each of these soup recipes are easy to make, incredibly delicious, and will serve one or maybe two people. These soups are pure comfort in a bowl! From French Onion Soup to Broccoli Cheddar Soup, you sure to find a few favorites.
Nothing beats a big bowl of hot, hearty soup when you're thinking about lunch or dinner. We've rounded up our best fall soup recipes for one (or maybe 2), an outstanding stew recipe for one, and a few fantastic side dish recipes that are perfect to enjoy with a big bowl of soup.
There are few things more comforting that a big bowl of soup on a cool evening – in fact, quick cooking soups such as the ones we have here make the ultimate weeknight meal.
Nearly every one of the soup recipes listed below cook quickly and don't need a whole lot of fancy ingredients. In fact, you might just decide to make a new soup every night of the week.
RELATED: 4 Single Serving Pumpkin Recipes
Soup Recipes
These soup recipes are sure to warm you up from head to toe. Each soup recipe is easy to make and so good too!
Broccoli Cheddar Soup For One
This Broccoli Cheddar Soup Recipe For One is adapted from my family's favorite Broccoli Cheddar Soup recipe. Creamy, extra cheesy and filled with broccoli.
Check Out This Recipe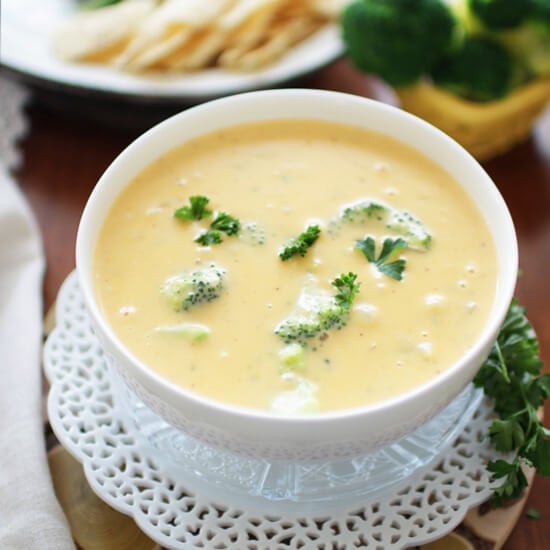 Curried Butternut Squash Soup For One
This outstanding butternut squash soup recipe is so easy to make. Sweetened with a touch of honey, it can be ready in less than 30 minutes! It's a healthy, hearty, delicious single serving meal!
Check Out This Recipe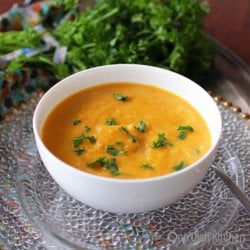 French Onion Soup For One
French Onion Soup For One, a simple recipe made with caramelized onions, broth, French bread and creamy Gruyere cheese. A single serving version of a French bistro classic.
Check Out This Recipe
Spicy Thai Shrimp Soup For One
This Spicy Thai Shrimp Soup For One is flavored with lemongrass, ginger and peppers and is filled with mushrooms, shrimp and bok choy. A hearty and flavorful single serving recipe that's so easy to make!
Check Out This Recipe
Minestrone Soup For One
Minestrone Soup Recipe – Easy single serving soup recipe made with vegetables, bacon and pasta. The perfect recipe when you are craving a great bowl of hearty soup but don't want the leftovers.
Check Out This Recipe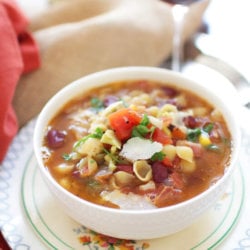 Curried Carrot Soup For One
You'll love the spices in this Curried Carrot Soup For One. It's easy to make, hearty and tastes incredible!
Check Out This Recipe
Chicken Soup For One
This homemade chicken soup is hearty and perfectly satisfying for those times you find yourself craving something to warm your heart and soul. No need to make a huge pot, this wonderful recipe will serve one or two people.
Check Out This Recipe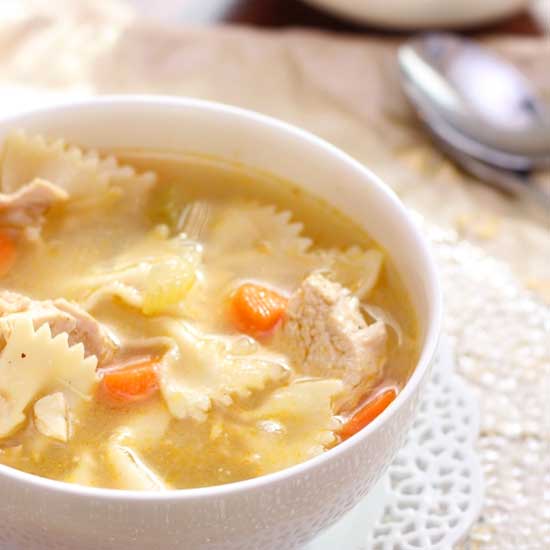 Beef Stew For One
A hearty, classic Beef Stew filled with amazingly tender beef, onions, carrots, and potatoes. You'll love how easy this stew is to make and how rich and satisfying it tastes! This recipe makes the ideal amount for one person.
Check Out This Recipe
Sometimes, a comforting bowl of soup is all you need. These easy soup recipes are our absolute favorites and I hope you find a few you really enjoy.
RELATED: The Best Cookie Recipes For One
Best Side Dishes To Serve With These Soup Recipes
RELATED: 20 Single Serving Breakfast Recipes Worth Waking Up For
For more information on the cooking and baking dishes I use in our "recipes for one", please visit our FAQ page.
For examples of the dishes used at One Dish Kitchen, please visit our Store page.
Join us to share your favorite single serving recipes and find new ones too. We'd love to see you there!
Click HERE to join the community!
RELATED: Empty Nest Recipe Ideas – The Joy Of Cooking For Two
SUBSCRIBE NOW!

Sign up and receive the latest

Recipes for One

and other bonus content.

Connect with Us!
Be sure to follow us on social media so you never miss a post!
Facebook | Twitter | Pinterest | Instagram
This post contains affiliate links.  If I like a product and that product has an affiliate program, then I will link to that product using an affiliate link.  Using this link means that, at zero cost to you, I might earn a commission on a product if you buy something through my link. Click here to read my full disclosure policy.
We are a participant in the Amazon Services LLC Associates Program, an affiliate advertising program designed to provide a means for us to earn fees by linking to Amazon.com and affiliated sites.