We've gathered our easy single serving and Small Batch Christmas Cookie Recipes that have all been reader tested, approved, and loved by many. From chocolate chip cookies and sugar cookies to fun, specialty cookies, you're sure to find many new small batch cookie recipes to try.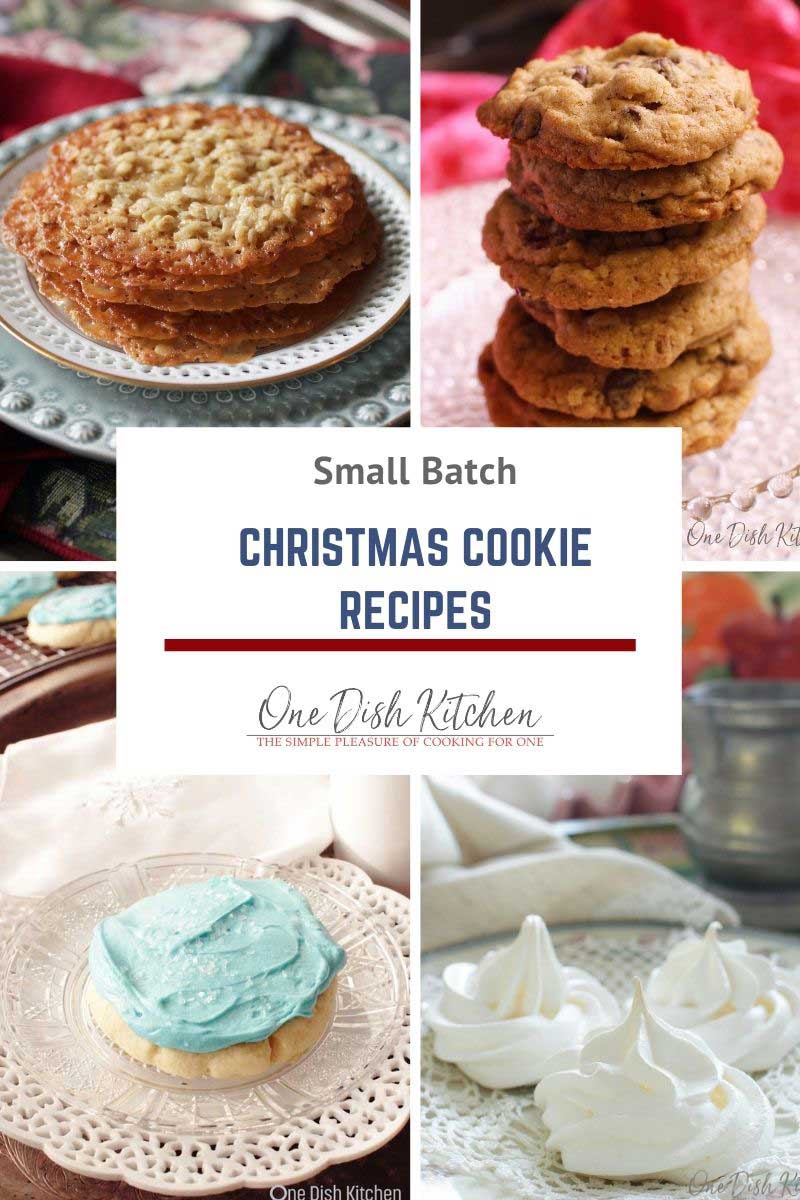 It's hard to believe it's December already and time to start baking Christmas cookies! Here we've gathered our most popular small batch Christmas cookie recipes for you to enjoy.
Sometimes you just need a cookie – not two dozen – just one, two, or maybe even a few more. These small batch and single serving cookie recipes are the absolute best! Each of these cookie recipes have been scaled down and tested and are guaranteed to make every cookie lover happy.
When you are cooking for one or two, you often don't want to make a large batch of cookies. Sure you can keep the extra cookies in a cookie jar but really, who wants to eat the same cookies for weeks? Fresh, warm from the oven, homemade cookies are simply wonderful so why not make a single cookie or a small batch of cookies whenever you want.
Table of Contents
Why These Recipes Work
All of these cookie recipes are easy to make and many are made with pantry staples.
They all bake quickly so you won't have to wait long to satisfy a cookie craving!
These are all small batch recipes so you won't be left with too many.
Within each Christmas cookie recipe post, we share ways that you can use up any leftover ingredients so there's no waste!
Each of the easy Christmas cookie recipes are accessible by clicking the link for each recipe and then going to the bottom of the specific recipe's page.
RELATED: 15 Easy Dessert Recipes For One
Small Batch Cookie Recipes
RELATED: Easy Single Serving Dessert Recipes
Expert Tips
Measure flour correctly. To measure flour correctly, use a spoon to scoop flour into a measuring cup made for dry ingredients and slightly overfill it. Then, use the back of a knife or other straight-edged utensil to level the flour across the cup. Do not scoop the flour. When you scoop, the flour gets packed too tightly and you will end up with more flour than the recipe calls for.
Use a baking mat or parchment paper to line your cookie sheet. I don't recommend coating your baking sheet with butter or oil spray because it creates an overly greasy sheet that will make your cookies spread.
Frequently Asked Questions
How Do I Soften Butter?
The best way to soften your butter is to put it out on the kitchen counter for a half hour before you want to use it. Another way to quickly soften butter is to put the cold butter in the microwave for 10 to 15 seconds. If you use this method, be sure to watch carefully – you don't want the butter to melt at all.
Do I Need To Sift Flour When Baking Cookies?
Not for any of our small batch cookies. However, measuring flour accurately is critical to the success of your cookies. Use the spoon and level method described in the "Expert Tips" section if you do not have a kitchen scale.
Why Do My Cookies Seem To Require An Extra Few Minutes Of Baking Time?
First, check to make sure that your oven is heating correctly. You can do this by placing an oven thermometer inside your oven and heating the oven to 350 F. Watch to see that the oven thermometer registers the same temperature as your oven.

If the oven thermometer registers lower than the setting, increase the oven temperature by a few degrees. If the thermometer registers higher than the setting, remove the cookies a few minutes sooner.
For information on the cooking and baking dishes I use in our "recipes for one", please visit our FAQ page.
Examples of the dishes used at One Dish Kitchen can be found at our Store page.
If you like these cookie recipes, you might also like to browse through our other single serving recipe sections:
If you've tried any of these cookies or any recipe on One Dish Kitchen please let me know how you liked it by rating the recipe and telling me about it in the comment section below.
Also, if you take a picture please tag us on Instagram (@onedishkitchen) we'd love to see!