Looking to level up from your standard chocolate chip offerings? Introduce your tastebuds to our small batch Cowboy Cookies, inspired by none other than Laura Bush's Texas Governor's Mansion Cookies. These generously-sized cookies come packed with oats, chocolate chips, and pecans, and you have the option to include coconut.
Unlike our usual small batch options, this recipe delivers more cookies—although still not as many as the original—making them perfect for sharing or sending in care packages. So if you're craving a cookie with a little something extra, our Cowboy Cookies offer that satisfying, legendary taste you've been seeking.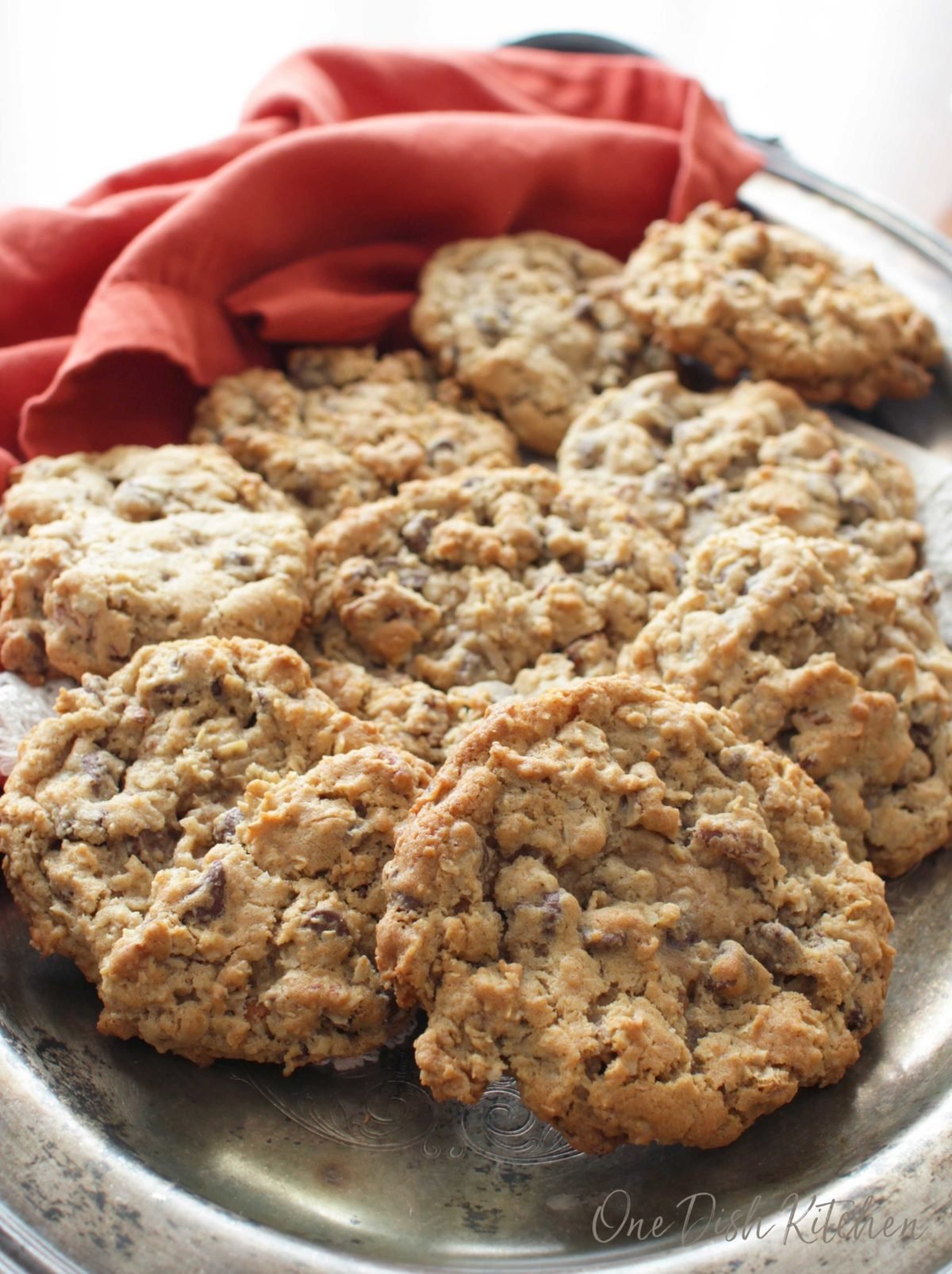 If the rustic charm of this half batch cowboy cookies recipe has won you over, you'll love exploring our other delightful small batch cookie recipes. Experience the classic joy of our gooey Chocolate Chip Cookies, the melt-in-your-mouth Butter Cookies, and the crumbly, buttery Shortbread Bites.
Back when my family lived in Austin, I discovered an unforgettable cookie recipe in our community newspaper. Known both as Cowboy Cookies and Laura Bush's Texas Governor's Mansion Cookies, these sizable treats come loaded with a medley of scrumptious ingredients. Trust me, they're not your average cookie!
Why You'll Love This Recipe
Enormous Cookies!: We're talking Texas-sized, my friends. This recipe yields a small batch of incredibly delicious cookies that you won't be able to resist.
Tested and Perfected: I've made these cookies more times than I can count. This scaled-down recipe maintains all the flavors of the original.
Great for Gifting: Because they ship so well, these cookies are perfect for college care packages or as surprise treats for loved ones.
Versatile: Whether it's breakfast on the go or a late-night snack, these cookies fit the bill.
The Origin And History Of Cowboy Cookies
In 2000, Family Circle Magazine hosted a cookie cook-off featuring recipes from the wives of that year's presidential candidates: Laura Bush and Tipper Gore. Laura Bush entered the contest with her Texas Cowboy Cookies, a rich blend of chocolate and pecans, and ultimately took home the win. These winning cookies have since become a staple, renowned for their hearty texture and robust flavors.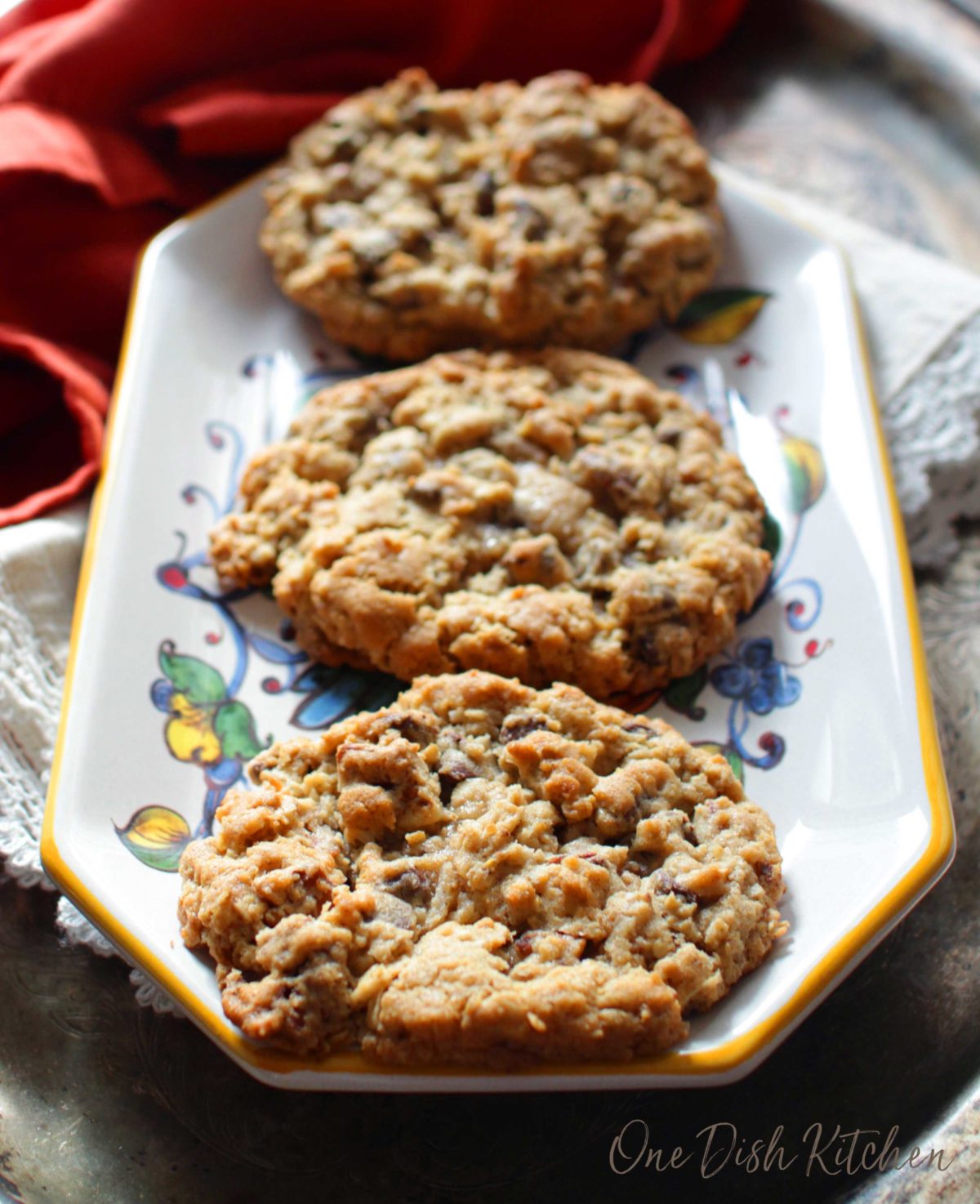 RELATED: The Best Cookie Recipes For One
Ingredients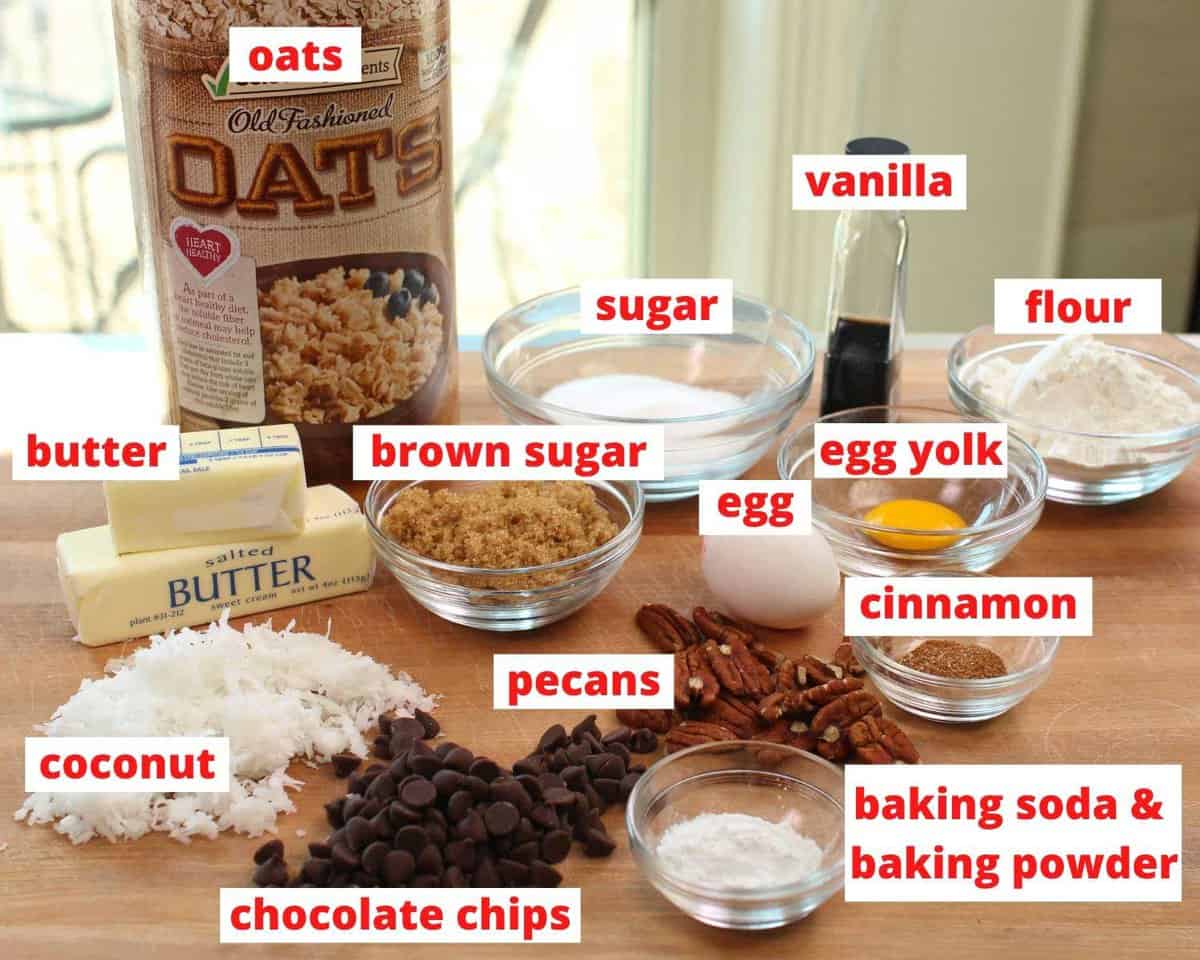 Butter: Opt for softened, salted butter rather than margarine for the best flavor and texture.
Brown sugar and granulated sugar: This recipe calls for a mix of both brown and granulated sugar. The molasses in the brown sugar contributes to a softer, chewier cookie when combined with butter.
Egg: Use one whole egg plus an extra yolk for added richness and structure. Be sure to save the egg white and use it in one of our many egg white recipes like a mini Texas Sheet Cake, Two Vanilla Cupcakes, or a small White Cake.
Vanilla extract and cinnamon: These two ingredients enhance the cookie's flavor profile, making each bite more memorable.
Flour: Stick with all-purpose flour for consistent results.
Baking powder and baking soda: These leavening agents give the cookies the perfect lift, making them fluffy and delicious.
Chocolate chips: While semi-sweet chocolate chips are my go-to, you're welcome to switch things up with dark chocolate, white chocolate, or even butterscotch chips. Use any extra chocolate chips in a Chocolate Chip Muffin or in a Deep Dish Chocolate Chip Cookie.
Oats: For the best texture, use old-fashioned rolled oats.
Shredded coconut: This ingredient is a classic in Texas Governor's Mansion cookies, but it's optional if coconut isn't your thing. If you've got a little bit of coconut leftover, consider using it a small batch of refreshing Ambrosia.
Pecans: Adding chopped pecans gives the cookies a satisfying crunch. Walnuts are a suitable alternative if you prefer. You might enjoy leftover pecans in a mini Pecan Pie!
This is just an overview of the ingredients I used and why I used them. For the full recipe please scroll down to the recipe box at the bottom of the post.
RELATED: 15 Dessert Recipes For One
Recipe Variations
We all know the classic Cowboy Cookie is hard to beat, but if you're in the mood to experiment, I've got some interesting twists for you.
Nut-Free Cowboy Cookies: If you're dealing with nut allergies, skip the pecans and add in an extra handful of oats or even some sunflower seeds for crunch.
White Chocolate and Macadamia Nut Cowboy Cookies: Sub out the semi-sweet chocolate chips for white chocolate chips, and replace the pecans with macadamia nuts. You get a creamy, rich texture that feels luxurious.
Dark Chocolate and Almond Cowboy Cookies: Swap in dark chocolate chips and sliced almonds. The richness of the dark chocolate pairs perfectly with the slight bitterness of the almonds.
Peanut Butter Chip and Peanut Cowboy Cookies: If you're a peanut lover, this one's for you. Use peanut butter chips instead of chocolate chips and throw in some chopped peanuts for an added crunch.
Butterscotch Chip and Walnut Cowboy Cookies: Swap the chocolate chips for butterscotch chips and use walnuts in place of pecans. The butterscotch brings sweetness, while walnuts offer an earthy contrast.
Mint Chocolate Chip and Hazelnut Cowboy Cookies: Replace the standard chips with mint chocolate chips and toss in some chopped hazelnuts. The mint offers a refreshing note, and hazelnuts add a different kind of nutty goodness.
Feel free to let your imagination run wild and come up with your own dreamy combinations. The world of Cowboy Cookies is as limitless as your creativity!
How To Make Cowboy Cookies
Mix the butter and sugars together.
Add the egg, egg yolk, and vanilla and mix well.
In a separate bowl, whisk together the flour, baking powder, baking soda, and cinnamon.
Add the dry ingredients to the wet ingredients and mix until combined.
Stir in chocolate chips, oats, coconut, and pecans.
Scoop and place the balls of cookie dough on a baking sheet. Be sure to space the cookies 3-inches apart.
Bake for 15-18 minutes.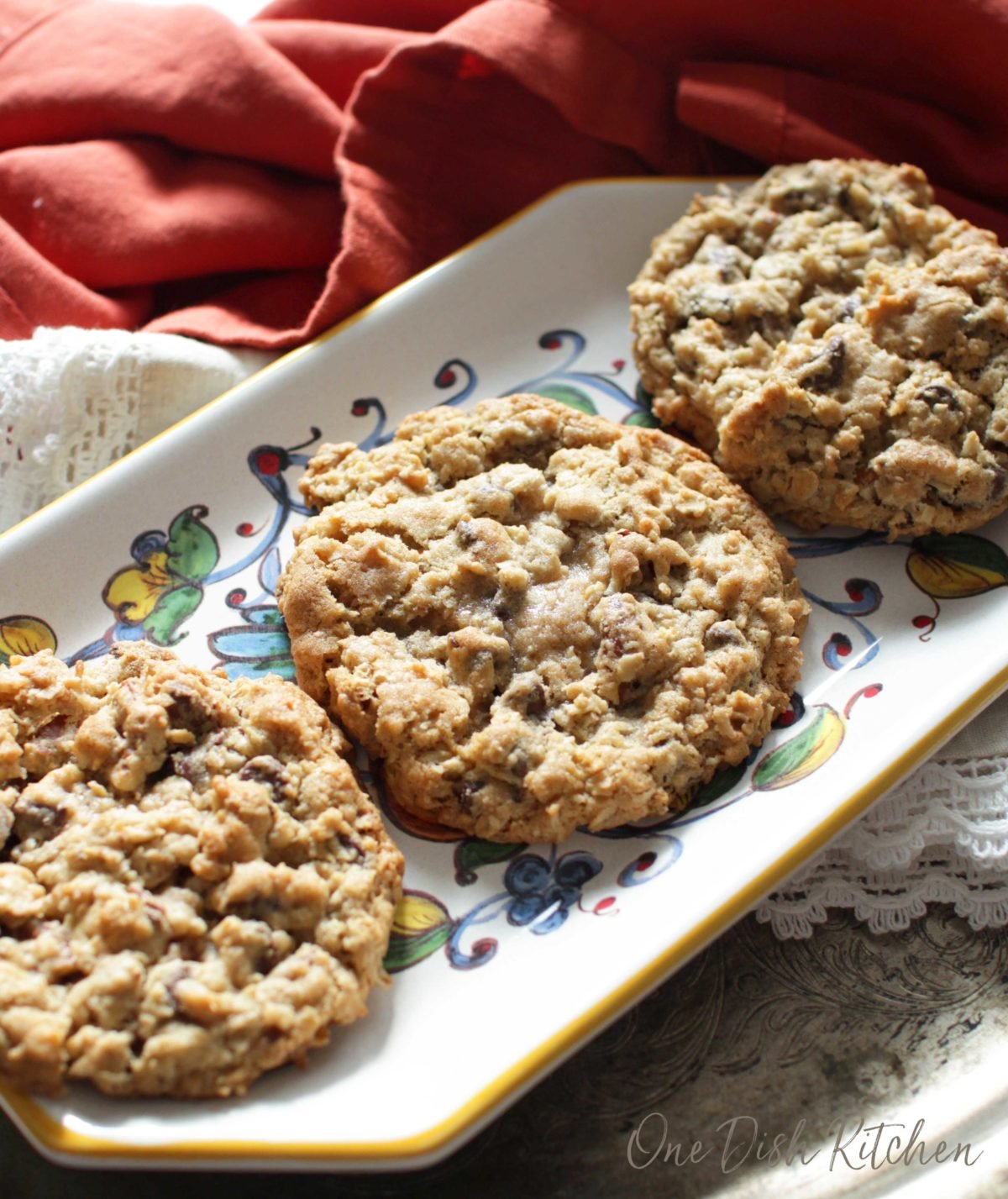 Expert Tips
Softened Butter is Key: For this small batch Cowboy Cookies recipe, it's crucial to use softened butter, which is still cool to the touch. A simple test is to press your finger into the butter; it should leave an indentation. The optimal way to achieve this consistency is to let the butter sit at room temperature for about 30 minutes before you start baking.
Accurate Flour Measurement: Utilize the spoon and level technique for precise flour measurement. Spoon the flour into a dry measuring cup until it's slightly heaped. Next, level off the excess using a straight-edged knife or utensil. Avoid scooping directly with the cup as this compacts the flour, resulting in more than the intended amount for the recipe.
Uniform Cookie Size: For consistently sized cookies, deploy a medium-sized ice cream scoop when portioning out your dough. This ensures each cookie bakes evenly and has a similar size.
Serving Suggestions
Craving more than just a cookie? You're in the right place! Transform your Cowboy Cookies into show-stopping desserts with these creative ideas:
Ice Cream Sandwich: Place a scoop of vanilla ice cream between two cookies.
Cookie Sundae: Crumble one cookie over a bowl of ice cream and drizzle with chocolate sauce and whipped cream.
Cookie Trifle: Layer cookies, whipped cream, and your favorite fruit in a tall glass.
Frequently Asked Questions
How do I store cowboy cookies?
Store the cookies in an airtight container. They will stay fresh for up to 1 week.
Can I freeze cowboy cookies?
Absolutely, they freeze well for up to 3 months.
How many cookies will this recipe yield?
This half batch cookie recipe will yield between 12-18 cookies depending on how large you make the cookies.
Do I need to chill the cowboy cookie dough before baking?
No, the dough does not need to be chilled first.
Can I use walnuts instead of pecans?
Yes. Walnuts are a great substitute for pecans in this recipe.
Ways To Use Leftover Ingredients
If you have any ingredients leftover from this recipe, check out our Leftover Ingredients Recipe Finder or you might like to consider using them in any of these single serving and small batch recipes:
Other Must-Try Small Batch Cookie Recipes
Explore a world of flavors with these other irresistible small batch cookie recipes that satisfy your sweet tooth without overwhelming your kitchen.
For information on the cooking and baking dishes I use in our "recipes for one", please visit our FAQ page.
For examples of the dishes used at One Dish Kitchen, please visit our Store page.
If you've tried this small batch cowboy cookie recipe or any recipe on One Dish Kitchen please let me know how you liked it by rating the recipe and telling me about it in the comment section below.
Also, if you take a picture please tag us on Instagram (@onedishkitchen) we'd love to see it!
---
Your Cooking For One Source
Because you're worth it
Small Batch Cowboy Cookies
Cowboy Cookies, also known as Texas Governor's Mansion Cookies – these famous jumbo cookies are filled with oats, chocolate chips, pecans, and coconut and are spectacular! You'll love this half batch recipe for these soft and chewy cookies.

Ingredients
12

tablespoons

salted butter

softened (1 ½ sticks)

¾

cup

brown sugar

¾

cup

sugar

1

large

egg

1

large

egg yolk

1

teaspoon

vanilla extract

1 ½

cups

all purpose flour

1 ½

teaspoon

baking powder

1 ½

teaspoon

baking soda

1 ½

teaspoon

ground cinnamon

1 ½

cups

semi sweet chocolate chips

1 ½

cups

old fashioned oats

1

cup

unsweetened shredded coconut

1

cup

pecans

chopped
Instructions
Heat oven to 350 degrees F (177 degrees C).

In a large mixing bowl, beat butter on medium speed until smooth and creamy, about 1 minute. Add in the sugars and mix well for 2 minutes, scraping down the sides of the bowl if necessary.

Add the egg and egg yolk and beat well.

Beat in the vanilla.

In a separate bowl, mix the flour, baking powder baking soda and cinnamon together.

Slowly add the flour mixture to the butter mixture and stir until just combined.

Stir in the chocolate chips, oats, coconut, and pecans.

Scoop out ¼ cup of the cookie dough and place on a parchment or silpat lined baking sheet. Space the cookies 3-inches apart.

Bake in the oven for 15 to 18 minutes, until the edges are lightly browned. Remove from the oven and let cookies remain on baking sheet for 2 minutes. Transfer cookies to baking rack to continue cooling.
Notes
Expert Tips
Use softened butter, not cold butter in this small batch Cowboy Cookies recipe. Softened butter should still be cool to the touch but when you press your finger into the butter, your finger will leave an indentation. The best way to soften butter is to put it out on the kitchen counter for a half hour before you want to use it.
Measure the flour by using the spoon and level method. To measure flour correctly, use a spoon to scoop flour into a dry measuring cup and slightly overfill it. Then, use the back of a knife or other straight-edged utensil to level the flour across the cup. Do not scoop the flour. When you scoop, the flour gets packed too tightly and you will end up with more flour than the recipe calls for.
Use a medium-sized ice cream scoop to measure out the cookie dough. This way the cookies are all about the same size.
Nutrition
Serving:
1
serving
,
Calories:
322
kcal
,
Carbohydrates:
40
g
,
Protein:
4
g
,
Fat:
21
g
,
Saturated Fat:
11
g
,
Cholesterol:
31
mg
,
Sodium:
168
mg
,
Potassium:
223
mg
,
Fiber:
3
g
,
Sugar:
23
g
,
Vitamin A:
260
IU
,
Vitamin C:
0.2
mg
,
Calcium:
50
mg
,
Iron:
2.2
mg
The information shown is an estimate provided by an online nutrition calculator. It should not be considered a substitute for a professional nutritionist's advice.
Receive Our Latest Single Serving Recipes!