Dining solo this Thanksgiving or are you preparing for a Thanksgiving meal on a smaller scale? You will love these wonderful single serving and small batch Thanksgiving dinner menu ideas. These "Thanksgiving for one" recipe ideas include recipes for turkey, dressing, side dishes, and desserts. Perfect for one or two. Your complete Thanksgiving menu!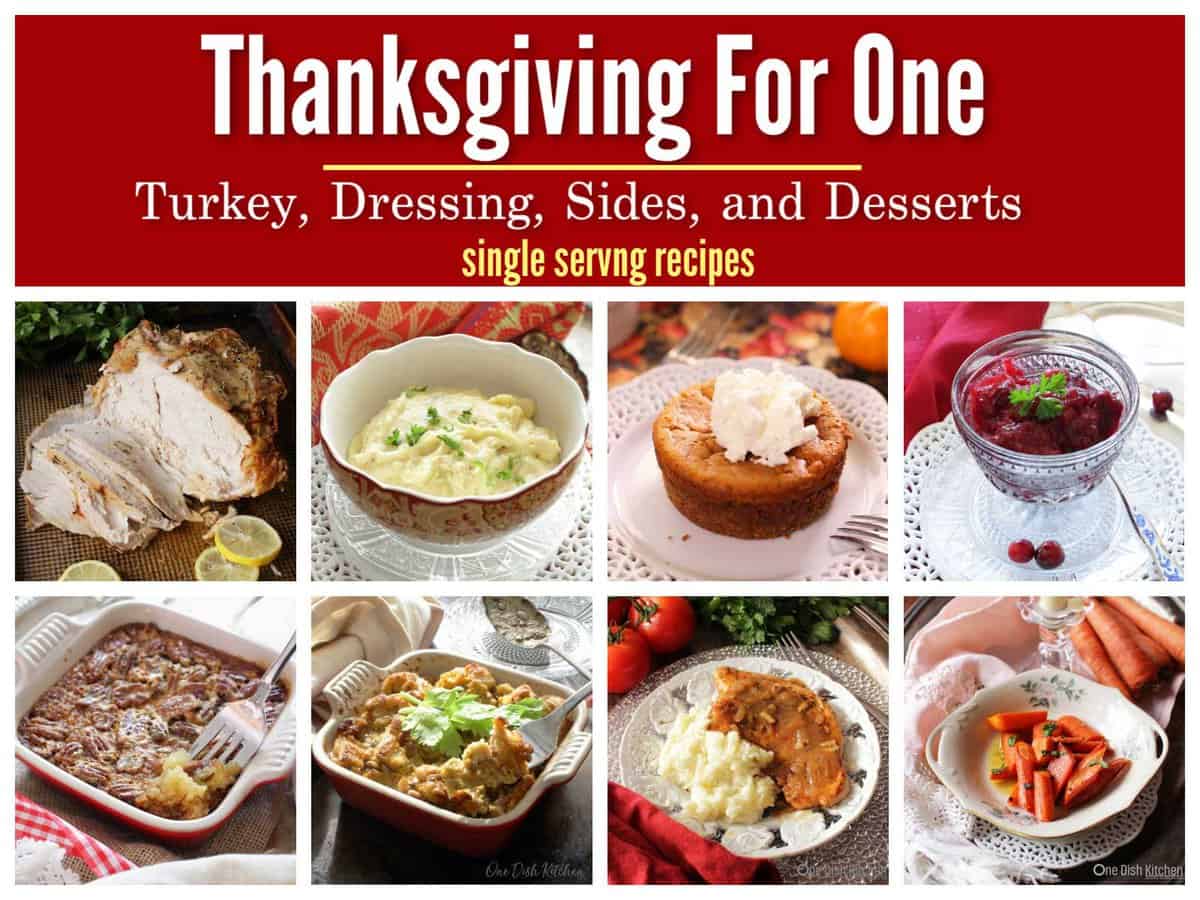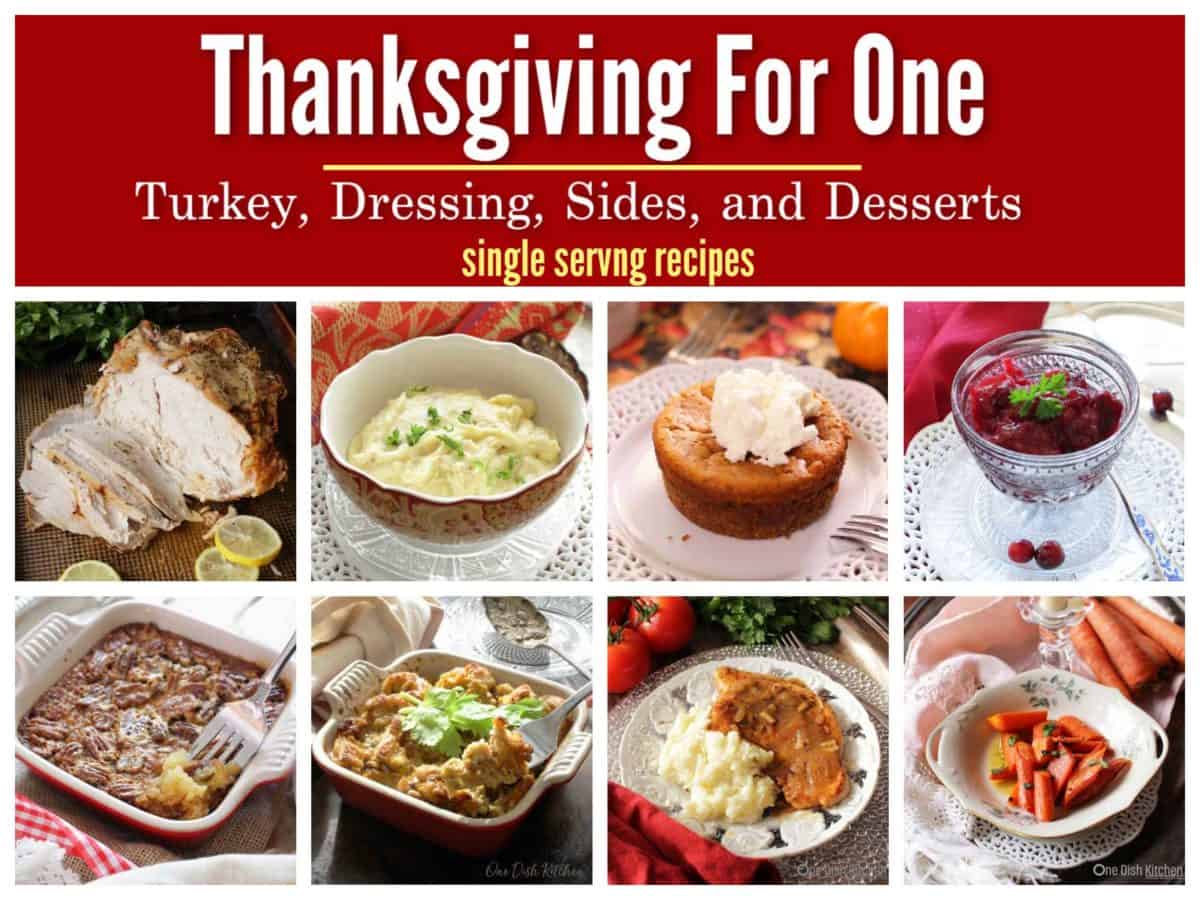 Whether by choice or by circumstance, enjoying a Thanksgiving meal without a crowd can indeed be a blessing to be thankful for. No special Thanksgiving menu to think about, no spirited talk of politics, just a peaceful meal.
If you're used to sharing Thanksgiving with extended family and friends, this year might look a little different. This is actually the perfect time to create a new menu, make new memories and start new traditions. With these single serving and small batch Thanksgiving recipes, you can create your own menu by picking and choosing a few recipes listed below or make them all - after all, there's nothing better than Thanksgiving leftovers, right?
Why These Recipes Work
They're all single serving recipes so you won't have too many leftovers to deal with.
If you're celebrating Thanksgiving with a small group, you might find these recipes to be perfect amount for your gathering.
Each of these recipes are easy to make and don't require fancy ingredients.
The Turkey
When you think of a Thanksgiving menu, you most likely think about cooking a turkey. If you're cooking for one, you won't want to cook a whole turkey. Instead, consider cooking a turkey breast or turkey cutlets. Both will yield the perfect amount for one (or possibly two).
You might also want to consider making a turkey roast. This will leave you with some leftover turkey which would be perfect to use in sandwiches or to use in place of chicken in chicken soup, chicken salad or chicken pot pie.
The Sides
The key to a wonderful Thanksgiving meal are often the side dishes. Don't worry, we've got you covered here too.
From a traditional sweet potato casserole to mashed potatoes and dressing to everything in between, we've got personal sized recipes galore.
The Desserts
Last but certainly not least are Thanksgiving desserts. Perhaps the most important part of all Thanksgiving recipes - we're sharing single serving pecan pie, apple pie, and of course, pumpkin pie.
RELATED: Apple Recipes For One
So you see, you can still enjoy the turkey and all the trimmings in single serving sizes. So scroll down to see the entire Thanksgiving dinner menu with all of our single serving recipes.
From the turkey to the dessert, we've got you covered.
---
Thanksgiving Dinner For One Recipes
Thanksgiving Side Dish Recipes For One

RELATED: 20 Single Serving Dessert Recipes Worth Waking Up For
Thanksgiving Dessert Recipes For One
RELATED: Recipes For Empty Nesters
Frequently Asked Questions
Expert Tips
Plan your menu as soon as you can. This way you can gather the ingredients you need for the recipes you make early and not have to search for items that may be out of stock at the store.
Read through the recipes you'd like to make to determine which ones can be made ahead of time so that you are not cooking everything all at once.
If you're cooking for just you this year, bring out the nice linens and use the good plates. You are special and worth it!
If you would like information on the cooking and baking dishes I use in our "recipes for one", please visit our FAQ page.
For examples of the dishes used at One Dish Kitchen, please visit our Store page.
We have a COOKING FOR ONE Facebook group. Join us to share your favorite single serving recipes and find new ones too. We'd love to see you there!
Click HERE to join the community!
If you've tried any of these Thanksgiving recipes or any recipe on One Dish Kitchen please let me know how you liked it by rating the recipe and telling me about it in the comment section below.
Also, if you take a picture please tag us on Instagram (@onedishkitchen) we'd love to see!