Savor the perfect single serving Italian meatball, rich in flavor and tradition. An indulgent treat made simple, just for you.
When you crave the rich, hearty flavors of classic Italian meatballs but aren't cooking for a crowd, this single meatball recipe has you covered. Savor the delight of one perfectly seasoned, giant meatball bursting with flavor and ideal for an indulgent solo meal.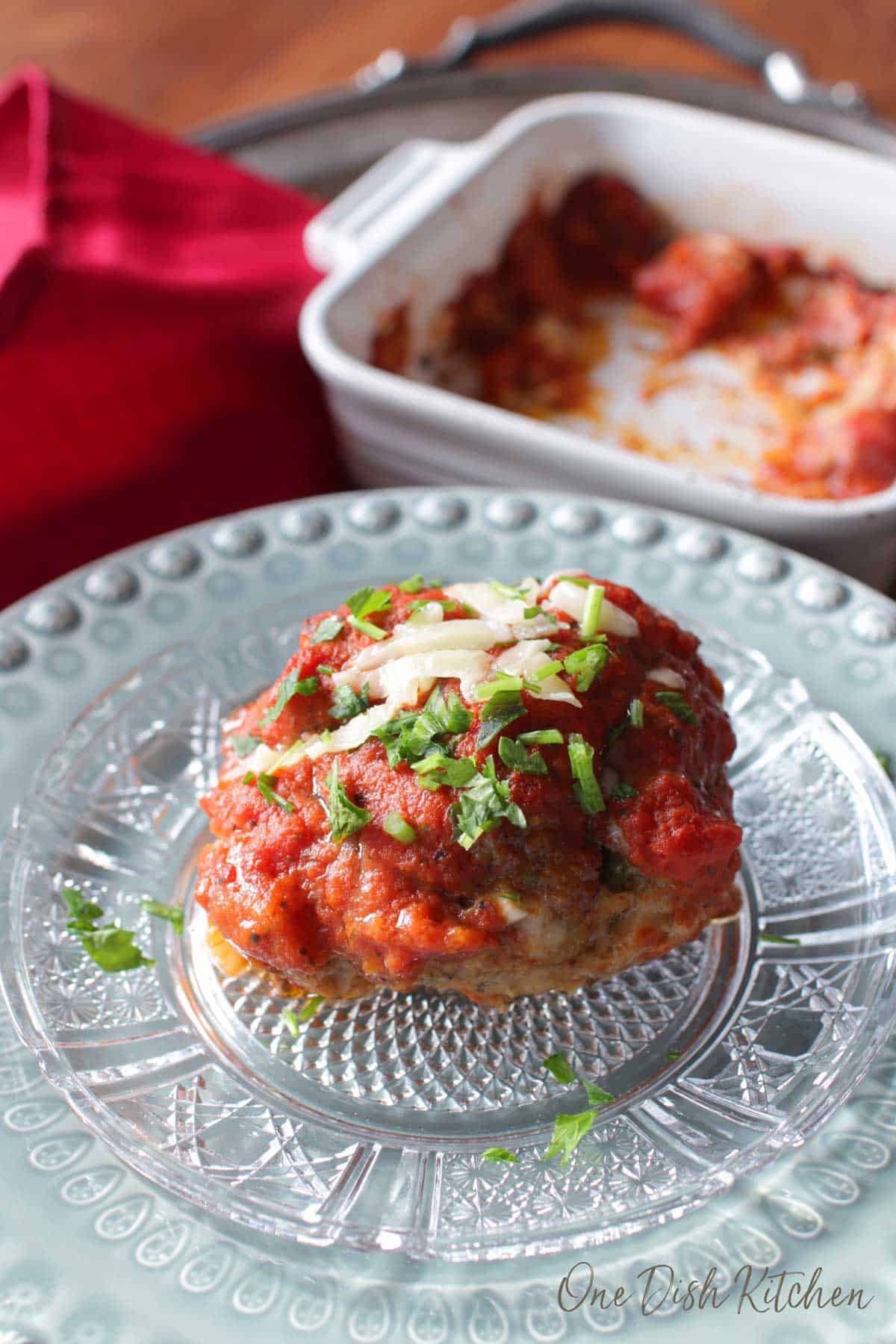 Why You'll Love This Meatball Recipe
Flavorful: Every bite is a symphony of Italian seasonings and rich beef.
Satisfying: One meatball is hearty enough to satiate your meatball cravings.
Quick: Few ingredients and simple steps make this a speedy meal solution.
Versatile: Dress it up with your choice of sauce or sides.
Perfect for Solo Dining: Designed to be the ideal serving for one.
RELATED: Easy Dinner Ideas For One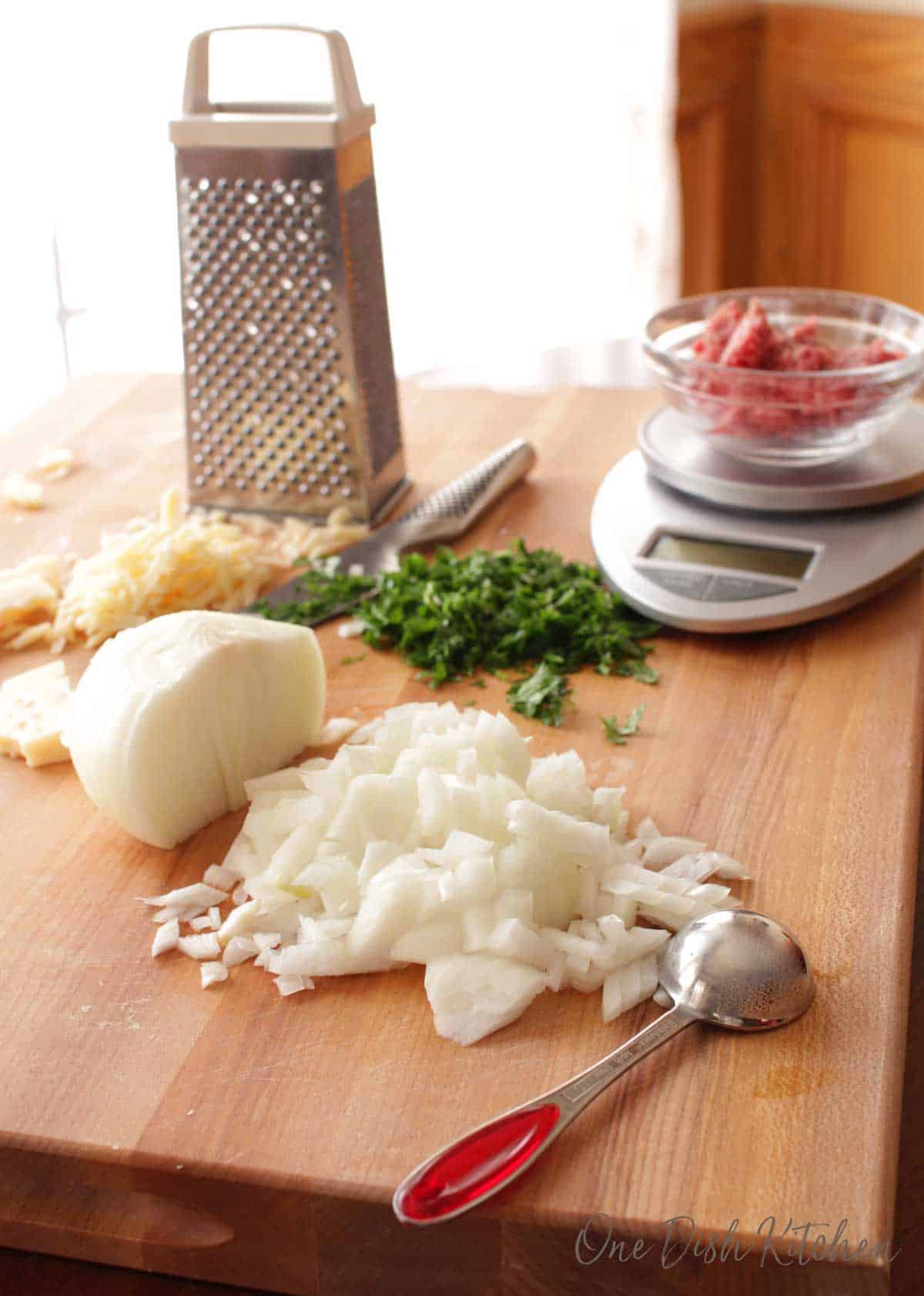 Ingredient Notes And Substitutions
Ground Beef: The primary protein, providing a rich taste. Ground turkey or chicken can be alternatives for a leaner option.
Onions: Onions add a layer of depth and flavor to the meatball mixture. Use shallots or green onions for a milder flavor, or 1/8 teaspoon of onion powder if fresh onions aren't available.
Breadcrumbs: Gives texture and holds the meatball together. Gluten-free breadcrumbs are a great alternative.
Parmesan Cheese: Adds a sharp flavor kick. Try pecorino romano for a bolder flavor.
Egg yolk: The yolk helps bind the meatball mixture and adds moisture.
Garlic powder: Adds a punch of flavor to the meat mixture. Use minced fresh garlic, or granulated garlic if you're in a pinch.
Italian seasoning: A blend of herbs that provides the classic Italian flavor. A homemade mix of dried basil, oregano, rosemary, and thyme will work well too.
Chopped parsley: Offers a fresh element and vibrant color. If parsley is not available to you, use chopped fresh basil or cilantro, depending on your taste preference.
This is just an overview of the ingredients I used and why I used them. For the full recipe please scroll down to the recipe box at the bottom of the post.
How To Make A Meatball
These photos and instructions help you visualize how to make one giant Italian meatball. See the recipe box below for ingredient amounts and full recipe instructions.
Mix the ingredients together and form the meatball into a large round ball.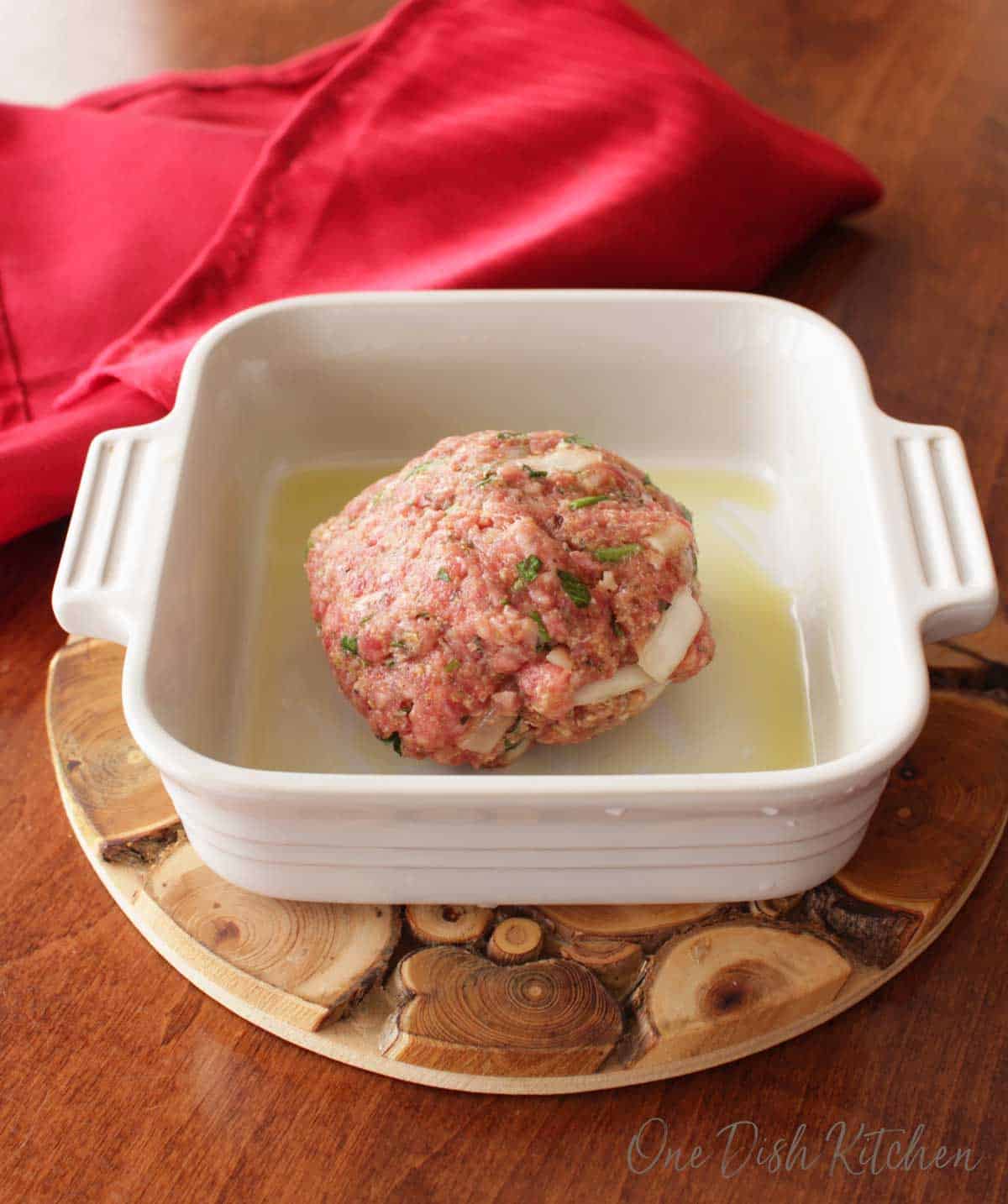 Cover the meatball with tomato sauce and bake in the oven.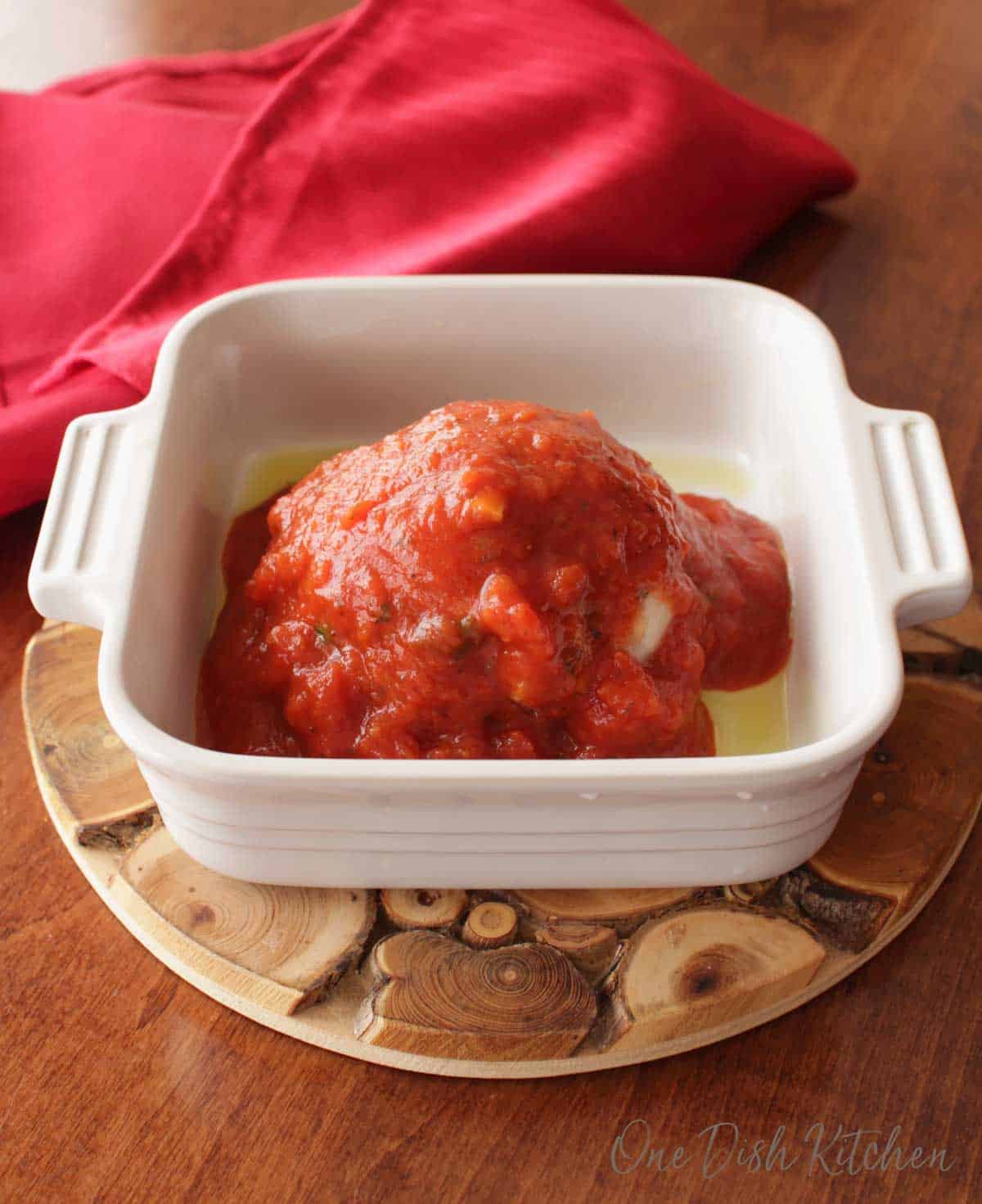 Expert Tips
When mixing the ingredients, avoid overworking the meat to ensure a tender meatball.
For optimal cooking, ensure the oven is preheated fully before baking.
Letting the meatball rest for a few minutes after baking allows the juices to redistribute.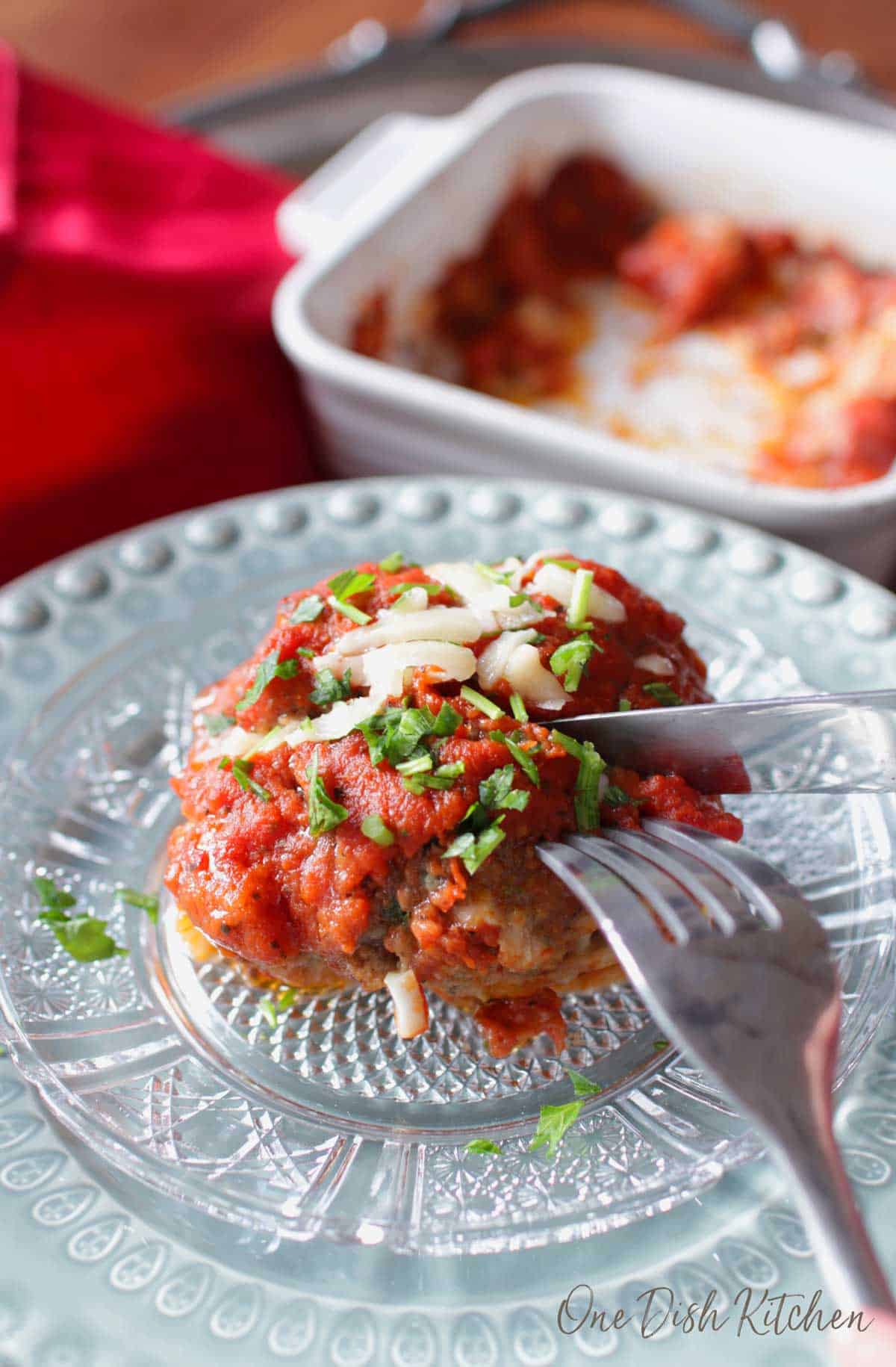 Frequently Asked Questions
How Can I Create A Low-Carb Meatball?
To craft a keto-friendly, low-carb meatball, simply omit the breadcrumbs. Instead, incorporate an extra 2 tablespoons of shredded Parmesan. Alternatively, opt for almond meal as a breadcrumb substitute. Note that while almond meal offers a coarser texture, almond flour is a suitable backup choice if needed.
How Long Will This Keep In The Refrigerator?
Stored in an airtight container, it'll last for up to 3 days.
Can I Freeze The Meatball For Later?
Absolutely! Meatballs are perfect for freezing. If you wish, you can easily double or triple this recipe to prepare multiple meatballs for later use.

After combining the ingredients and shaping your meatball, you can choose to freeze it either before or after cooking.

For uncooked meatballs, ensure they're thawed overnight in the refrigerator prior to baking.

As for cooked meatballs, they can be conveniently thawed and reheated in simmering sauce for about 10 minutes or given a quick zap in the microwave.

When stored in an airtight freezer container, meatballs will keep well for up to 3 months.

Best Sauce For Meatballs
Our preferred choice is a delightful small-batch tomato sauce that pairs wonderfully with this Italian meatball. However, if you're looking to save time, using store-bought tomato or Marinara sauce is both convenient and delicious. It's all about choosing what works best for you!
RELATED: Comfort Food Recipes For One
Serving Suggestions
Complementing this robust meatball can enhance your dining experience. Here are a few recommendations:
Spaghetti: A classic choice, let the meatball be the star atop a bed of pasta.
Crusty Bread: Perfect for soaking up any extra sauce.
Green Salad: A light side that balances the heartiness of the meatball.
RELATED: Cooking For One: Tips To Eat Healthy and Save Money
Recipe Variations
Your giant Italian meatball can take on several delectable variations. Here are a few ideas:
Spicy: Add crushed red pepper flakes to the mix.
Cheese-Stuffed: Insert a cube of mozzarella into the center before baking.
Herb-Laden: Incorporate fresh basil or oregano for an extra aromatic experience.
Vegan: Use plant-based meat alternatives and vegan parmesan.
Whichever way you choose to prepare it, this giant Italian meatball promises a delightful, filling solo meal.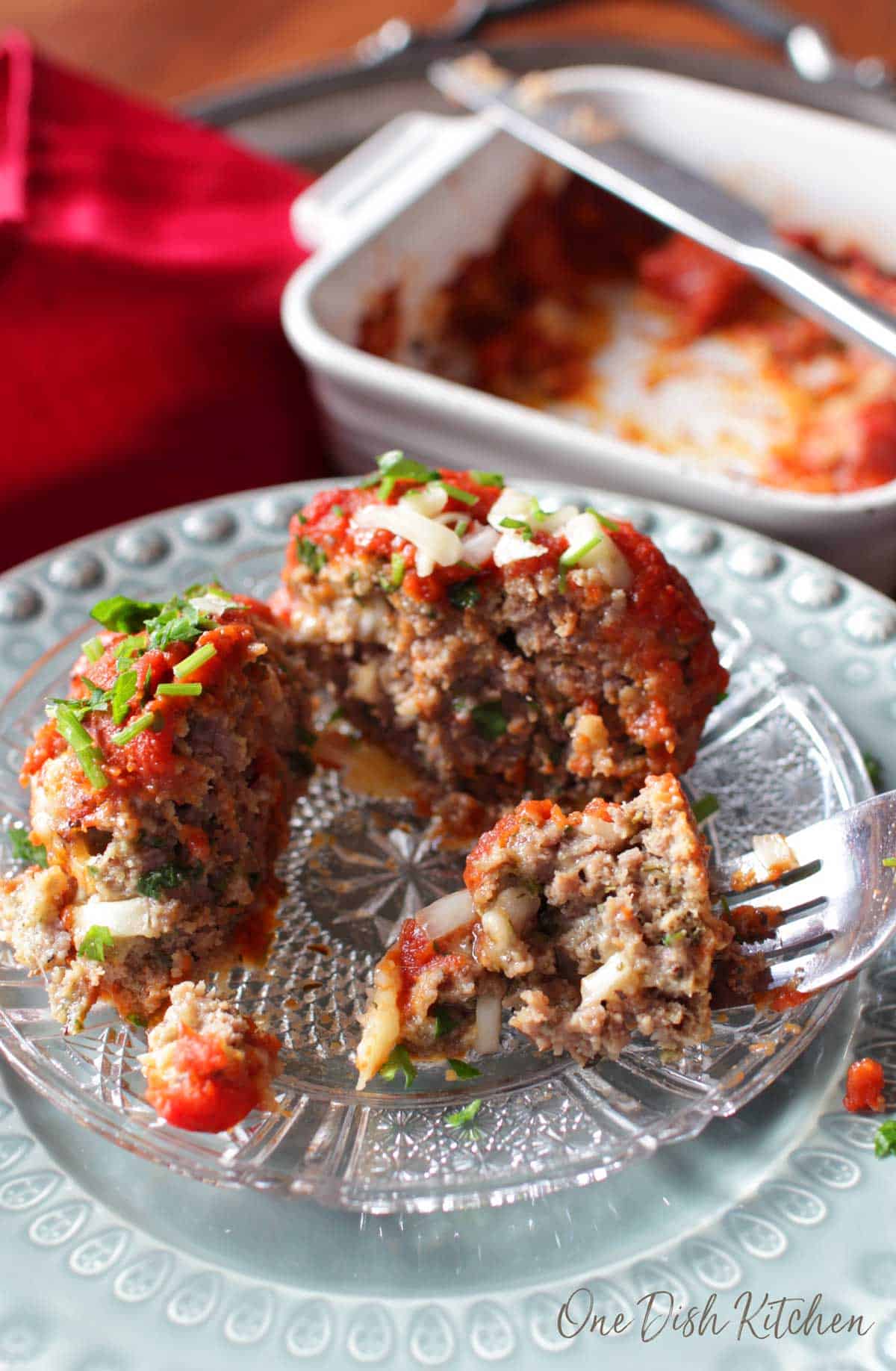 What To Do With Leftover Ingredients
If you have any ingredients leftover from this recipe, check out our Leftover Ingredients Recipe Finder or you might like to consider using them in any of these single serving and small batch recipes:
For this easy recipe, I use a small baking dish. You can find dishes we recommend on our Store page.
If you would like additional information on the dishes I use in our "recipes for one", please visit our FAQ page.
For examples of the other products we find helpful when cooking for one, please visit our Store page.
---
Your Cooking For One Source
Because you're worth it
Italian Meatball For One
Easy recipe for one giant Italian meatball topped with tomato sauce and Parmesan cheese. This homemade, oven baked meatball is perfectly juicy and filled with flavor!
Ingredients
1

large

egg yolk

1

tablespoon

shredded Parmesan cheese

, plus 1 tablespoon for topping

1

tablespoon

chopped parsley

½

teaspoon

Italian seasoning

¼

teaspoon

kosher salt

⅛

teaspoon

garlic powder

⅛

teaspoon

coarsely ground black pepper

4

ounces

ground beef

1

tablespoon

chopped onions

1

tablespoon

bread crumbs

½

tablespoon

olive oil

½

cup

tomato sauce
Instructions
Heat oven to 400° F (200° C).

Whisk the egg yolk in a medium-sized bowl until lightly mixed. Add the Parmesan cheese, parsley, Italian seasoning, salt, garlic powder, and black pepper, and whisk to combine.

Add the ground beef to the egg mixture. Use your hands or a large spoon to thoroughly mix the egg mixture into the ground beef.

Add the onions and breadcrumbs. Mix them into the meat using your fingers or the spoon.

Pour the oil into a small baking dish, swirl to coat the bottom of the dish. Form the ground beef mixture into a large ball and place in the center of the baking dish. Top the meatball with tomato sauce.

Place the baking dish in the oven and cook for 20 minutes. (The meatball is done when cooked through, and when it reaches an internal temperature of 165° F on an instant-read thermometer.)

Remove from the oven and top with 1 Tablespoon of Parmesan cheese. Cover baking dish with a sheet of aluminum foil and let rest for 10 minutes. Enjoy hot.
Notes
Expert Tips
When mixing the ingredients, avoid overworking the meat to ensure a tender meatball.

For optimal cooking, ensure the oven is preheated fully before baking.

Letting the meatball rest for a few minutes after baking allows the juices to redistribute.
Nutrition
Serving:
1
serving
,
Calories:
344
kcal
,
Carbohydrates:
17
g
,
Protein:
32
g
,
Fat:
19
g
,
Saturated Fat:
6
g
,
Cholesterol:
259
mg
,
Sodium:
1459
mg
,
Potassium:
798
mg
,
Fiber:
3
g
,
Sugar:
6
g
,
Vitamin A:
1113
IU
,
Vitamin C:
14
mg
,
Calcium:
138
mg
,
Iron:
6
mg
The information shown is an estimate provided by an online nutrition calculator. It should not be considered a substitute for a professional nutritionist's advice.
Receive Our Latest Single Serving Recipes!