Indulge in the ultimate cheesy comfort food with our single serving hashbrown casserole recipe. Easy and irresistibly delicious - perfect for solo meals!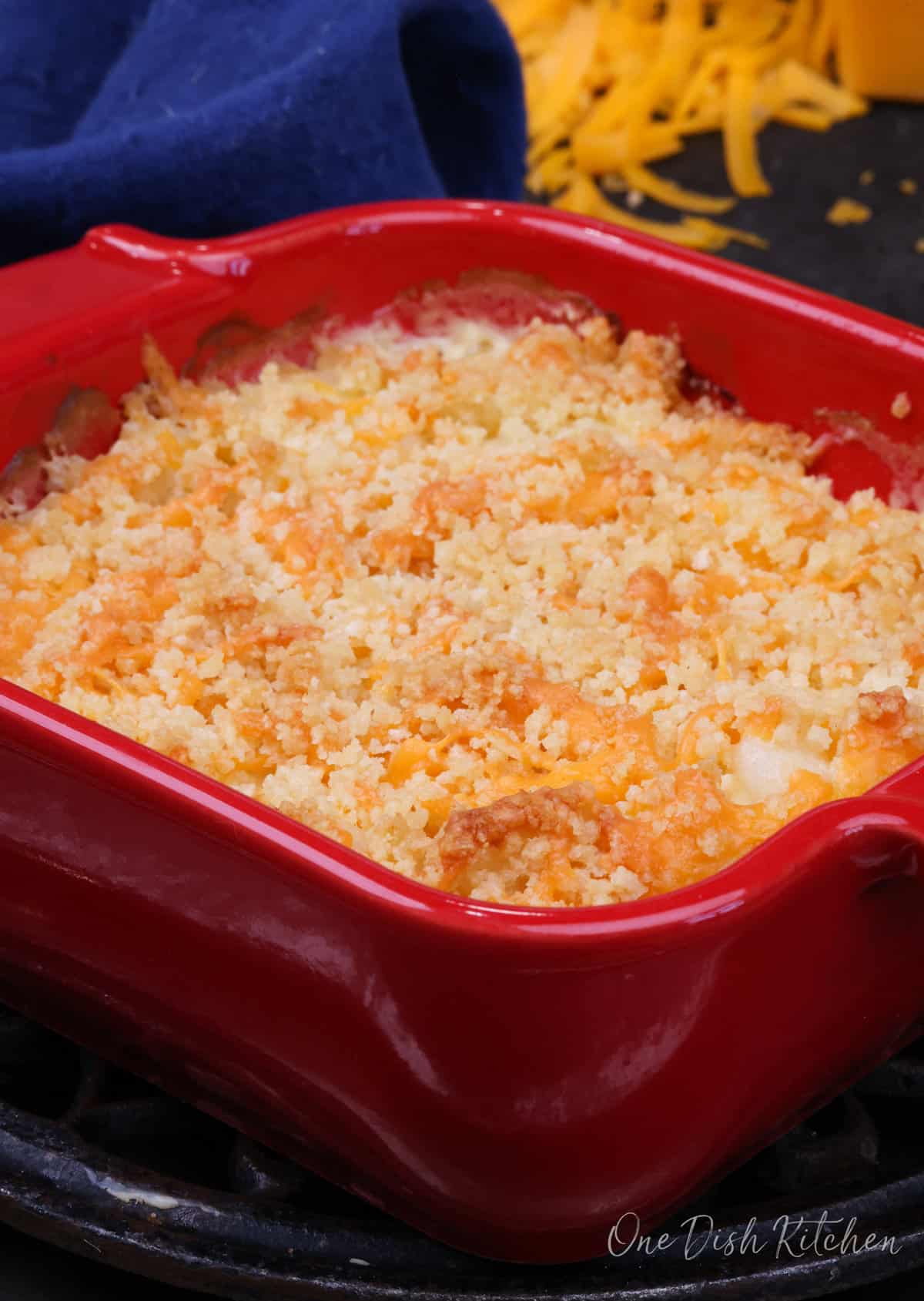 Looking for an easy and delicious comfort food recipe? Our single-serving Hashbrown Casserole is the perfect solution! Whether you're a beginner or a seasoned cook, this recipe is sure to satisfy your cravings for cheesy potatoes. Diced hash brown potatoes are coated with a rich and cheesy sauce then topped with buttery breadcrumbs and baked until hot and delicious!
Jump to:
What Is A Hashbrown Casserole?
Hashbrown Casserole, also known as Funeral Potatoes or Cheesy Potatoes, is a classic American dish that's often enjoyed at potlucks and family gatherings. It's a creamy, cheesy casserole made with hashbrown potatoes and a few other simple ingredients. We've scaled down a traditional Hashbrown Casserole recipe into a single serving version that I'm sure you'll love!
Why This Recipe Works
It's quick and easy to make, perfect for busy weeknights or when you want a satisfying meal without spending hours in the kitchen.
It's made with real, wholesome ingredients and doesn't rely on canned cream soup as many traditional cheesy potato recipes do. We make our hash brown casserole without canned soup and instead, we create a rich homemade sauce that adds a delicious flavor and an extra-creamy texture.
The single serving size makes it ideal for solo diners, preventing food waste and allowing for portion control.
The combination of hashbrown potatoes and cheese makes for a classic and comforting flavor combination that's sure to please everyone.
This single serving recipe doubles well, so if you'd like to make a casserole for two or simply have an extra serving for leftovers, just double the ingredient amounts.
Ingredients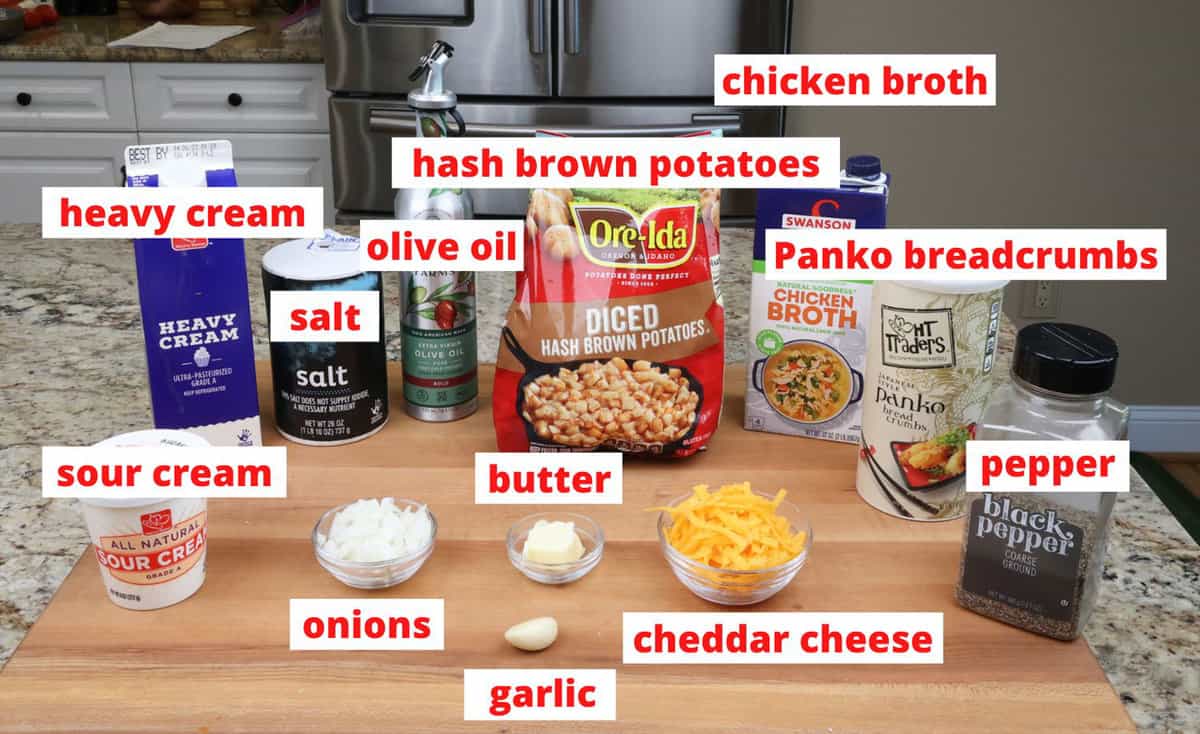 Ingredient Notes
See below for ways to use leftover ingredients.
Olive oil: I use extra virgin olive oil in this simple hashbrown casserole recipe and in every other recipe on One Dish Kitchen that calls for olive oil. Extra virgin olive oil is the least processed form of olive oil. It is an unrefined oil and the highest-quality olive oil you can buy. Because of the way extra virgin olive oil is made, it retains a more true olive taste. It also contains more of the vitamins and minerals found in olives. It's my favorite type of olive oil, but you may use light olive oil instead.
Onions and garlic: Chopped onions and garlic add layers of flavor and depth to a casserole recipe. They create a flavor base that can elevate a casserole from bland to delicious.
Chicken broth: I prefer using low-sodium chicken broth to control the salt content of the dish. If you use regular chicken broth, you might want to reduce the amount of salt you add. I recommend tasting the finished sauce and adding extra salt if needed.
Heavy cream: I recommend using heavy cream (double cream) or heavy whipping cream. Both of these ingredients are essentially the same - they both have over 36% milk fat, and the name often depends on the brand. When heavy cream simmers on the stove, some of the water in the cream evaporates causing the solids in the dairy to concentrate which thickens the sauce. I do not recommend using milk because the sauce will not thicken as it should.
Sour cream: You can use Greek yogurt instead of sour cream for a healthier option.
Hash brown potatoes: I recommend using frozen and thawed diced hash brown potatoes.
Cheddar cheese: Use sharp cheddar for a more intense flavor, but feel free to swap it for your favorite cheese if you prefer. I recommend shredding your own cheese rather than purchasing bagged pre-shredded cheese. The cheese will melt better when freshly shredded. Pre-shredded cheese contains preservatives that help to keep the shreds of cheese from clumping in the bag. This means that the cheese doesn't melt as well.
Panko breadcrumbs and butter: Melted butter mixed with Panko breadcrumbs and shredded cheddar cheese are used for the cheesy potato casserole topping. It gives it the perfect crunch!
This is just an overview of the ingredients I used and why I used them. For the full recipe please scroll down to the recipe box at the bottom of the post.
Expert Tips
Read through the entire recipe and the Ingredient Notes section of the post and gather your ingredients. We provide a lot of information within the body of this recipe post to ensure that your hash brown casserole comes out perfect every time. This dish comes together quickly so it's a good idea to fully understand the recipe and have everything ready before beginning.
Consider using a different topping. Typically Funeral Potatoes or hashbrown casseroles are topped with Corn Flake cereal. If you don't typically eat Corn Flakes, you may not want to go out and purchase a box just to make the topping for this dish. Instead, we chose to use a simple breadcrumb topping but if you'd prefer to use the cereal, use ½ cup of Corn Flakes, crushed. If you'd like to make your casserole with a buttery cracker like Ritz crackers or Club crackers, use 8 crackers, crushed instead.
Frequently Asked Questions
Variations
Although I love this small batch hashbrown casserole just as it is, you might like to consider making any of these variations:
Ham and Cheese Hashbrown Casserole: add diced ham and extra cheese to the recipe for a more protein-packed version of the classic dish.
Loaded Potato Casserole: add crumbled bacon and chopped green onions to the recipe for a loaded version of the dish.
Sweet Potato Hashbrown Casserole: substitute regular diced hashbrowns with canned or par-boiled sweet potatoes cut into small cubes for a healthier and slightly sweeter version of the dish.
Mexican Hashbrown Casserole: add black beans, corn, and Mexican-style cheese to the recipe for a spicy and flavorful twist on the classic dish.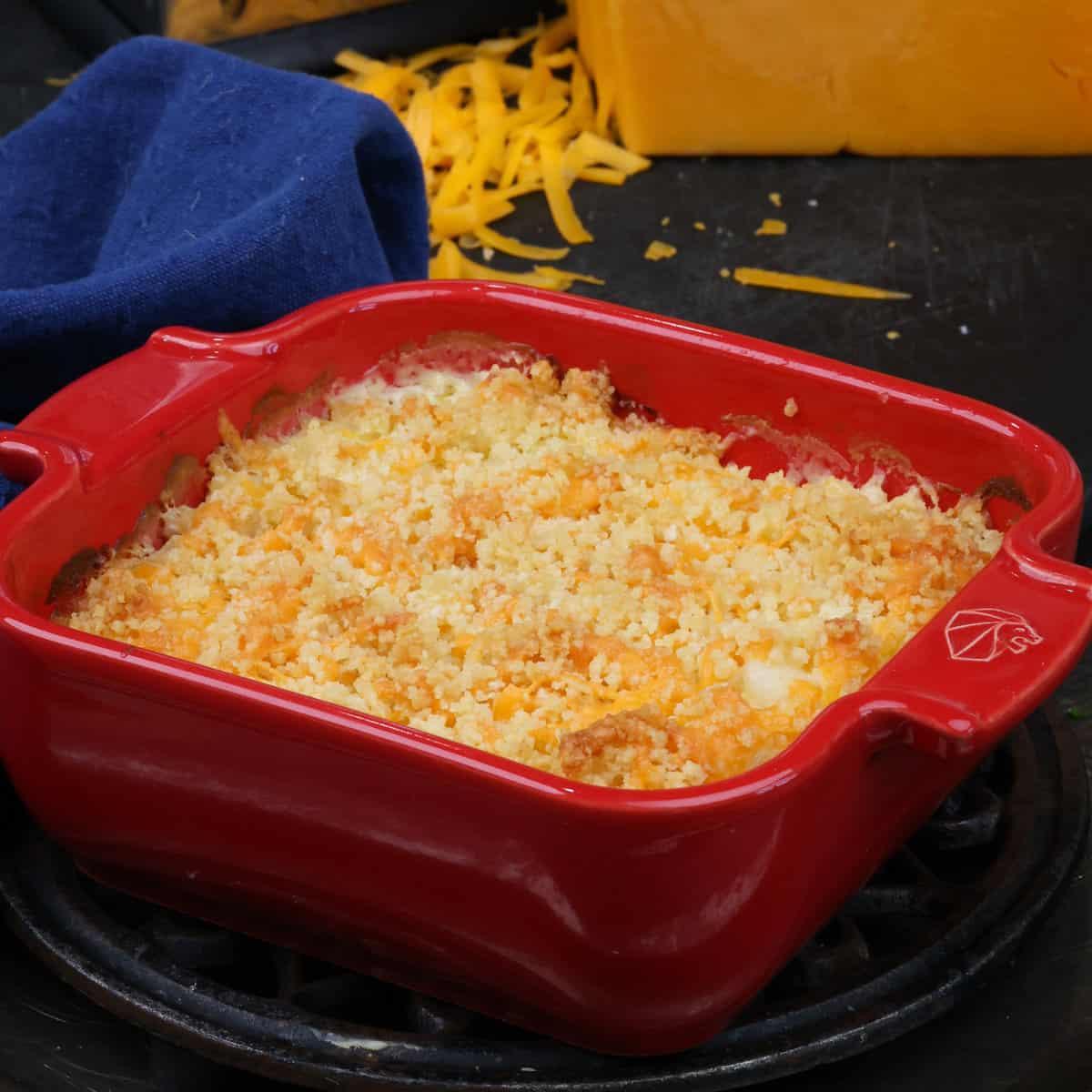 Serving Suggestions
Enjoy this small batch Hashbrown Casserole alone or with any of the following:
Make Ahead Instructions
Unbaked: Assemble the casserole, cover and store it in the refrigerator until you are ready to bake it. Let the casserole come to room temperature before baking.
Baked: Assemble and bake the casserole. Let it cool completely and then store it in the refrigerator. When you are ready to enjoy it, let the casserole come to room temperature and then heat it in a preheated 325° F oven for about 10 minutes and until it is warmed through.
Storage
Store leftover potato casserole in an airtight container in the refrigerator for up to 5 days.
You can freeze leftovers in an airtight freezer-safe container for up to 3 months. Thaw overnight in the refrigerator before reheating.
To reheat the casserole, either warm it in a microwave-safe dish for 30-second intervals until the casserole is warmed through or warm it in a 325° F oven for 10 to 15 minutes.
Ways To Use Leftover Ingredients
If you have any ingredients leftover from this small batch hashbrown casserole recipe, you might like to consider using them in any of these single serving and small batch recipes:
For more information on the cooking and baking dishes I use in our "recipes for one", please visit our FAQ page.
For examples of the dishes used at One Dish Kitchen, please visit our Store page.
If you've tried this Small Batch Hashbrown Casserole or any recipe on One Dish Kitchen please let me know how you liked it by rating the recipe and telling me about it in the comment section below.
Also, if you take a picture please tag us on Instagram (@onedishkitchen) we'd love to see it!
Recipe