Enjoy these hearty and flavorful Swedish Meatballs in just 30 minutes! The perfect meal for a cozy night in or a solo indulgence.
Whether you're dining alone or simply craving a satisfying meal that's scaled down to just the right portion, our single serving Swedish Meatballs recipe is the perfect choice. This classic dish combines the rich flavors of Scandinavia with the convenience of a meal specially crafted for one person. With simple preparation and delightful taste, let's explore how you can bring this beloved dish to life in your kitchen.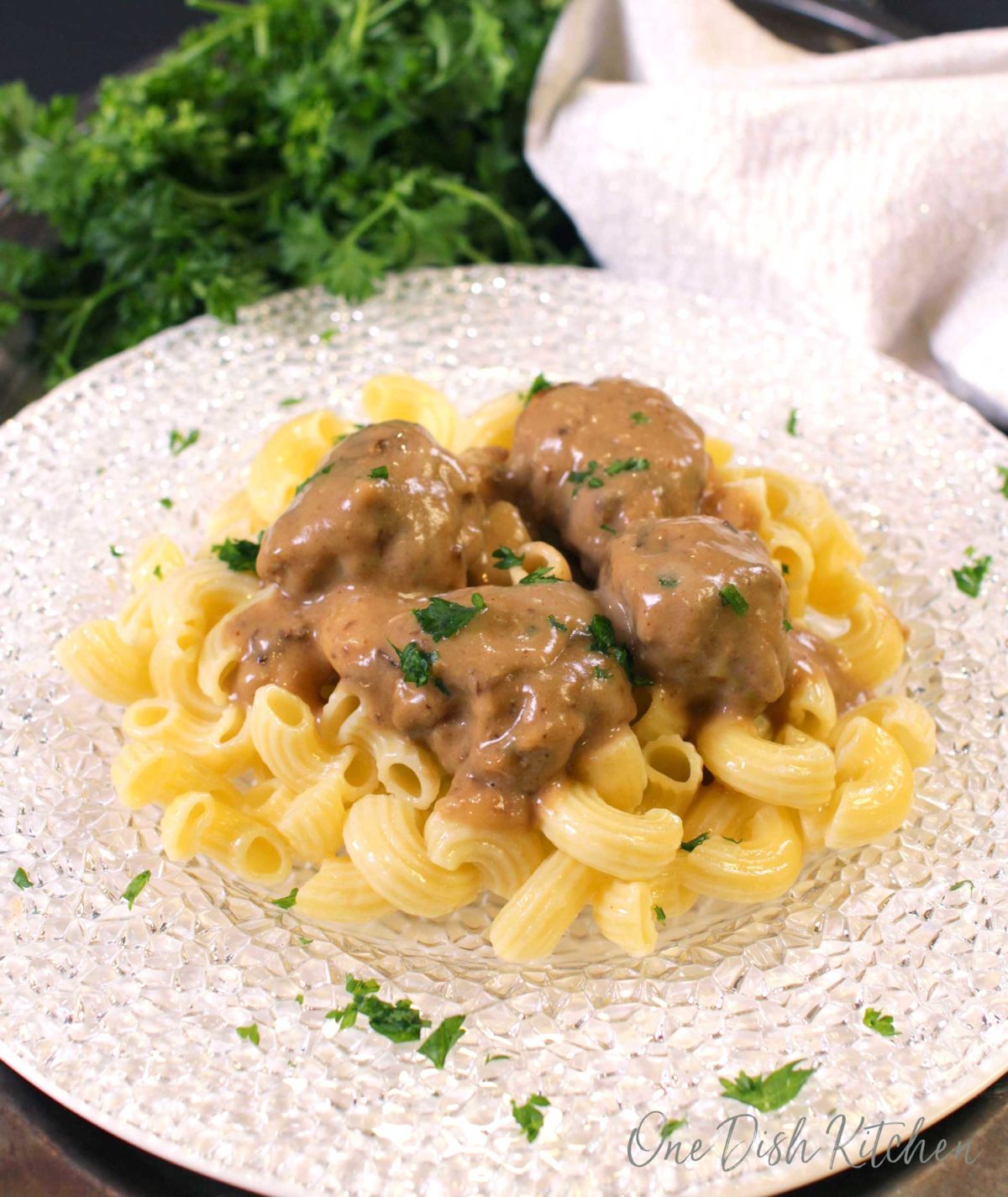 Why This Recipe Works
Simplicity: With basic ingredients and easy-to-follow instructions, this recipe is perfect for beginners and experts alike.
Versatility: Suitable for various dietary preferences, offering both traditional and alternative ingredient options.
Quick Preparation: Ideal for a fast and satisfying meal.
Authentic Flavor: Combines classic Swedish flavors for an authentic dining experience.
Perfect Portion: Crafted for single servings, ensuring a fresh and fulfilling meal every time.
What Are Swedish Meatballs?
Swedish Meatballs, also known as "köttbullar," are bite-sized meatballs traditionally made from a blend of pork and beef. They are seasoned with spices like nutmeg and allspice and are usually served with a creamy, flavorful gravy.
Swedish Meatballs have been a part of Swedish cuisine for centuries, with records dating back to the early 18th century. They gained international popularity through IKEA stores, introducing many to the rich and comforting taste of this traditional dish.
Ingredients
See below for ways to use leftover ingredients.
Meatballs: egg yolk, chopped parsley, nutmeg, allspice, salt, black pepper, ground pork, ground beef, onions, bread crumbs, olive oil.
Sauce: butter, flour, beef broth, sour cream.
Notes and Substitutions
Ground Meat: A combination of pork and beef gives a richer flavor; you can substitute with chicken or turkey for a leaner option.
Nutmeg and Allspice: These spices add traditional Swedish flavor; they can be adjusted according to taste.
Olive Oil: Used for frying meatballs; this can be replaced with other cooking oils like avocado oil.
Sour Cream: Adds creaminess to the sauce; yogurt or cream can be used as substitutes.
How To Make Swedish Meatballs
See the recipe box below for ingredient amounts and full recipe instructions.
Make the Meatballs:
In a medium-sized bowl, combine all the meatball ingredients.
Form the mixture into 2-inch round meatballs.
Cook the Meatballs:
Heat oil in a medium-sized sauté pan or skillet over medium heat.
Cook the meatballs, turning them until they are browned on all sides.
Transfer the browned meatballs to a plate.
Make the Gravy:
In the same pan, melt the butter.
Add the flour, stirring well to form a paste. This should take about 30 seconds.
Gradually stir in the broth, continuing to stir frequently until the mixture begins to simmer.
Return the meatballs to the pan and continue to cook until they are cooked through.
Remove the pan from heat, then stir in the sour cream.
Simmer the mixture for an additional 5 minutes, allowing the flavors to meld and the sauce to thicken.
These steps will guide you through making delicious Swedish Meatballs with a creamy gravy, perfect for a single serving. Enjoy!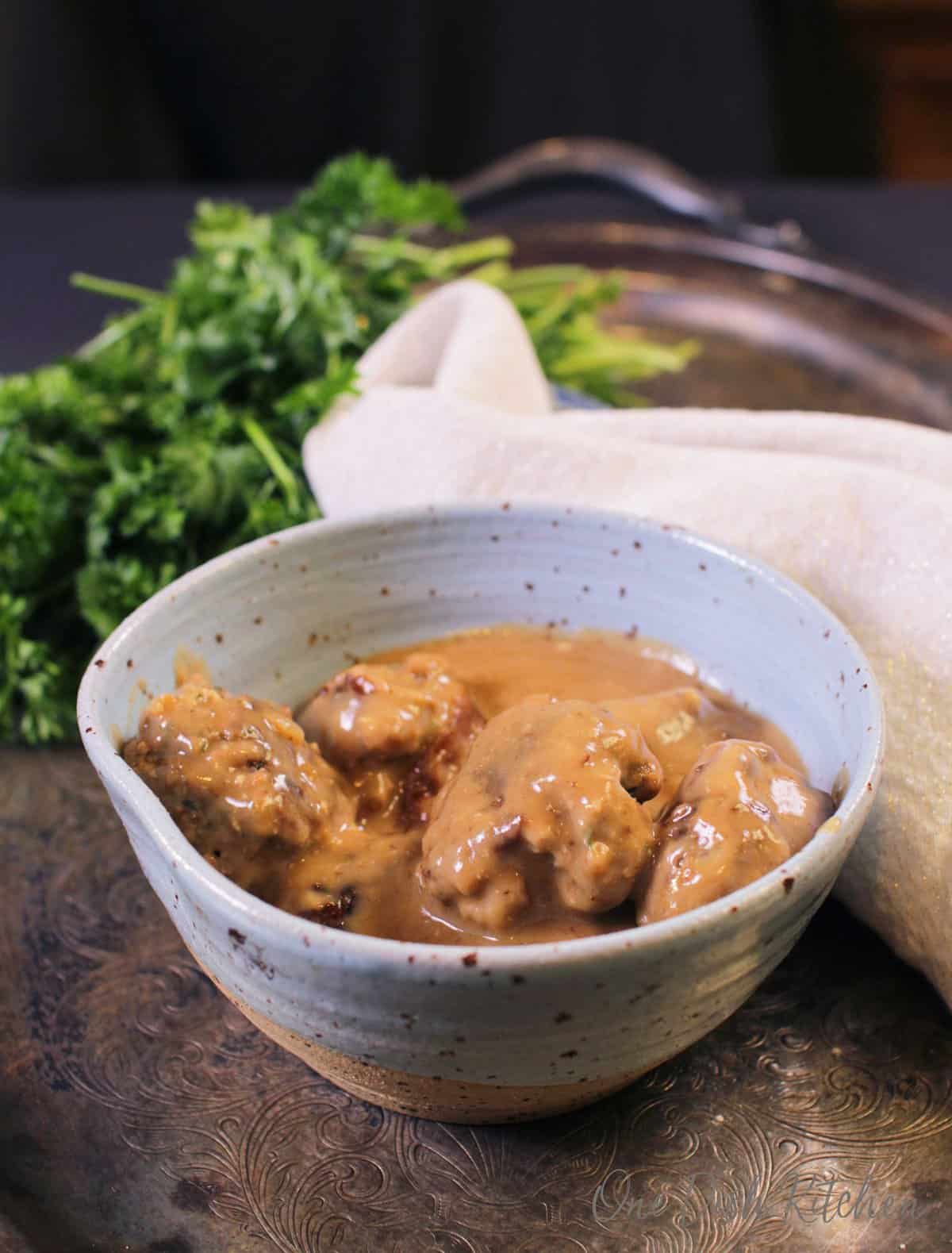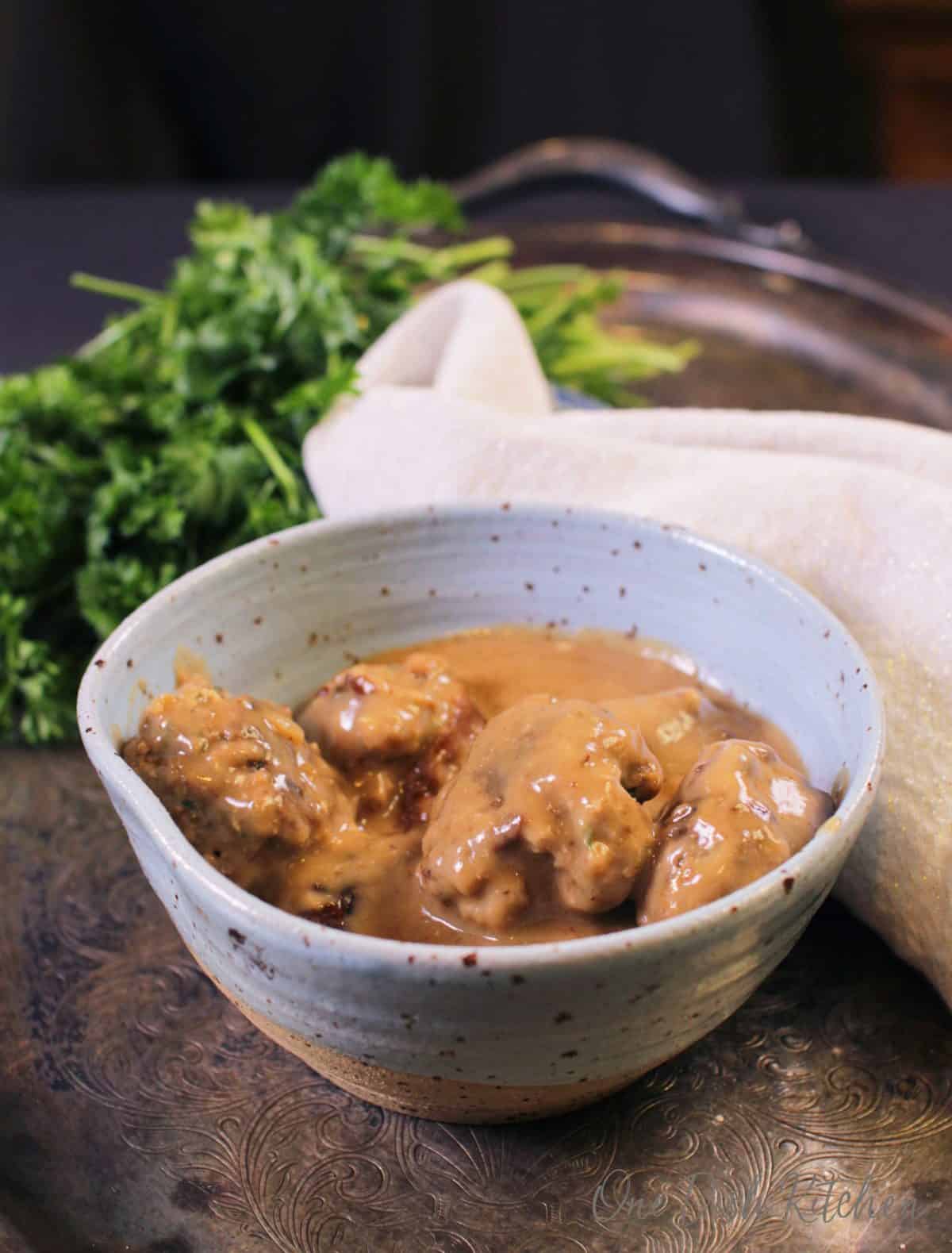 Expert Tips
Meatball Size: Keep meatballs uniform for even cooking and make sure the meatballs are rolled into tight balls so they don't fall apart while cooking.
Avoid overcooking: Don't overcook the meatballs or they will become dry.
Gravy Texture: Adjust sauce thickness by controlling the flour and beef broth ratio.
Herbs: Fresh herbs like parsley add brightness; dried herbs are an acceptable substitute.
Frequently Asked Questions
Can I Freeze Swedish Meatballs?
Absolutely, freezing Swedish meatballs for future meals is a breeze. If you're thinking about doubling this single serving recipe to have some extra portions, follow these simple steps:
Cook and Let Cool
First, make your meatballs according to the recipe instructions. Once they're cooked, allow them to cool down to room temperature.
Initial Freezing Stage
Next, arrange the cooled meatballs on a baking sheet in a way that they are not touching each other. Freeze them for about 1-2 hours. This initial freezing prevents the meatballs from clumping together later.
Packaging for Long-Term Storage
After the meatballs are solidly frozen, shift them into a freezer-friendly bag or airtight container. Don't forget to label the container with the storage date. These meatballs will stay good in the freezer for up to three months.
A Quick Note on Sauce
Although the meatballs hold up well in the freezer, the sauce is another story. For the best experience, prepare the sauce fresh when you're ready to serve the meatballs again.
Reheating the Frozen Meatballs
When the craving strikes, just pop the frozen meatballs in a preheated 350°F oven for 10-12 minutes. There's no need to thaw them beforehand.
By using this method, you'll preserve the delightful flavor and texture of your Swedish meatballs, making it super convenient to relish a tasty single-serving meal whenever you like.
What Makes Swedish Meatballs Different From Traditional Meatballs?
Swedish meatballs and traditional meatballs are both made with ground beef, but they are seasoned and cooked differently.
Traditional meatballs are typically seasoned with Italian seasonings such as basil and oregano, and they are served in a tomato sauce or Marinara sauce.
Swedish meatballs are often seasoned with nutmeg and allspice, and they are cooked in a rich, creamy gravy made with broth and sour cream.
Serving Suggestions
Whether you're serving these meatballs as a main dish or an appetizer, here are a few ideas to complete your meal:
Recipe Variations
If you'd like to change things up, consider these variations on the classic recipe:
Turkey Swedish Meatballs: Substitute ground turkey for the beef and pork. This leaner option still provides a moist and flavorful result.
Vegetarian Swedish Meatballs: Use a plant-based meat substitute to create a meat-free version of this classic dish, keeping the texture and flavor as close as possible to the traditional recipe.
Spicy Swedish Meatballs: Add a dash of cayenne pepper or crushed red pepper flakes to the meatball mix to give a spicy twist to the classic flavors.
Mushroom Gravy Swedish Meatballs: Incorporate finely chopped mushrooms into the gravy for a richer, earthier flavor. This adds depth to the sauce and pairs wonderfully with the meat.
Herb-infused Swedish Meatballs: Mix in fresh herbs like dill or thyme to both the meatballs and the gravy to create a more complex and herbaceous flavor profile.
These variations allow you to personalize the dish to your preferences, dietary needs, or simply to try something new and exciting with a beloved classic.
Ways To Use Leftover Ingredients
If you have any ingredients leftover from this recipe, check out our Leftover Ingredients Recipe Finder or you might like to consider using them in any of these single serving and small batch recipes: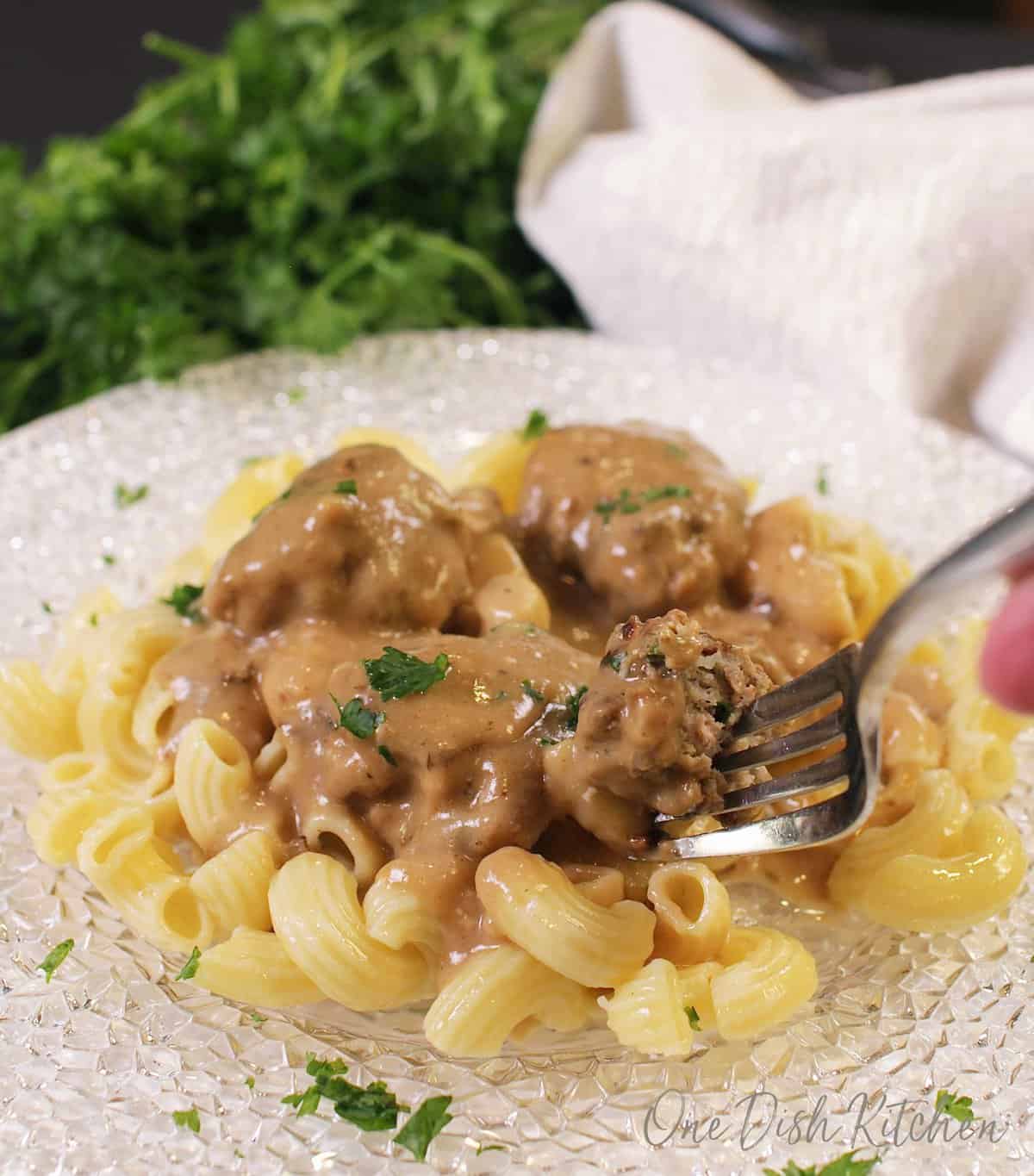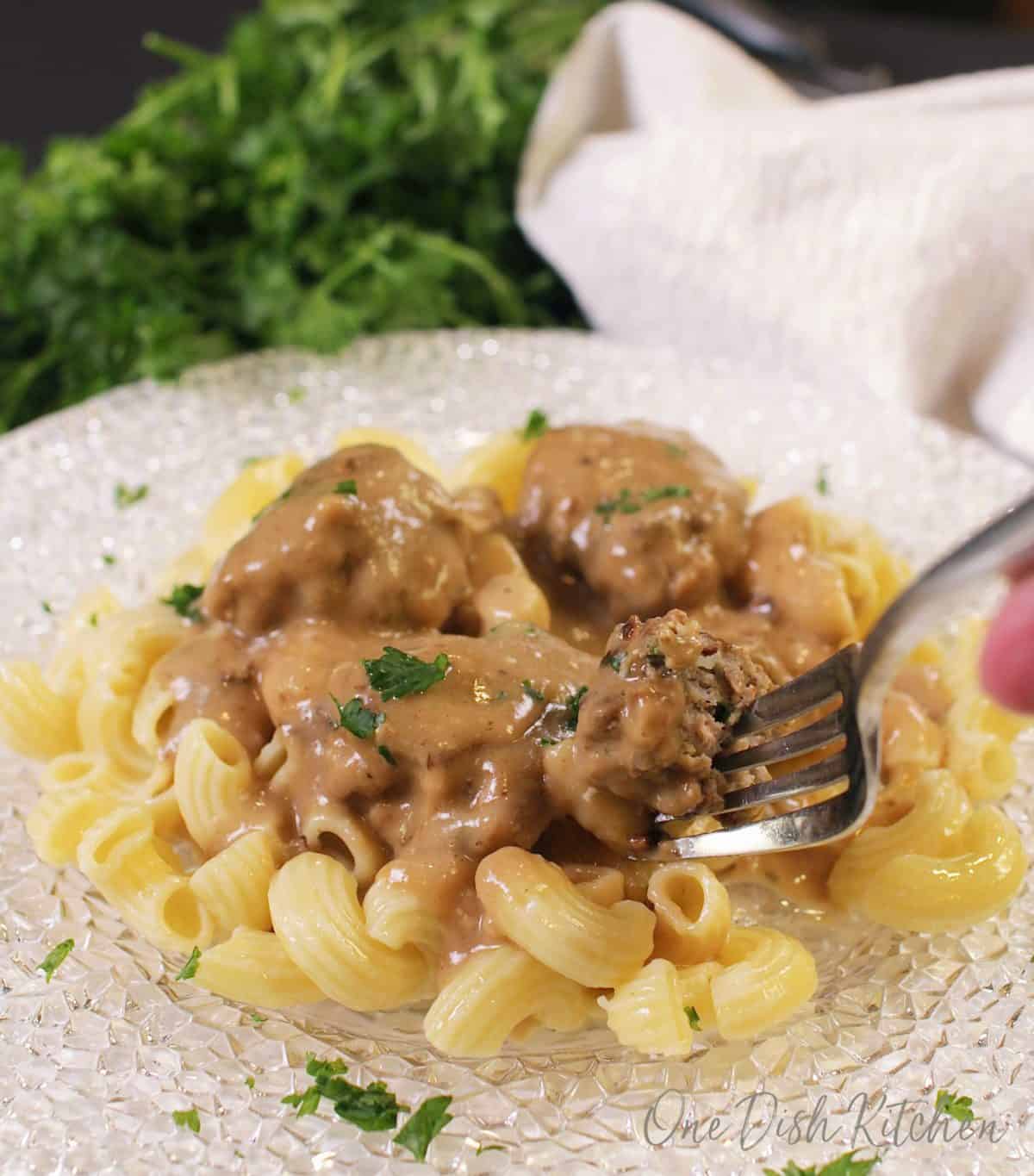 For more information on the cooking and baking dishes I use in our "recipes for one", please visit our FAQ page.
For examples of the dishes used at One Dish Kitchen, please visit our Store page.
If you've tried these Swedish Meatballs or any recipe on One Dish Kitchen please let me know how you liked it by rating the recipe and telling me about it in the comment section below.
If you take a picture please tag us on Instagram (@onedishkitchen) we'd love to see it!
---
Your Cooking For One Source
Because you're worth it
Swedish Meatballs For One
Swedish Meatball Recipe For One! Tender Swedish Meatballs made with ground beef and/or pork, perfectly seasoned and simmered in a rich, creamy sauce.
Ingredients
1

large

egg yolk

1

tablespoon

chopped onions

1

tablespoon

chopped parsley

1

tablespoon

breadcrumbs

¼

teaspoon

kosher salt

⅛

teaspoon

coarsely ground black pepper

⅛

teaspoon

ground nutmeg

⅛

teaspoon

ground allspice

2

ounces

ground pork

2

ounces

ground beef

1

tablespoon

olive oil
For the sauce
1

tablespoon

salted butter

1

tablespoon

all purpose flour

½

cup

low sodium beef broth

2

tablespoons

sour cream
Instructions
Whisk the egg yolk in a medium-sized bowl until lightly mixed. Add the onions, parsley, breadcrumbs, salt, pepper, nutmeg, and allspice and stir to combine.

Add the ground pork and ground beef to the egg mixture. Use your hands or a large spoon to thoroughly mix the egg mixture into the ground meat mixture.

Scoop the meatballs into 2-inch portions and use the palms of your hands to roll them into smooth balls. Set aside.

Heat oil in a 10-inch skillet or sauté pan over medium heat. Add the meatballs to the pan and cook, turning them every 2 minutes until browned on all sides, about 8 minutes total. Transfer the meatballs to a plate.

Melt butter in the same skillet. Add flour and stir to form a paste; cook, stirring frequently for 30 seconds.

Add beef broth and whisk until smooth; bring to a simmer. Return meatballs to the pan and simmer in the gravy, uncovered, until the meatballs are cooked through and the gravy has thickened, about 5-7 minutes.

Remove from heat and stir in sour cream. Taste the gravy and add additional salt, if needed. Enjoy the meatballs and gravy as-is or serve with pasta or mashed potatoes.
Notes
Meatball Size: Keep meatballs uniform for even cooking and make sure the meatballs are rolled into tight balls so they don't fall apart while cooking.

Avoid overcooking: Don't overcook the meatballs or they will become dry.

Gravy Texture: Adjust sauce thickness by controlling the flour and beef broth ratio.

Herbs: Fresh herbs like parsley add brightness; dried herbs are an acceptable substitute.
Nutrition
Serving:
1
serving
,
Calories:
633
kcal
,
Carbohydrates:
16
g
,
Protein:
29
g
,
Fat:
50
g
,
Saturated Fat:
19
g
,
Polyunsaturated Fat:
4
g
,
Monounsaturated Fat:
23
g
,
Trans Fat:
1
g
,
Cholesterol:
304
mg
,
Sodium:
1052
mg
,
Potassium:
715
mg
,
Fiber:
1
g
,
Sugar:
2
g
,
Vitamin A:
1086
IU
,
Vitamin C:
7
mg
,
Calcium:
90
mg
,
Iron:
4
mg
The information shown is an estimate provided by an online nutrition calculator. It should not be considered a substitute for a professional nutritionist's advice.
Receive Our Latest Single Serving Recipes!