These healthy and delicious home cooked single serving meals are perfect when you are trying to eat light or just want an alternative to eating out. Each of these easy recipes are ideal for lunch or dinner when you are cooking for one. These recipes are big in flavor and best of all, no leftovers!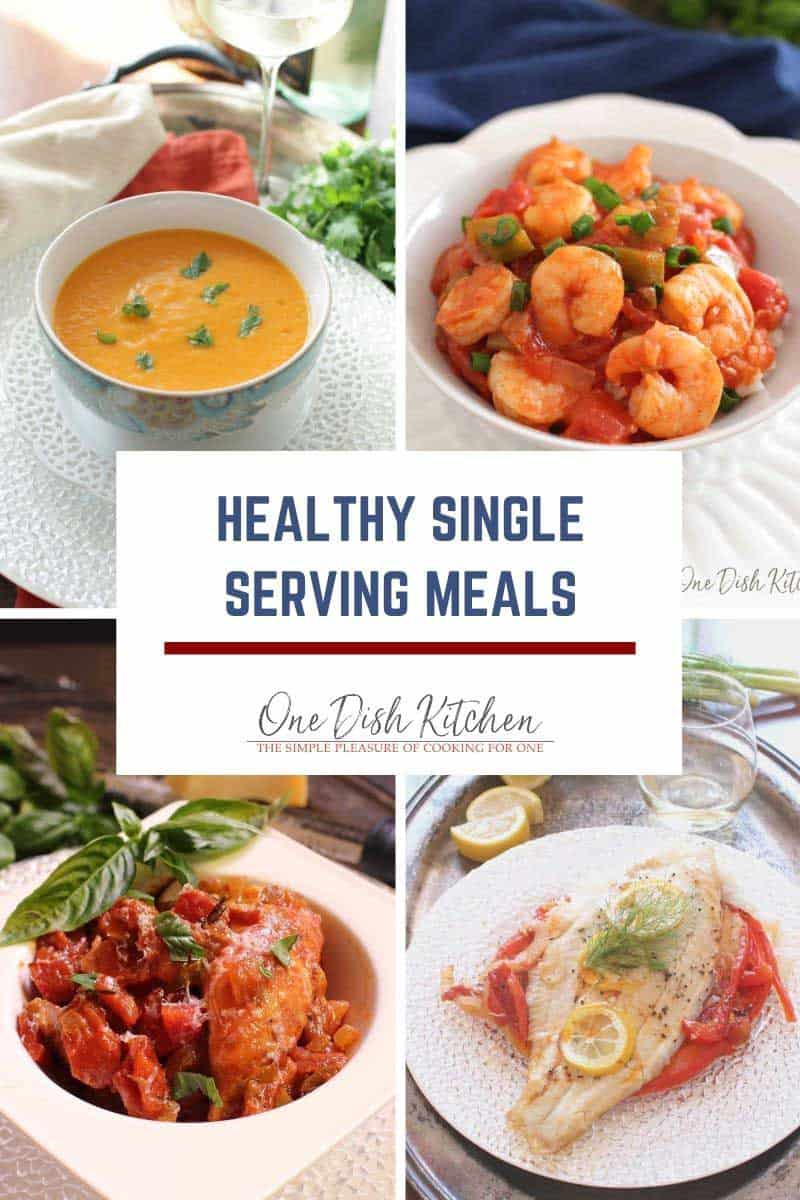 If you are already on a healthy eating track (or thinking about it), I think you'll love these healthy single serving meals I've gathered for you.
Why These Recipes Work
They're all single serving recipes so you won't have too many leftovers to deal with.
No fancy ingredients are needed.
Each of these healthy recipes are easy to make.
Each of the easy recipes are accessible by clicking the link for each recipe and then going to the bottom of the specific recipe's page.
Healthy Single Serving Meals
This healthy baked catfish recipe is definitely a winner! The fish cooks along with vegetables all in the same pan. An easy recipe that's healthy, full of flavor, and ready in minutes!

Check out this recipe
A recipe that's been in our family for years, this slow cooker Italian chicken is a winner! Made with simple ingredients and packed with amazing flavors. This single serving version features tender, juicy chicken with a flavorful tomato-based sauce. Wonderful served over pasta, rice, or potatoes.
Check out this recipe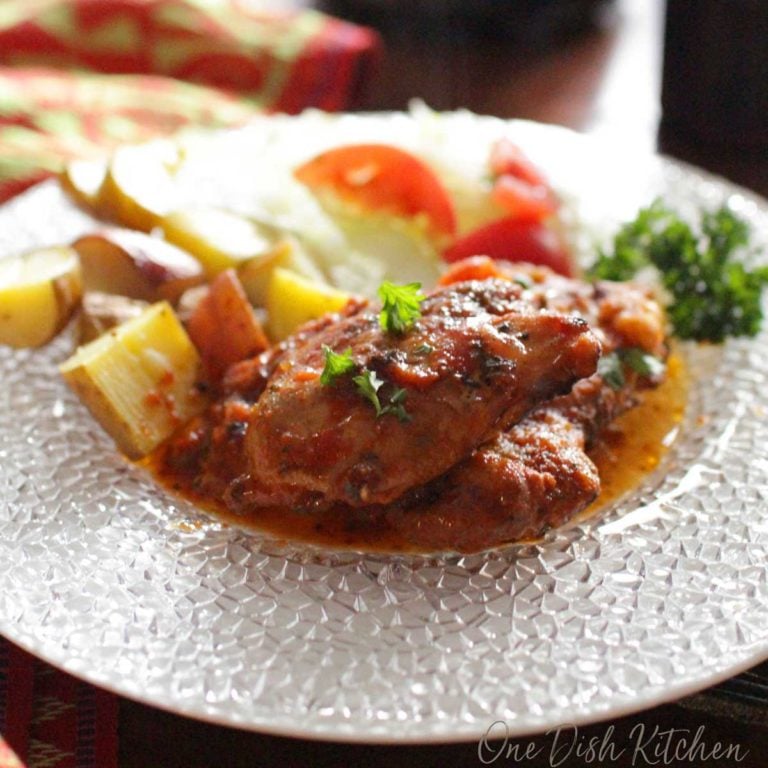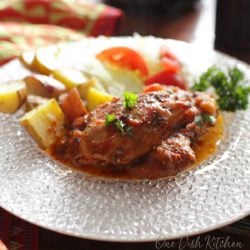 Shrimp Creole For One, a classic Louisiana dish made with garlic, onions, green bell peppers and tomatoes. The perfect size when cooking for one.
Check out this recipe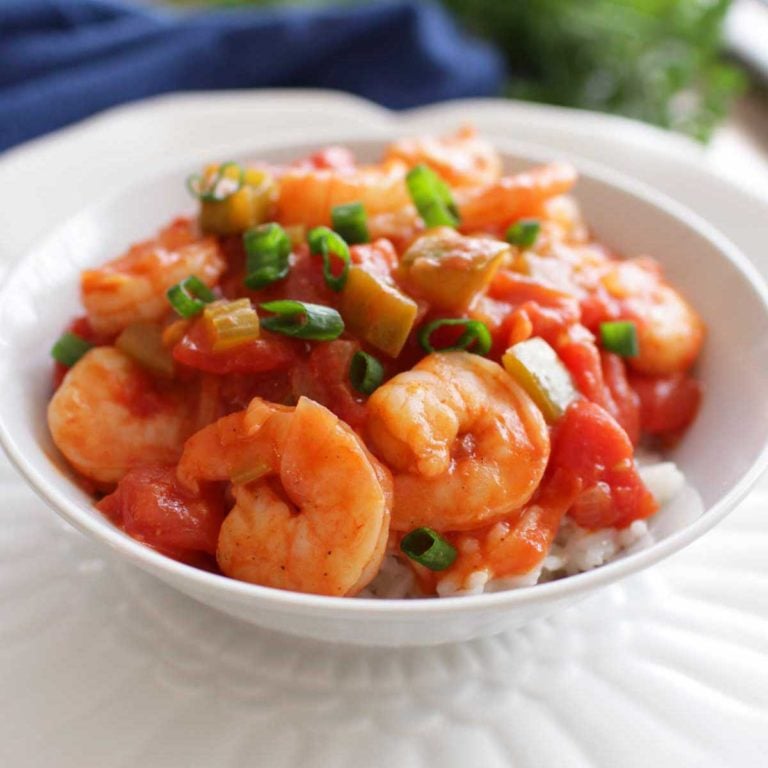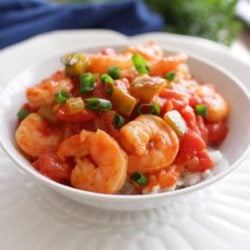 Creamy, low-carb Crustless Spinach Quiche for One made with ham and Swiss cheese. Full of flavor, you'll never even miss the crust!
Check out this recipe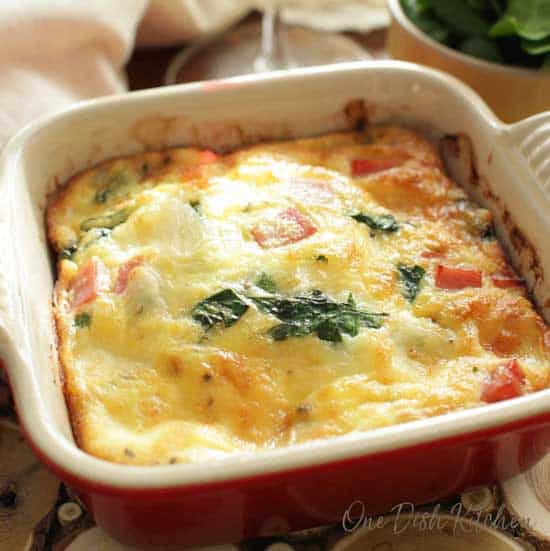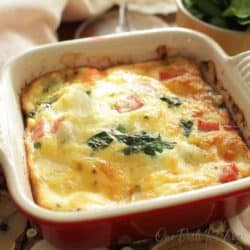 Broiled chicken with Pineapples is a quick and easy meal option. A chicken breast is marinated in a simple yet flavorful marinade, topped with pineapple slices and cooked under your broiler until golden.
Check out this recipe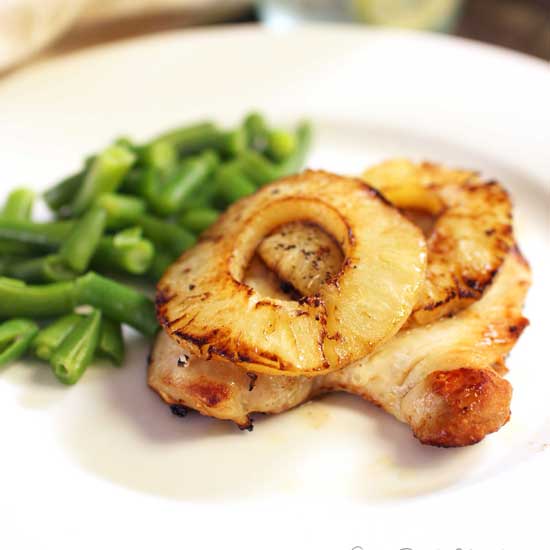 An easy baked shrimp recipe made with a garlic lemon butter sauce. Cooks in less than 10 minutes and is lovely served with rice, pasta, or a side of your favorite vegetables.
Check out this recipe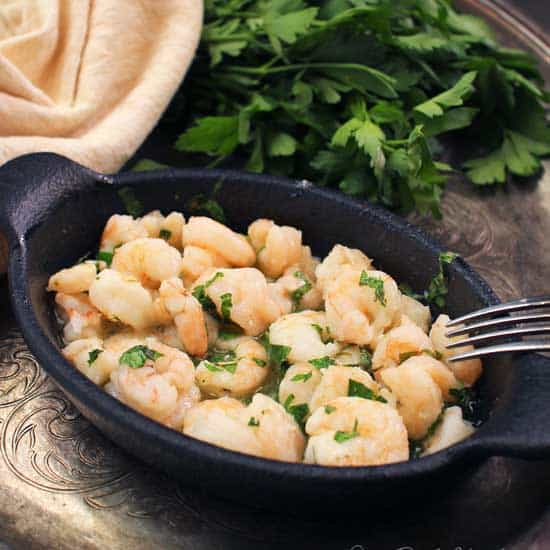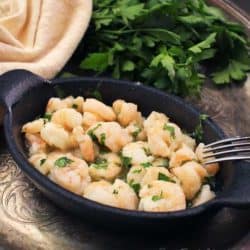 Easy to make, healthy, and hearty this fresh tasting lentil salad is a delight! Filled with tomatoes, avocados, and topped with a light dijon vinaigrette.
Check out this recipe
Baked Cod with Potatoes and Chermoula For One- a cod fillet roasted with red-skinned potatoes and topped with a flavorful Moroccan-inspired Chermoula made with parsley, cilantro, garlic and spices. This delicious single-serving seafood dish bakes in 30 minutes.
Check out this recipe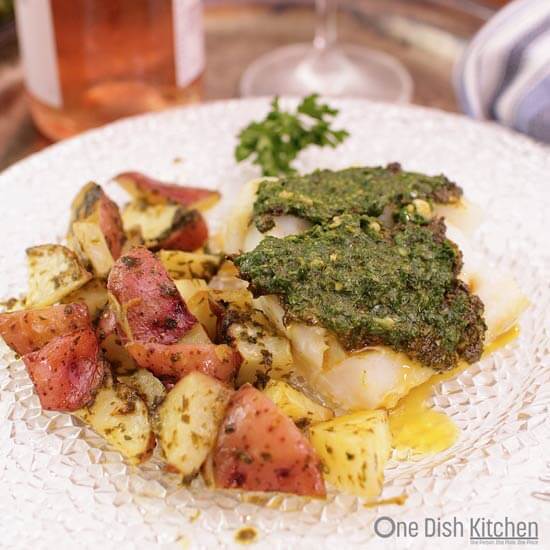 Single serving casserole with vegetables tossed in olive oil, seasonings, shredded cheese and baked in the oven. Bakes in 30 minutes.
Check out this recipe
Roasted Salmon with Maple and Mustard For One, an easy recipe that is perfect for anyone cooking for one. A salmon fillet topped with tangy dijon mustard and a touch of sweet maple syrup oven roasted to perfection.
Check out this recipe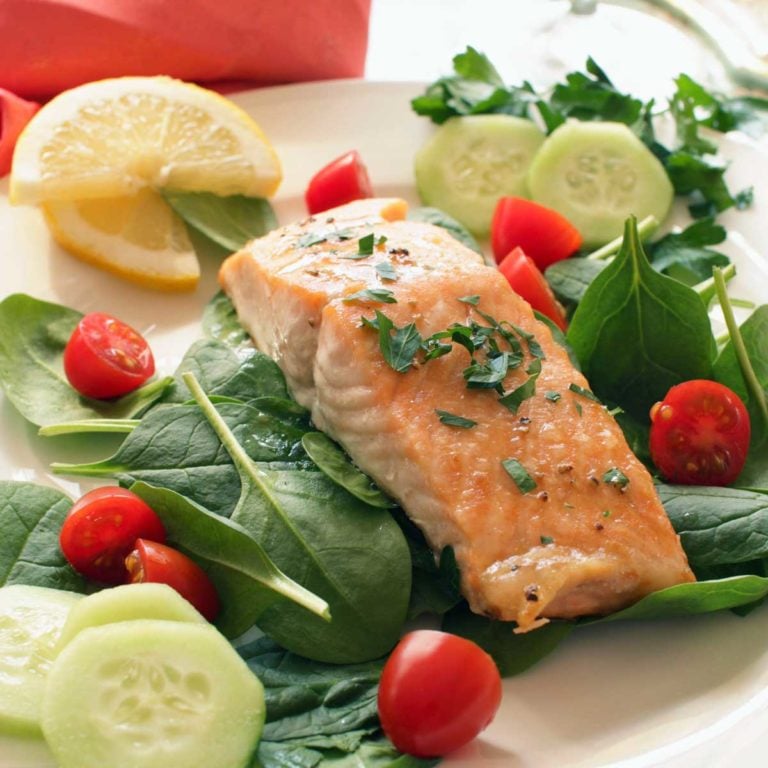 Chicken Cacciatore is an easy to make, low carb, rustic skillet dinner recipe made with one chicken thigh simmering in a rich and hearty tomato based sauce.
Check out this recipe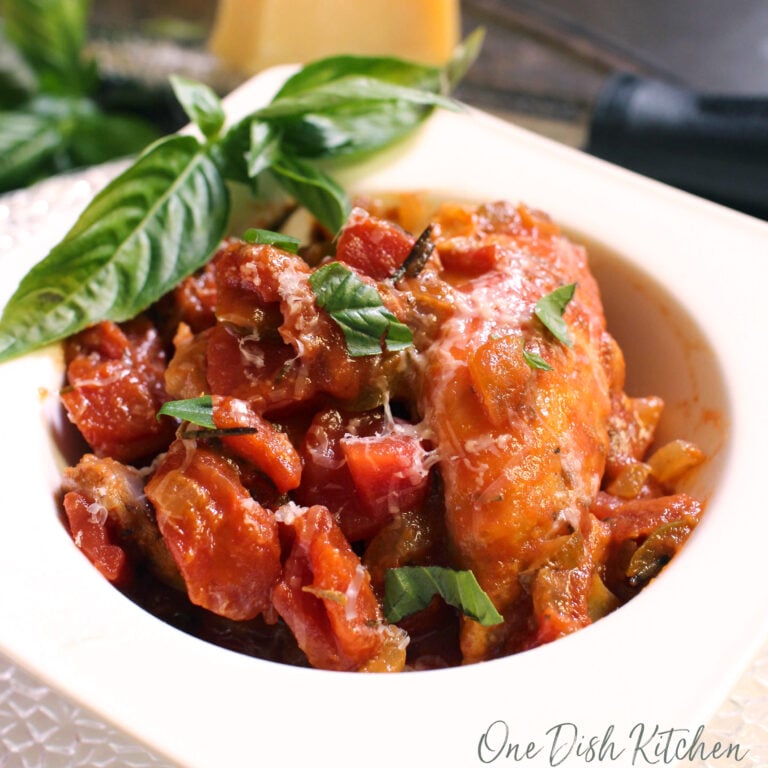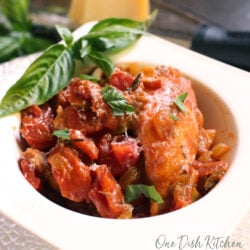 Easy Turkey Chili recipe made with lean ground turkey, tomatoes, vegetables, and spices. A healthier alternative to beef chili, this flavor packed single serving meal can be ready in around 30 minutes!
Check out this recipe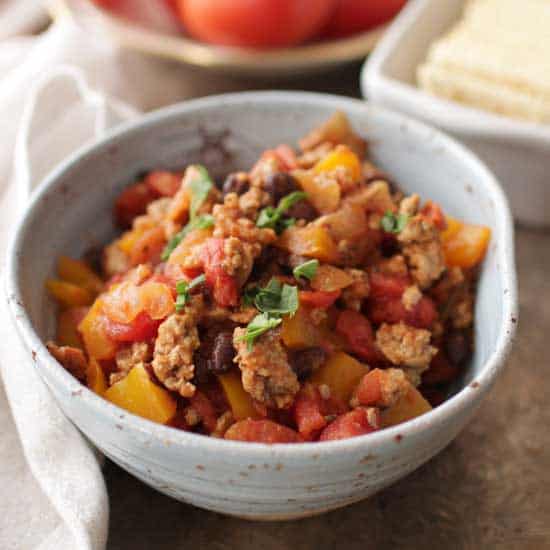 You'll love the spices in this Curried Carrot Soup For One. It's easy to make, hearty and tastes incredible!
Check out this recipe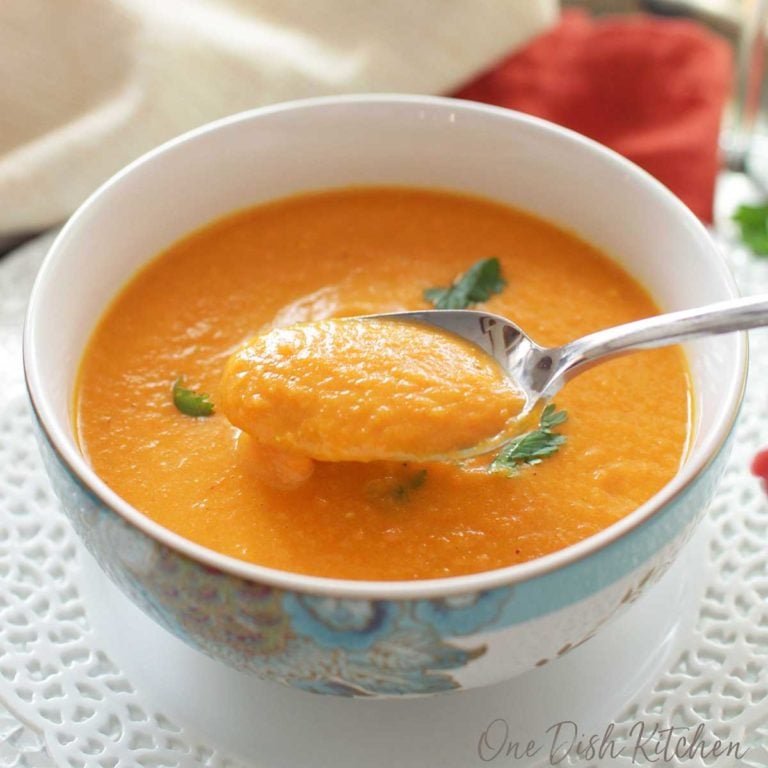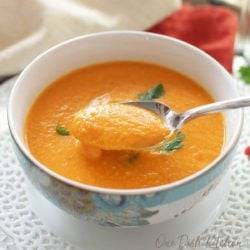 One Skillet Mediterranean Chicken with artichokes, Kalamata olives, red onions, and feta cheese. Incredible flavors, easy to make, and ready in just 20 minutes!
Check out this recipe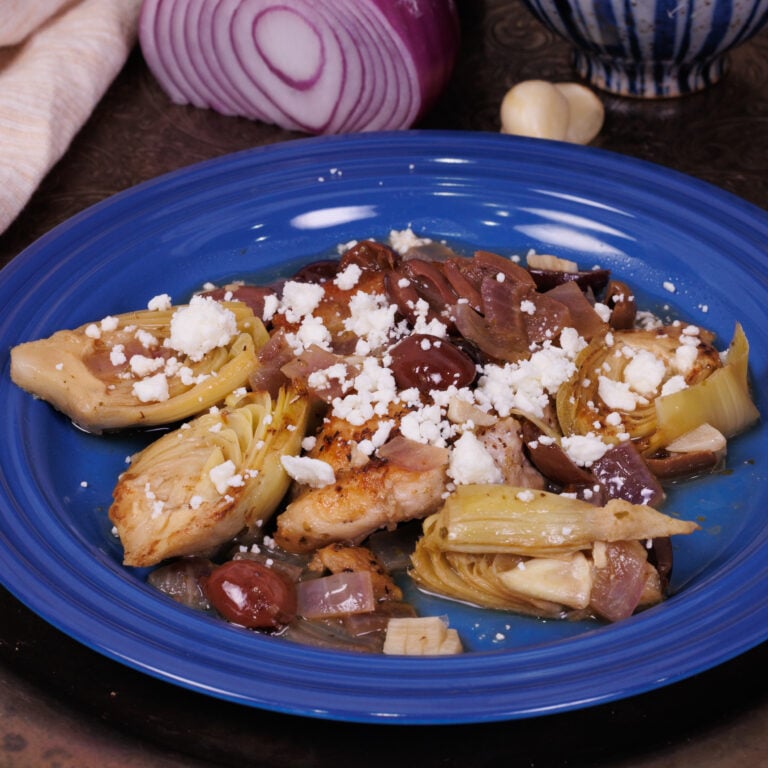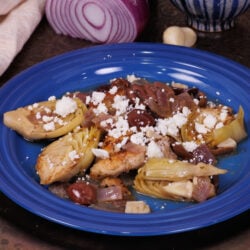 Expert Tips
Cooking for yourself is the healthiest thing you can do for yourself. You will automatically make better choices.
Use quality ingredients. Start with the best ingredients you can afford.
Cook seasonally. Look for in-season produce and add them to your meals.
Stock up on healthy convenience items like unsalted canned beans and tomatoes, brown rice, and low salt chicken broth. When you have healthy ingredients on hand, it is easier to put together a healthy meal.
I use extra virgin olive oil in many of these recipes. Extra virgin olive oil is the least processed form of olive oil. It is an unrefined oil and the highest-quality olive oil you can buy. Because of the way extra virgin olive oil is made, it retains more true olive taste. It also contains more of the vitamins and minerals found in olives. It's my favorite type of olive oil to use but you may use a lighter olive oil instead.
Frequently Asked Questions
How Do I Start Cooking Healthy?
* First of all, since you're on the One Dish Kitchen website, you're on your way to cooking healthy meals for yourself.
* Choose whole foods and avoid processed foods as much as possible.
* Flavor your foods with spices. Experiment with different spices so that you know and use the ones you love most.
* Make time to cook and prep. Cooking for yourself is worth the time, and you are worth it too.
Is It Cheaper To Cook Or Eat Out?
It is definitely much cheaper to cook for yourself than eat out. Keep the eating out for a treat every now and then.
For more information on the baking dishes I use in our single serving meals, please visit our FAQ page.
For examples of the dishes used at One Dish Kitchen, please visit our Store page.
If you've tried any of these healthy single serving meals or any recipe on One Dish Kitchen please let me know how you liked it by rating the recipe and telling me about it in the comment section below.
If you take a picture please tag us on Instagram (@onedishkitchen) we'd love to see!
RELATED:
Cooking For One Meal Plan – Week 1
Cooking For One Meal Plan – Week 2
Cooking For One Meal Plan – Week 3
Cooking For One Meal Plan – Week 4