Searching for a meal that's equal parts nutritious, delicious, and perfectly portioned? Our single serving Vegetable Casserole is your answer. Filled with fresh vegetables and melted cheese, it's a joy for anyone who loves comfort food and respects portion control. Whether you're dining solo or simply want to avoid leftovers, this is a recipe you'll want to bookmark.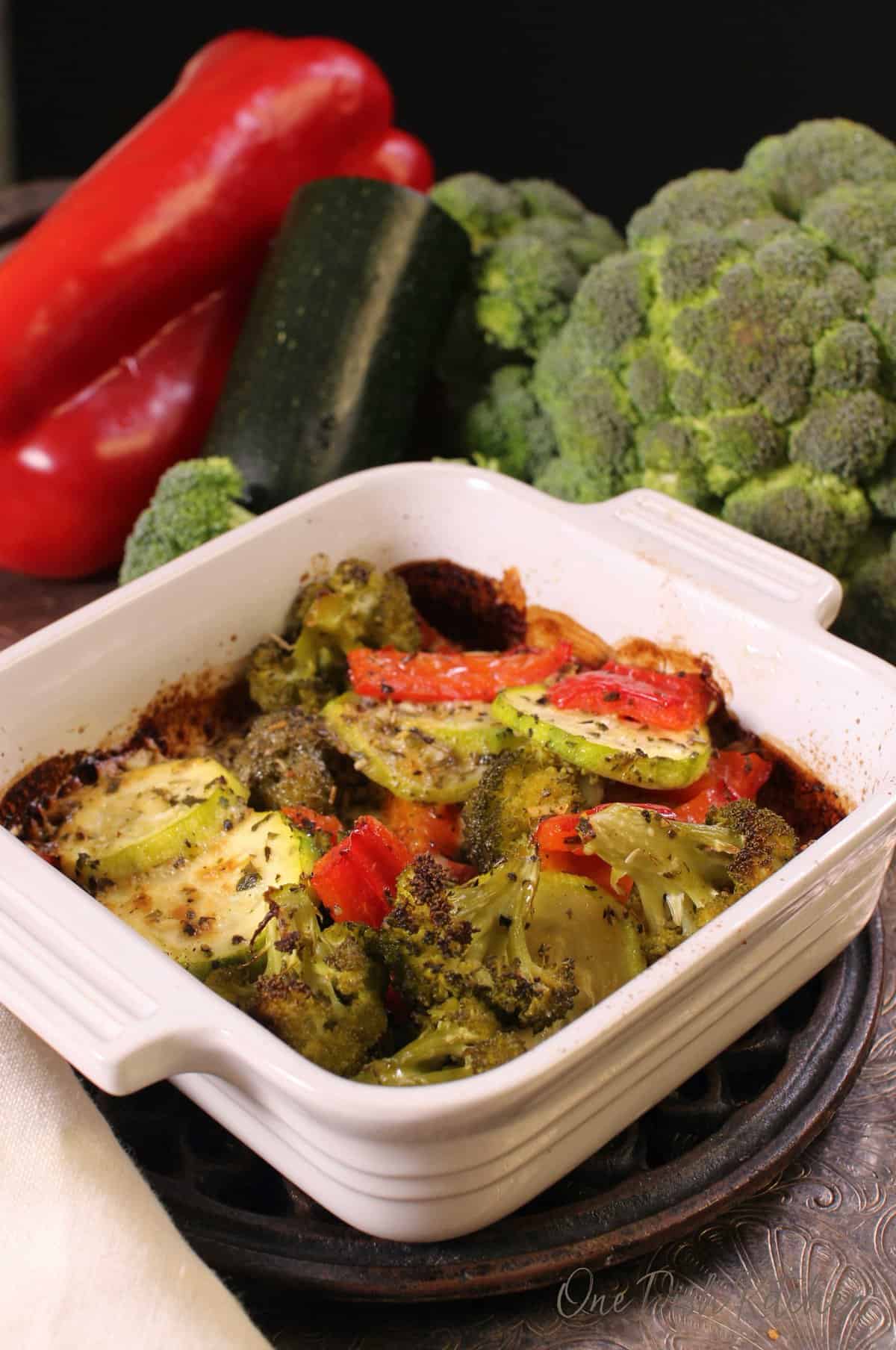 Why You'll Love This Recipe
Flexible: You can easily swap in your favorite veggies based on season, availability, or personal preference.
Nutritious: Loaded with colorful veggies, this dish is rich in vitamins, fiber, and antioxidants.
Easy to Make: This recipe calls for minimal preparation and cooks everything in a single dish, making cleanup a breeze. Plus, this dish cooks in just half an hour!
Cheesy: The Monterey jack cheese adds a delicious creaminess that pairs well with the tender vegetables.
Versatile: Perfect for lunch, dinner, or as a side dish.
Ingredient Notes And Substitutions
Olive oil: Used for sautéing vegetables, but can be substituted with avocado oil or even melted butter for a different flavor profile.
Zucchini: A versatile vegetable that adds texture, but can be replaced with yellow squash if preferred.
Red Bell Pepper: Adds a sweet flavor and vibrant color. Green or yellow bell pepper works too.
Herbes de Provence: A classic blend of herbs that complements the vegetables. Italian seasoning or a mix of dried rosemary and thyme can be used instead.
Monterey Jack Cheese: It melts beautifully and has a mild flavor. Feel free to use cheddar or mozzarella as alternatives.
This is just an overview of the ingredients I used and why I used them. For the full recipe please scroll down to the recipe box at the bottom of the post.
How To Make A Vegetable Casserole For One
These photos and instructions help you visualize how to make a vegetable casserole. See the recipe box below for ingredient amounts and full recipe instructions.
Place the sliced vegetables in a medium-sized bowl. Toss with olive oil, salt, pepper, and spices.
Stir in the cheese.
Apply a light layer of olive oil to the base and sides of a small baking dish. Next, transfer the seasoned vegetables to this dish. Then, place it in an oven preheated to 350 degrees F (177 degrees C) and let it bake for 30 minutes.
Expert Tips
Be sure to cut your vegetables in even sizes for uniform cooking.
For an added protein punch, consider adding a handful of cooked lentils or chickpeas.
If you want to add a crunch, consider topping the casserole with a sprinkle of breadcrumbs before baking.
Frequently Asked Questions
Can You Use Frozen Vegetables?
Yes, you can use frozen and thawed vegetables. However, be aware they may release more water during cooking, which could make your casserole a bit more liquid.
Can I Prepare This Casserole In Advance?
Absolutely! Assemble your casserole and store it covered in the refrigerator for up to a day in advance. Bring the casserole to room temperature before baking.
Is This Casserole Gluten-Free?
Yes, the current version of this vegetable casserole is gluten-free. However, if you decide to substitute any ingredients, remember to verify that your replacements are also free from gluten.
Can I Make This Casserole Vegan?
Yes, simply substitute the Monterey Jack cheese with your favorite vegan cheese for a vegan version.
What Size Baking Dish Is Best To Use?
The success of this recipe depends on the size of the baking dish you use. I use a 5×5 inch baking dish with a base area of 25 square inches. The dishes we use in our recipes can be found on our Store page.
Ways To Use Leftover Ingredients
If you have any ingredients leftover from this recipe, check out our Leftover Ingredients Recipe Finder or you might like to consider using them in any of these single serving and small batch recipes:
Serving Suggestions
This Vegetable Casserole is truly a standalone dish, but here are a few suggestions on how to round out your meal:
Grain: Pair this casserole with a side of quinoa or brown rice for added fiber.
Protein: This casserole would go well with baked chicken breast or baked tofu for a protein boost.
Salad: A simple salad with a tangy vinaigrette would complement the richness of the casserole.
Recipe Variations
This casserole is highly customizable. Here are a few ideas to get your creative juices flowing:
Different veggies: Experiment with vegetables like mushrooms, spinach, or carrots.
Go spicy: Add some heat with a dash of crushed red pepper flakes or a spoonful of diced jalapeños.
Top it off: Top with crushed croutons or parmesan cheese for extra flavor and crunch.
For examples of the dishes we use, please visit our Store page.
If you've tried this vegetable casserole or any recipe on One Dish Kitchen please let me know how you liked it by rating the recipe and telling me about it in the comment section below.
If you take a picture please tag us on Instagram (@onedishkitchen) we'd love to see!
---
Your Cooking For One Source
Because you're worth it
Vegetable Casserole For One
Single serving casserole with vegetables tossed in olive oil, seasonings, shredded cheese and baked in the oven. Bakes in 30 minutes.
Ingredients
3

tablespoons

olive oil

, divided

1

small

zucchini, sliced

(3 ounces sliced zucchini)

½

small

red bell pepper, sliced

(3 ounces sliced red bell peppers)

¼

small

onion, sliced

(2 ounces sliced onions)

½

cup

broccoli florets

(2 ounces broccoli florets)

½

teaspoon

herbs de Provence

¼

teaspoon

kosher salt

⅛

teaspoon

coarsely ground black pepper

¼

cup

shredded Monterey Jack cheese

(1 ounce shredded cheese)
Instructions
Heat oven to 350° F (177° C). Spread 1 tablespoon of olive oil on the bottom of a small 5-inch baking dish. Set aside.

Place the sliced zucchini, red bell peppers, onions, and broccoli in a small bowl. Toss the vegetables with the remaining olive oil, the herbs de Provence, salt, and pepper. Stir in the shredded cheese.

Pour the seasoned vegetables into the prepared baking dish. Bake for 30 minutes.
Notes
Be sure to cut your vegetables in even sizes for uniform cooking.

For an added protein punch, consider adding a handful of cooked lentils or chickpeas.

If you want to add a crunch, consider topping the casserole with a sprinkle of breadcrumbs before baking.
Nutrition
Serving:
1
serving
,
Calories:
536
kcal
,
Carbohydrates:
17
g
,
Protein:
4
g
,
Fat:
51
g
,
Saturated Fat:
11
g
,
Polyunsaturated Fat:
1
g
,
Monounsaturated Fat:
3
g
,
Cholesterol:
25
mg
,
Sodium:
774
mg
,
Potassium:
144
mg
,
Fiber:
1
g
,
Sugar:
7
g
,
Vitamin A:
283
IU
,
Vitamin C:
41
mg
,
Calcium:
37
mg
,
Iron:
1
mg
The information shown is an estimate provided by an online nutrition calculator. It should not be considered a substitute for a professional nutritionist's advice.
Receive Our Latest Single Serving Recipes!