Over 10 easy, tasty and budget-friendly recipes you can make with a can of beans. These recipes are perfect for meal planning! You'll have less waste with these fantastic single serving recipes.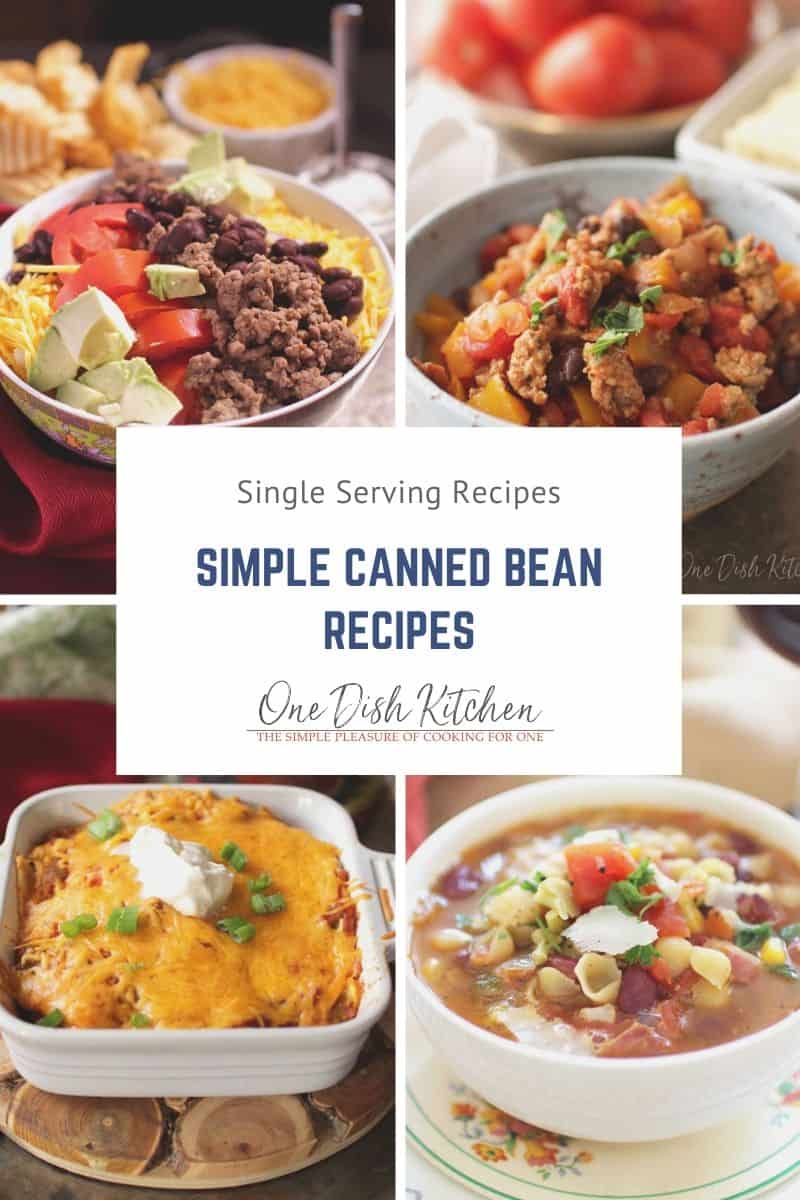 No matter how empty my pantry may get, I can always manage to find at least one can of beans lurking in the shadows.
What Can I Make With A Can Of Beans?
Canned beans are so versatile and you can easily create a wonderful meal around just about any kind you have.
A few cans should always be in your pantry. In fact, you might consider purchasing extra cans of beans when you find them on sale. They're great to keep on hand.
Why These Recipes Work
These canned bean recipes have all been tested and reader-approved. The recipes are delicious and so easy to make.
The recipes can be doubled if you would like to make a double-batch of any recipe.
When you're cooking for one, you might not use the entire can for one meal. With the single serving recipes listed below, you can plan several meals around a single can of beans.
Frequently Asked Questions
RELATED: 14 Day Single Serving Meal Plan
The recipes below are grouped by the type of beans.
Recipes Using Canned Black Beans
Recipes Using Red Kidney Beans
½ cup canned garbanzo beans (chickpeas)
½ cup kidney beans (red beans)
Serve with an Avocado Salad.
¼ cup canned kidney beans
Recipes Using Canned Garbanzo Beans (Chickpeas)
1 can chickpeas
Serve with rice.
Recipe Using Canned White Beans
Recipes Using Canned Black Eyed Peas
Black-eyed peas are a variety of cowpea and are part of the family of beans and peas. Although called a pea, it is actually a bean.
2 cans black eyed peas
Serve with cut carrots, slices of cucumbers, or tortilla chips.
Expert Tips
In every recipe we mention the size of the pan or baking dish we use and recommend. For best results, use the one recommended or use a dish of similar size. All of the baking dishes we suggest using can be found on our Bakeware page and cooking dishes can be found on our Cookware page.
Many of our recipes can be doubled to serve two people, if necessary. Just double the ingredients and keep the cooking times the same.
If you've tried any of these easy canned bean recipes or any recipe on One Dish Kitchen please let me know how you liked it by rating the recipe and telling me about it in the comment section below.
If you take a picture please tag us on Instagram (@onedishkitchen) we'd love to see it!