Shrimp Fried Rice made with cooked rice and plenty of shrimp and vegetables. An easy single serving meal that cooks in just 10 minutes!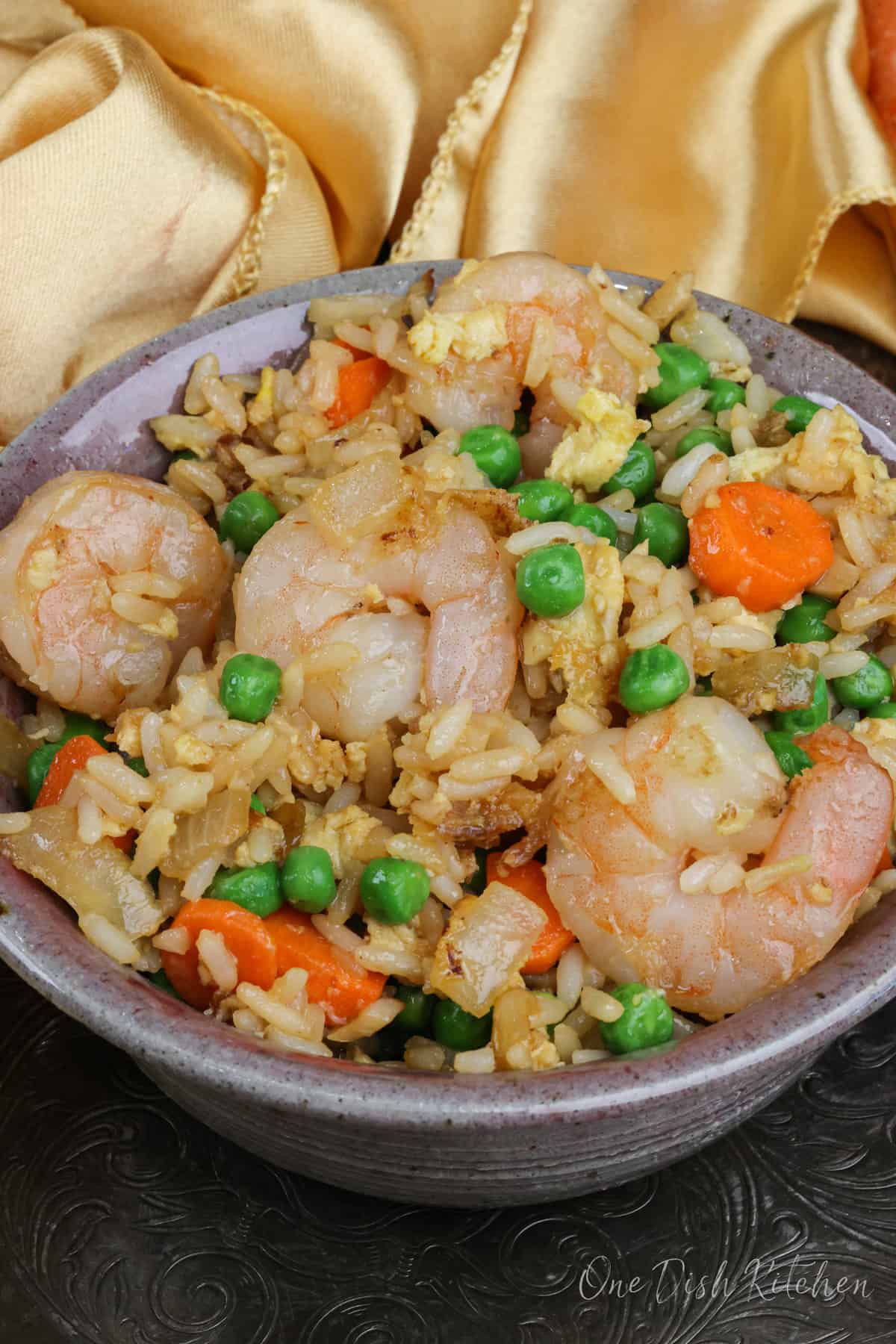 If you've got a little rice left over from a previous meal, a small batch of shrimp fried rice is the perfect way to use it up.
This classic shrimp fried rice is better than any takeout order. It's made in one skillet and ready in minutes! Our version has the perfect balance of vegetables, eggs, rice, and juicy seared shrimp.
Jump to:
What Is Fried Rice?
Fried rice is a simple dish consisting of rice fried together with vegetables and usually a protein. It is a popular dish found in many Asian cuisines and is a great way to enjoy leftover rice and avoid food waste.
Why This Recipe Works
A great way to use leftover rice: Fried rice is best made with cooked rice because leftover rice has usually dried out a bit which makes it perfect for frying.
Easy to customize: Just about any ingredient can go into fried rice. Choose your vegetables, add a beaten egg, and a protein like the shrimp we are using in this recipe. You can also use chicken, beef, or tofu.
Ready in minutes: Quicker than ordering from your favorite restaurant, shrimp fried rice can be ready in minutes.
What Is The Best Kind Of Rice For Fried Rice?
Fried rice is best made with rice that is a day or two old. Freshly cooked rice has a higher moisture content which makes it harder to fry. Leftover rice, since it has less moisture, crisps up better. I like using long-grain white rice but short-grain rice and brown rice also work well - just make sure they are cooked ahead of time. You might even consider using leftover quinoa or even cauliflower rice.
Ingredients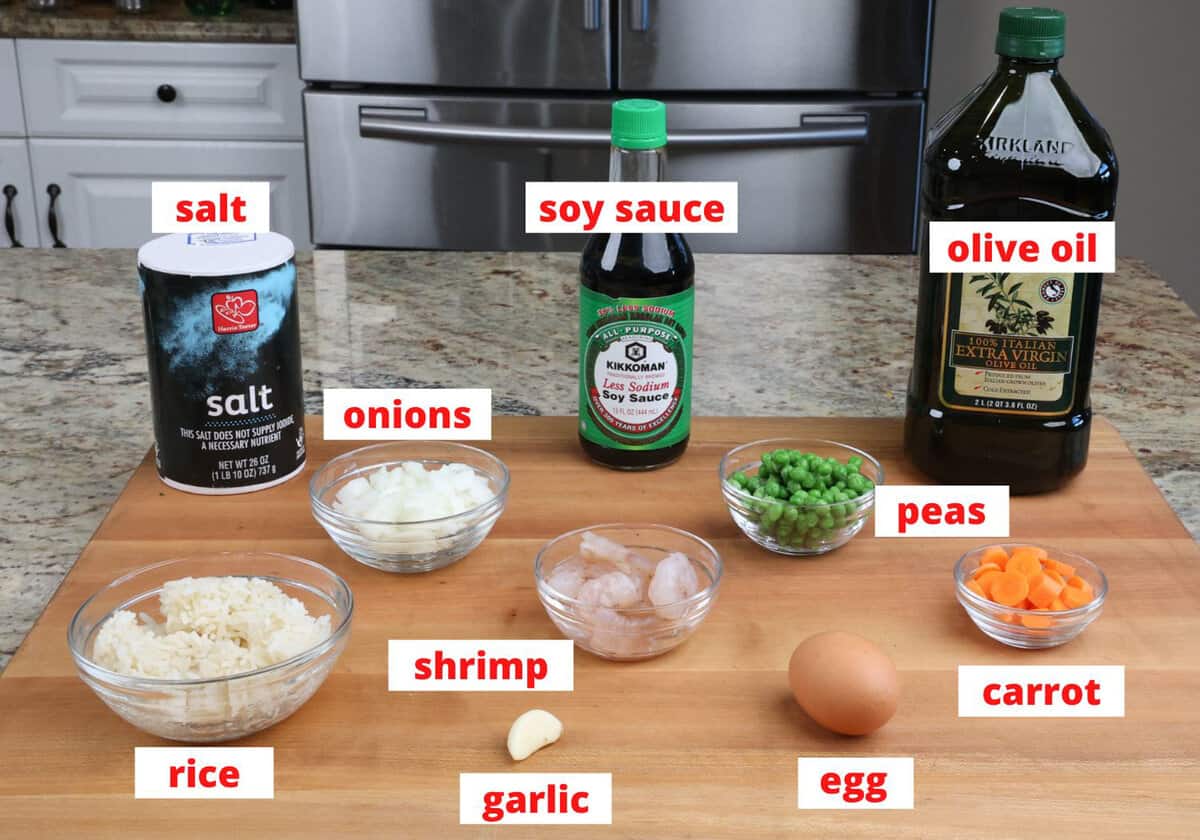 Ingredient Notes
See below for ways to use leftover ingredients.
Vegetables: For this recipe, I'm using onions, garlic, carrots, and peas. Use frozen or fresh vegetables.
Rice: The secret to good fried rice is leftover rice. The dry air from a refrigerator helps to dry out the rice a bit which makes it perfect for frying.
Egg: A softly scrambled egg is one of the key ingredients in fried rice recipes. It's the secret ingredient in Chinese fried rice that simply helps the entire dish come together.
Shrimp: I find that medium-sized shrimp (frozen or fresh) are the perfect size to use.
Soy sauce: Soy sauce is the ingredient that gives restaurant fried rice its flavor.
Salt: For flavor.
Olive oil: I use extra virgin olive oil in this homemade shrimp fried rice recipe and in every other recipe on One Dish Kitchen that calls for olive oil. Extra virgin olive oil is the least processed form of olive oil. It is an unrefined oil and the highest-quality olive oil you can buy. Because of the way extra virgin olive oil is made, it retains a more true olive taste. It also contains more of the vitamins and minerals found in olives. It's my favorite type of olive oil, but you may use light olive oil instead.
This is just an overview of the ingredients I used and why I used them. For the full recipe please scroll down to the recipe box at the bottom of the post.
The Best Shrimp For Fried Rice
I often purchase individually frozen, head-off, peel-on shrimp for most shrimp recipes. These bags of shrimp are found in the freezer section of most supermarkets. When you are cooking for one person, this can be the most economical way to buy shrimp.
The vast majority of "fresh" shrimp sold in supermarkets were deep frozen at sea and delivered to retailers. Even though you may see a display of "fresh" shrimp at the fish counter in the store, those shrimp are the same bags of frozen shrimp you find in the freezer section that have simply been allowed to thaw out in the store before going on display. It's hard to know how long they have been defrosted.
Shrimp are highly perishable. If purchasing fresh shrimp, smell the shrimp first. You don't want any shrimp that smells like ammonia, this is a sign of spoilage. You also want to avoid shrimp that are limp, slimy, or falling apart, these are signs of decay.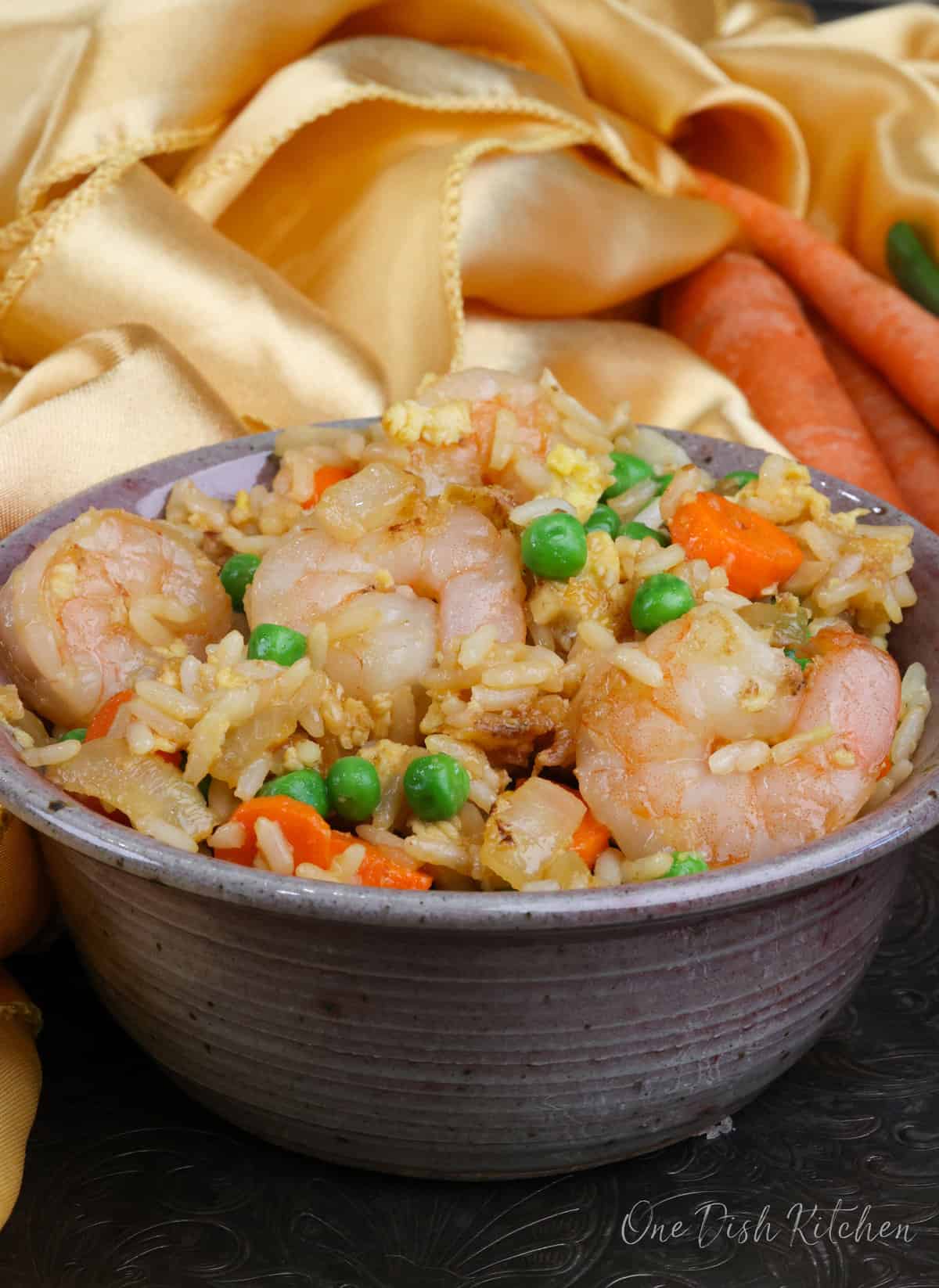 Expert Tips
Gather and prep your ingredients before starting. The cooking process moves quickly so it's a good idea to have everything prepped and ready before you heat the skillet.
Do not use warm, just cooked rice in this recipe. It is best to use chilled leftover rice.
Add a crunchy garnish. If you like a little crunch in your fried rice, top it with toasted nuts, chopped fresh lettuce, or bean sprouts.
Frequently Asked Questions
Storage Instructions
Store leftover shrimp fried rice in an airtight container in the refrigerator for up to 3 days. When reheating leftover fried rice, add a splash of water on top and stir before microwaving.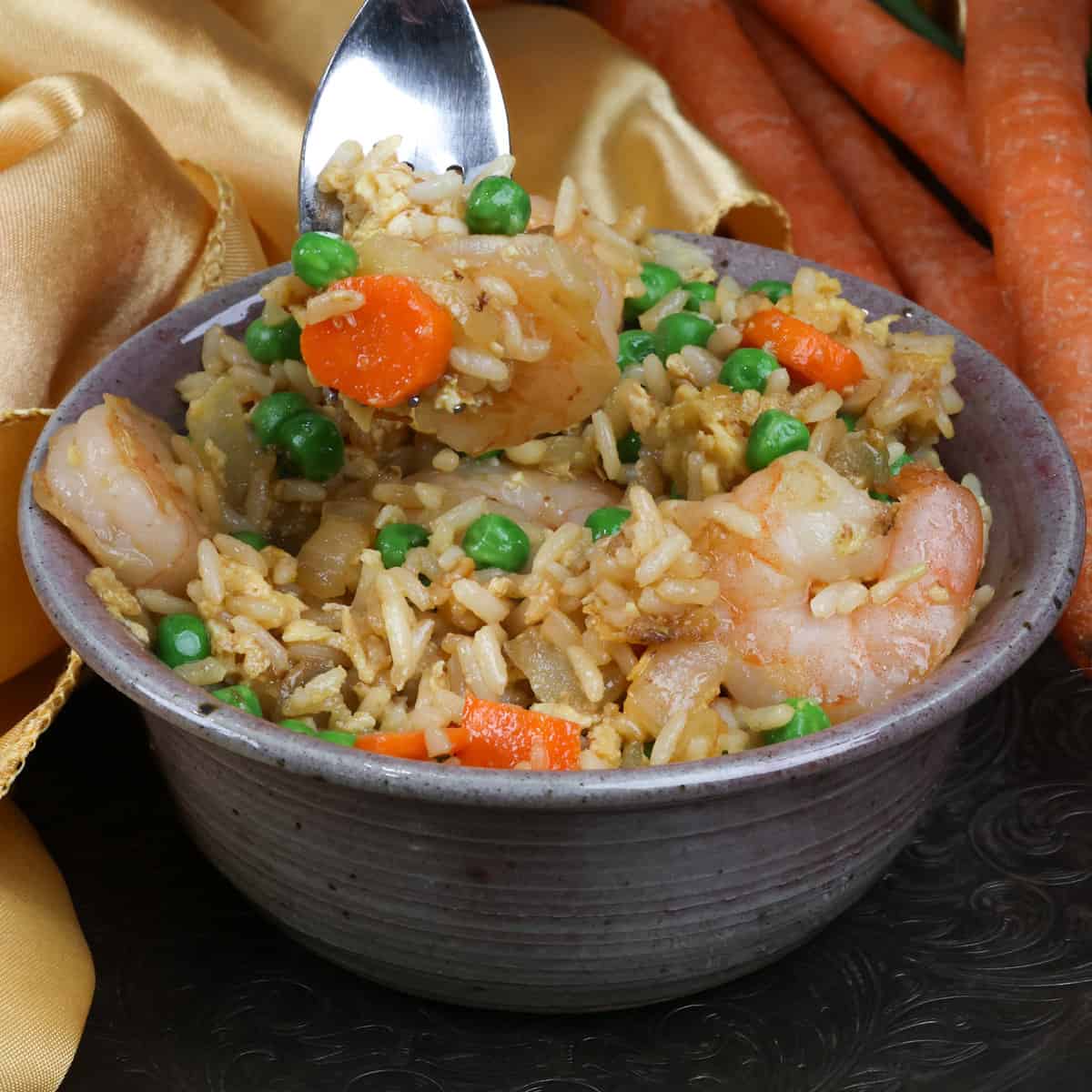 Serving Suggestions
Although I love a big bowl of shrimp fried rice on its own, you might like to consider enjoying it with any of these single serving recipes:
Ways To Use Leftover Ingredients
If you have any ingredients leftover from this single serving recipe for shrimp fried rice, you might like to consider using them in any of these single serving and small batch recipes:
For more information on the cooking and baking dishes I use in our "recipes for one", please visit our FAQ page.
For examples of the dishes used at One Dish Kitchen, please visit our Store page.
If you've tried this easy shrimp fried rice recipe or any recipe on One Dish Kitchen please let me know how you liked it by rating the recipe and telling me about it in the comment section below.
Also, if you take a picture please tag us on Instagram (@onedishkitchen) we'd love to see it!
Recipe