The key to a really great quiche doesn't lie In the crust. Instead, a flavor-filled quiche relies on a delicate, creamy custard. This delightful filling is what makes these crustless quiche recipes incredibly delicious and we're absolutely convinced that you won't even miss the crust.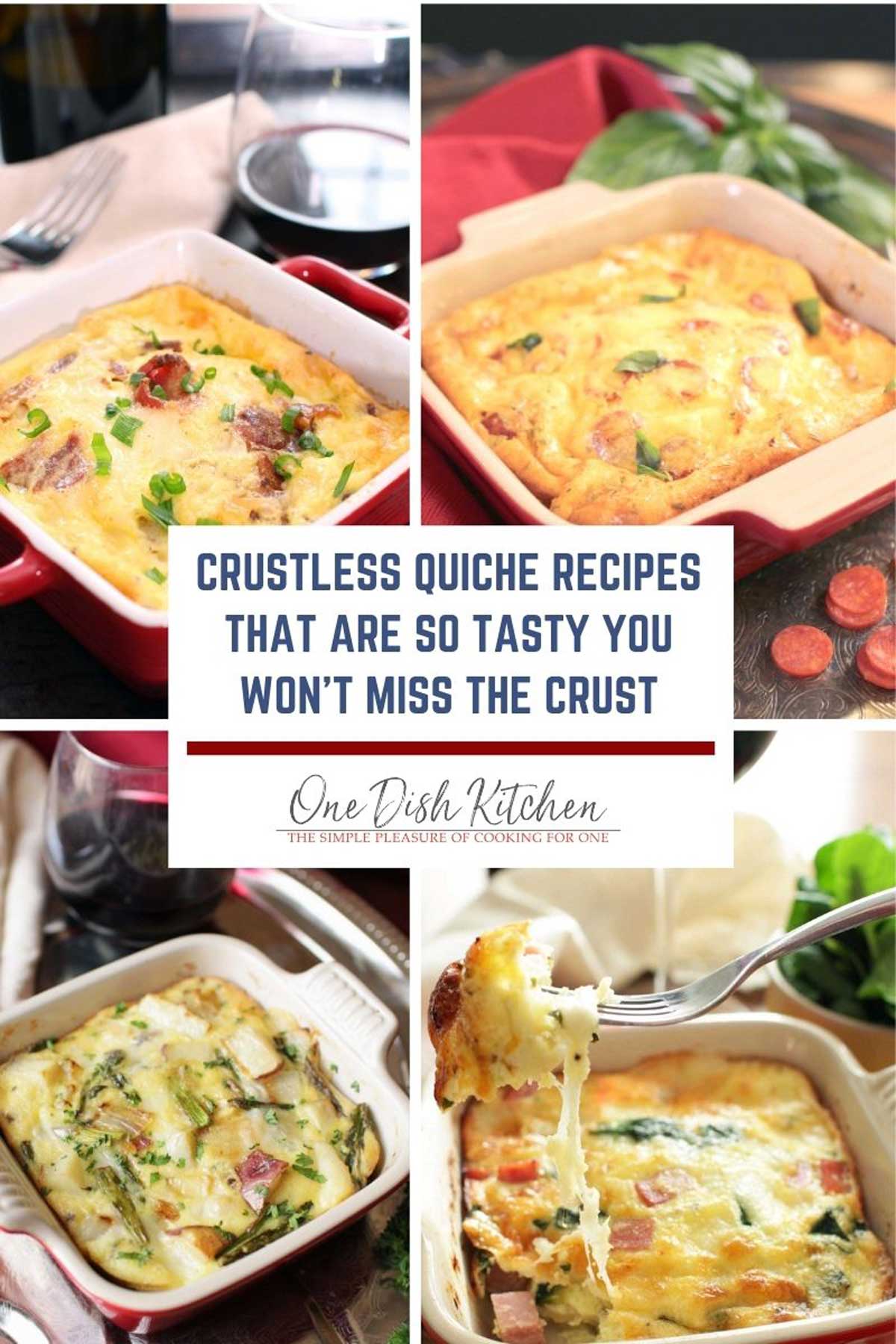 Here you will find several easy single serving crustless quiche recipes that are so tasty, you won't even miss the crust!
Why These Recipes Work
The key to a great quiche doesn't lie in the crust but with a delicate, creamy custard. This is what makes wonderful crustless quiche recipes so incredibly delicious! It's wonderful to not have to bother with making a crust. I save so much time by eliminating the pastry step. If you would like to add a crust to a quiche recipe, I recommend using a frozen, or pre-made pie crust and cutting it to fit the dish.
A quiche can be fancy, yet incredibly easy to make.
Single serving crustless quiche recipes are great recipes to have on hand when you're looking for low carb meals that are easy to customize.
In these single serving crustless quiche recipes, the quiche filling begins with the same two ingredients; eggs and cream. You can follow the simple directions in the following recipes to create any one of these savory quiche recipes or use the ratio of egg to cream (listed in the recipes) and add your own favorite filling ingredients.
Frequently Asked Questions
What Is A Crustless Quiche?
A crustless quiche is a little like an oven baked omelette or a frittata. It's made with a couple of eggs, a little cream or milk, and then whatever ingredients you like to add in.
There's no crust involved which makes for an easy meal to prepare.
An interesting thing happens when a crustless quiche is baked in the oven, a sort of "natural" crust forms along the bottom and the sides. This leaves you with the absolute best part of the quiche.
A mini crustless quiche makes a delightful dinner or even a low carb breakfast. They can be low carb, keto friendly and low calorie as well.
Can You Freeze A Crustless Quiche?
Yes, a crustless quiche freezes very well.
To freeze before baking:
Mix the ingredients together and pour the mixture into a zip-top freezer bag. Thaw the quiche filling in the refrigerator for about 24 hours before baking. Transfer the ingredients to an small oven safe baking dish and bake as the quiche recipe states.
To freeze after baking:
Cook the quiche as directed and allow to cool. Tightly cover with plastic wrap and freeze. When you are ready to reheat the quiche, place the quiche in a 350 degree F oven and heat for 20 minutes.
What Type Of Milk Should I Use In A Crustless Quiche Recipe?
In the quiche recipes above, I recommend using heavy cream (also known as double cream). The cream makes the quiche richer.
You may also use skim, lowfat, or whole milk instead of the cream. Almond milk and soy milk will work well too.
How To Store A Crustless Quiche?
Cover the quiche and keep in the refrigerator. It should be eaten within 3 days.
RELATED: 20 Single Serving Breakfast Recipes Worth Waking Up To
You certainly won't miss the crust in this lovely Crustless Quiche Lorraine for one! It's perfect for breakfast, lunch or dinner.
Check out this recipe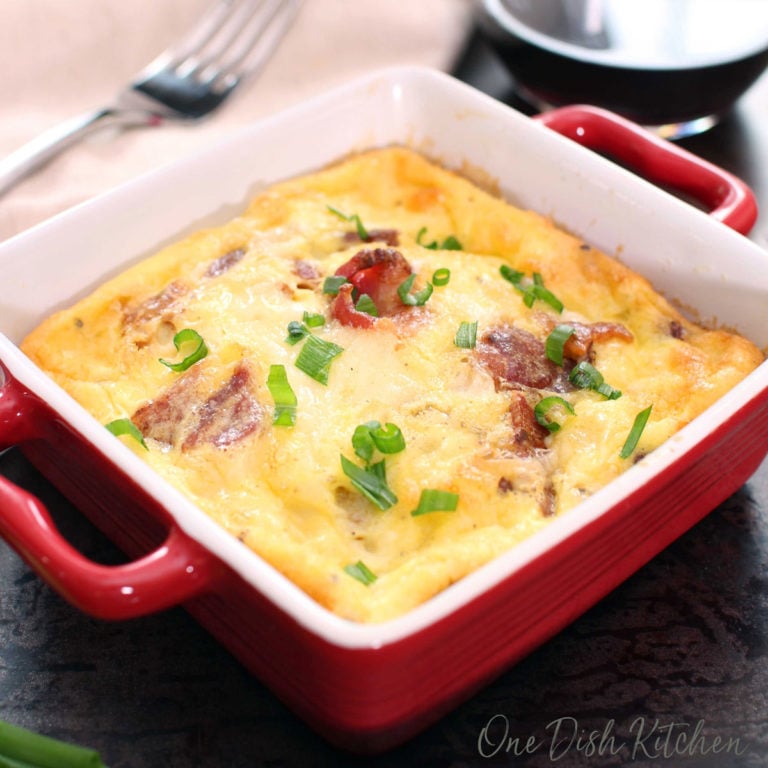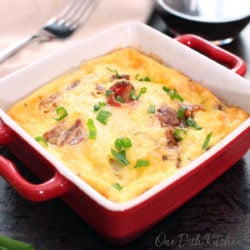 This single serving crustless quiche is filled with ripe tomato slices, pesto, and cheese. It's perfect for breakfast, lunch, or even dinner. Easy to make and cooks in less than 30 minutes!
Check out this recipe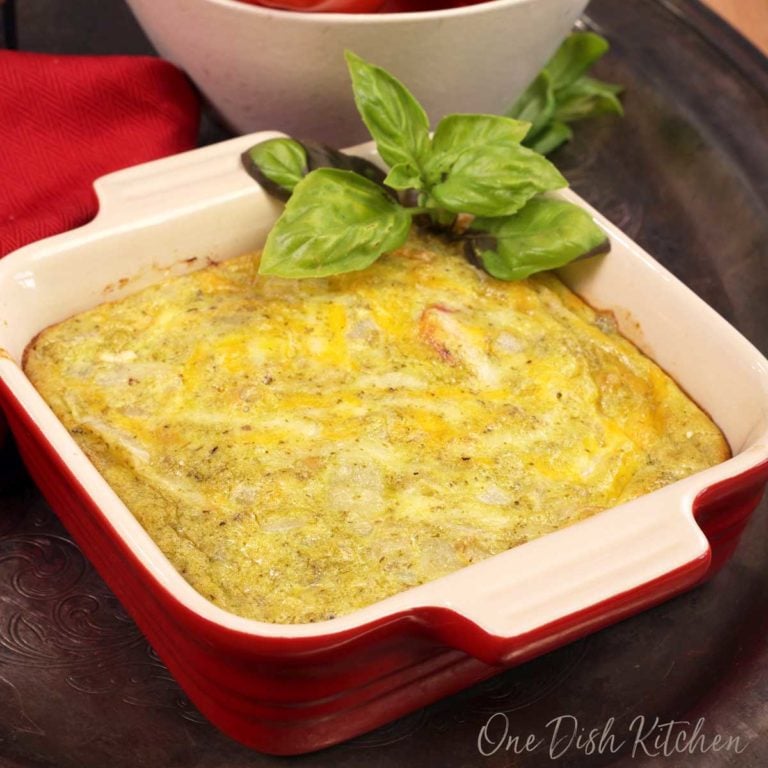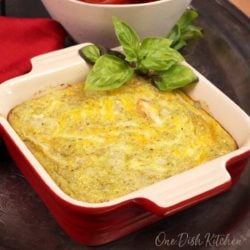 Creamy, low-carb Crustless Spinach Quiche for One made with ham and Swiss cheese. Full of flavor, you'll never even miss the crust!
Check out this recipe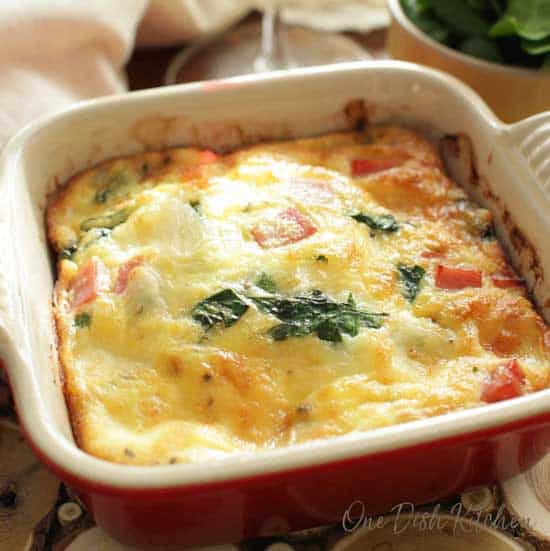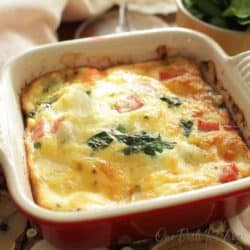 Satisfy a pizza craving with this fabulous crustless pizza quiche! This single serving low carb quiche is filled with plenty of pepperoni and mozzarella cheese. Easy to make and cooks in less than 30 minutes.
Check out this recipe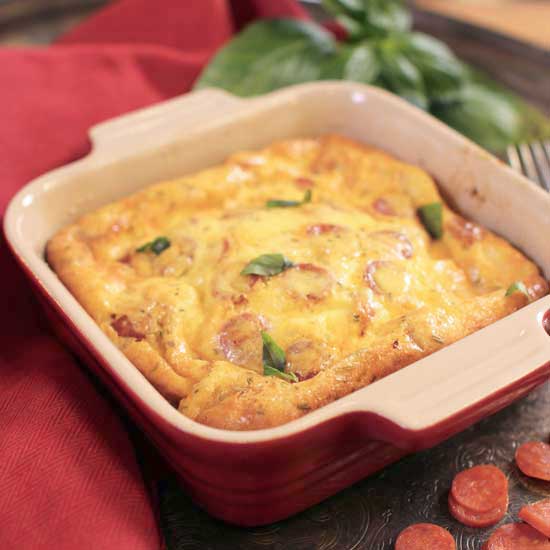 Easy to make, low carb Goat Cheese and Prosciutto Crustless Quiche For One! A delicious combination of flavors. This single serving quiche recipe is ideal for anyone cooking for one and is perfect for breakfast, lunch or dinner.
Check out this recipe
You certainly won't miss this crust in this lovely Potato and Asparagus Crustless Quiche Recipe for One. Potatoes, asparagus, onions and garlic roasted to perfection then mixed with eggs, cream and Fontina cheese. Perfect for brunch or dinner.
Check out this recipe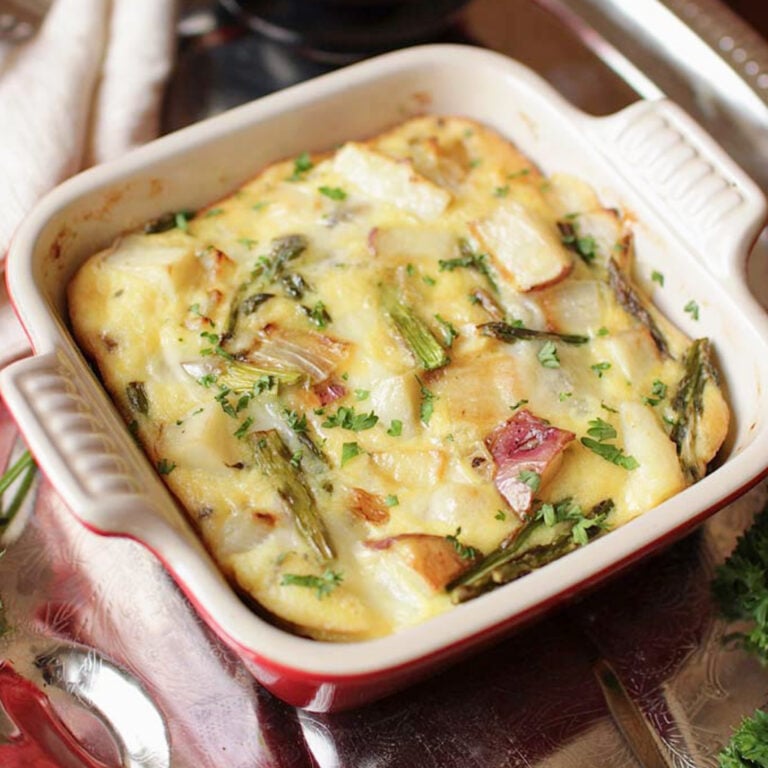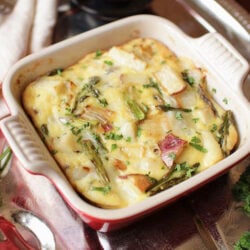 Serving Suggestions
You might like to consider serving any of these single serving and small batch recipes with your quiche.
Expert Tips
When making a crustless quiche for one, I use a 5-inch baking dish which you can find on our store page. This dish holds about 1.5 cups and has an area of 25 square inches. A 4x6-inch dish has an area of 24 square inches and will work as well. For best results, use a dish of similar size. See our FAQ page for additional information on baking dish sizes. For examples of the dishes we use, please visit our Store page.
The key ingredients in a crustless quiche are 2 eggs and 3 tablespoons of heavy cream. Feel free to customize your quiche as you would like with seasonal ingredients or ingredients you already have on hand.