Classic New Orleans muffuletta recipe scaled down to serve one person. Layers of meats, melted cheese, and olive salad piled high onto sturdy Italian bread.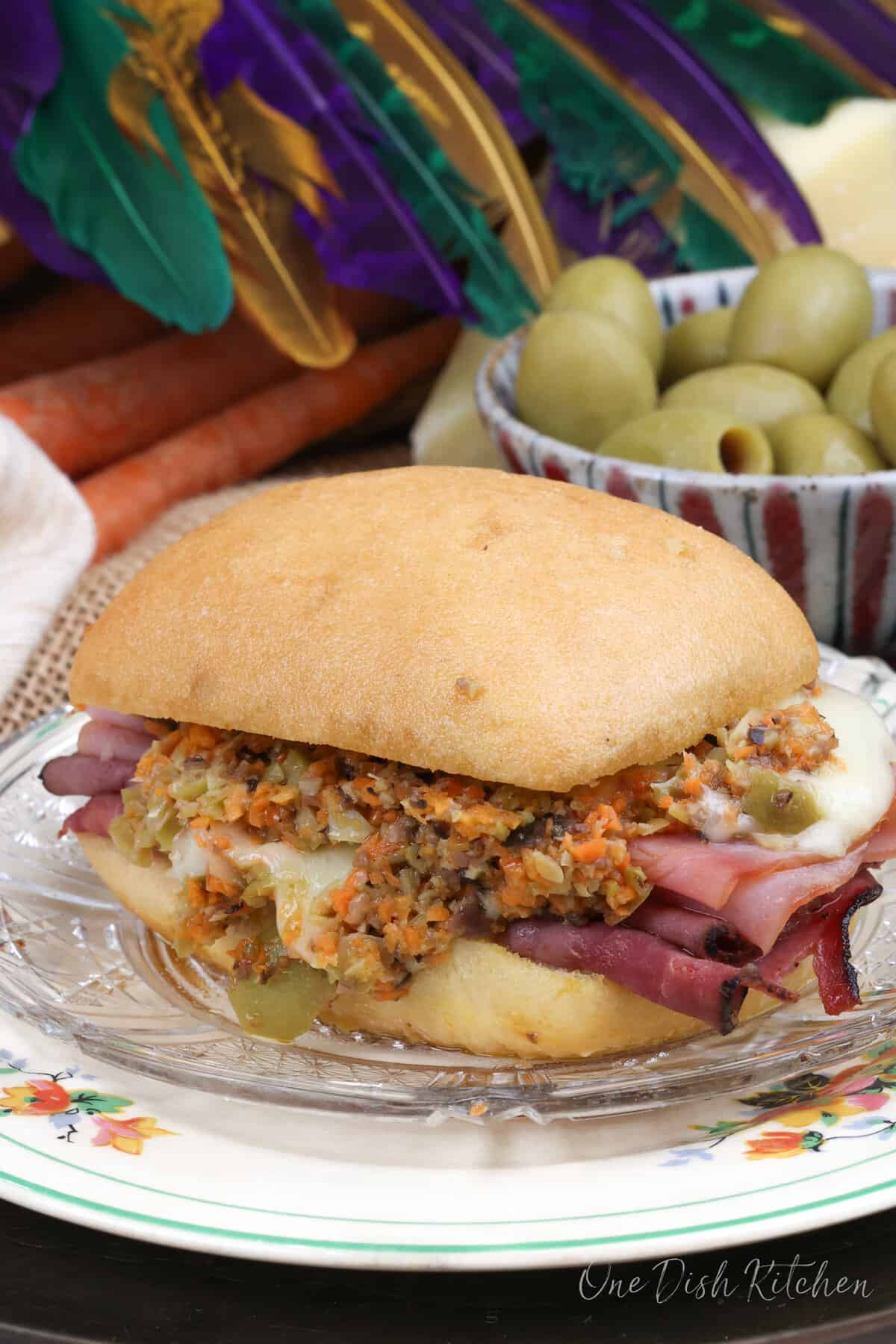 This authentic New Orleans muffuletta recipe is a scaled-down version of the muffuletta recipe I use for parties and large gatherings. Our muffuletta is packed with meats and our homemade olive salad which is traditionally found on the original muffulettas at Central Grocery in New Orleans.
If you're looking for other authentic New Orleans recipes, you might like to try our single-serving jambalaya, shrimp creole, or seafood gumbo recipes.
Jump to:
What Is A Muffuletta?
A Muffuletta is a deli sandwich filled with ham, pastrami, pepperoni or salami, and provolone cheese. The key ingredient in a Muffuletta is the olive salad which is the sandwich's signature trait.
The word muffuletta means soft and spongy bread. The spelling varies based upon which region in Sicily you're from and can be spelled muffuletta, muffeletta, or muffaletta.
Where Did The Muffuletta Originate?
Although Italian, the muffuletta didn't originate in Italy. It is the creation of Sicilian immigrant, Salvatore Lupo who arrived in New Orleans in the early 1900s and opened Central Grocery. He developed this sandwich for his customers, many of whom were farmers who would order bread, sliced cold cuts, olives, and cheese. Since they would eat standing, Mr. Lupo decided to put all of those ingredients together in a sandwich to make it easier for his customers to enjoy.
Growing up in New Orleans, my family and I visited Central Market often and I have many fond memories of sharing a muffuletta with my parents. This single-serving recipe is my version of this legendary muffuletta.
Why This Recipe Works
Incredibly delicious: The flavors are perfect in this mini muffuletta recipe. Layers of ham, pastrami, pepperoni, and provolone cheese are piled high on a small loaf of sturdy bread. But the key ingredient, in my opinion, is the traditional olive salad. Green olives, black olives, and carrots are put in a food processor and finely chopped. Then, we stir in olive oil and grated Parmesan cheese to pull it all together.
Easy to make: Assembling a muffuletta is as easy as making a sandwich. Double or triple the ingredient amounts to make additional individual muffulettas.
The perfect muffuletta bread: The bread you use in a muffuletta is extremely important. When making a large muffuletta, I use a loaf of French or Italian bread but when making a single muffuletta I like to use a ciabatta roll (or two rolls if they happen to be small). Whichever type of bread you use, make sure it's sturdy enough to hold all of the ingredients together.
Ingredients
Expert Tips
Make Ahead: You can make the olive salad ahead of time and store it in the refrigerator for up to 5 days. Assemble the sandwich up to two days in advance and keep it in the refrigerator until you are ready to enjoy it.
Gently press down on the heated sandwich before eating. This is an important step because it allows the olive salad's juices to absorb into the bread.
Recipe doubles well: If you'd like to make another muffuletta, just double the ingredient amounts. The olive salad can stand on its own as a flavorful spread, consider making a double batch of the olive salad and enjoy it with pita chips.
For this recipe, I used two small ciabatta rolls and each roll measures approximately 4 inches x 2 inches. If you use a single roll that is larger than 4 inches x 4 inches, you may need to increase the amount of filling accordingly.
Frequently Asked Questions
Ways To Use Leftover Ingredients
If you have any ingredients leftover from this mini muffuletta recipe, you might like to consider using them in any of these single serving and small batch recipes:
More Single Serving Authentic New Orleans Recipes
For more information on the cooking and baking dishes I use in our "recipes for one", please visit our FAQ page.
For examples of the dishes used at One Dish Kitchen, please visit our Store page.
If you've tried this easy muffuletta recipe or any recipe on One Dish Kitchen please let me know how you liked it by rating the recipe and telling me about it in the comment section below.
Also, if you take a picture please tag us on Instagram (@onedishkitchen) we'd love to see it!
Recipe