When you're cooking for one, there are times when a full-sized recipe isn't ideal. Reduce any recipe with these easy tips showing you how to scale down a recipe so it is just right for you.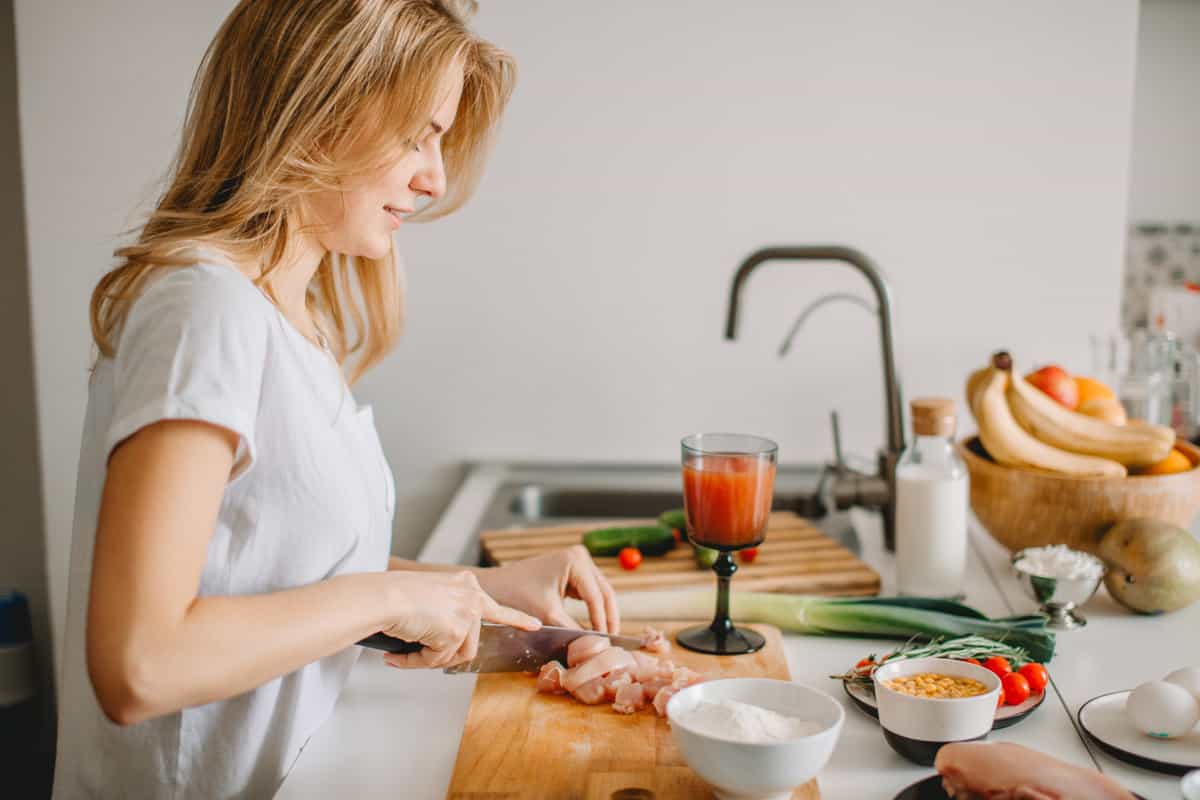 Most recipes are written to serve four to six people. This isn't always a bad thing if you enjoy leftovers. However, if you're cooking for one or two, you may want to enjoy a meal and not have to eat the same thing for days.
Not every meal needs to feed a small army. At One Dish Kitchen, creating single serving recipes and cooking for one is all we do and we're going to show you a simple method to cut a recipe in half or scale it down even more in the comfort of your own kitchen.
How To Reduce A Recipe
Here is a simple measurement reduction guide to help you cut a 4-serving recipe in half or reduce a 6-serving recipe to two servings (click on the image to download it):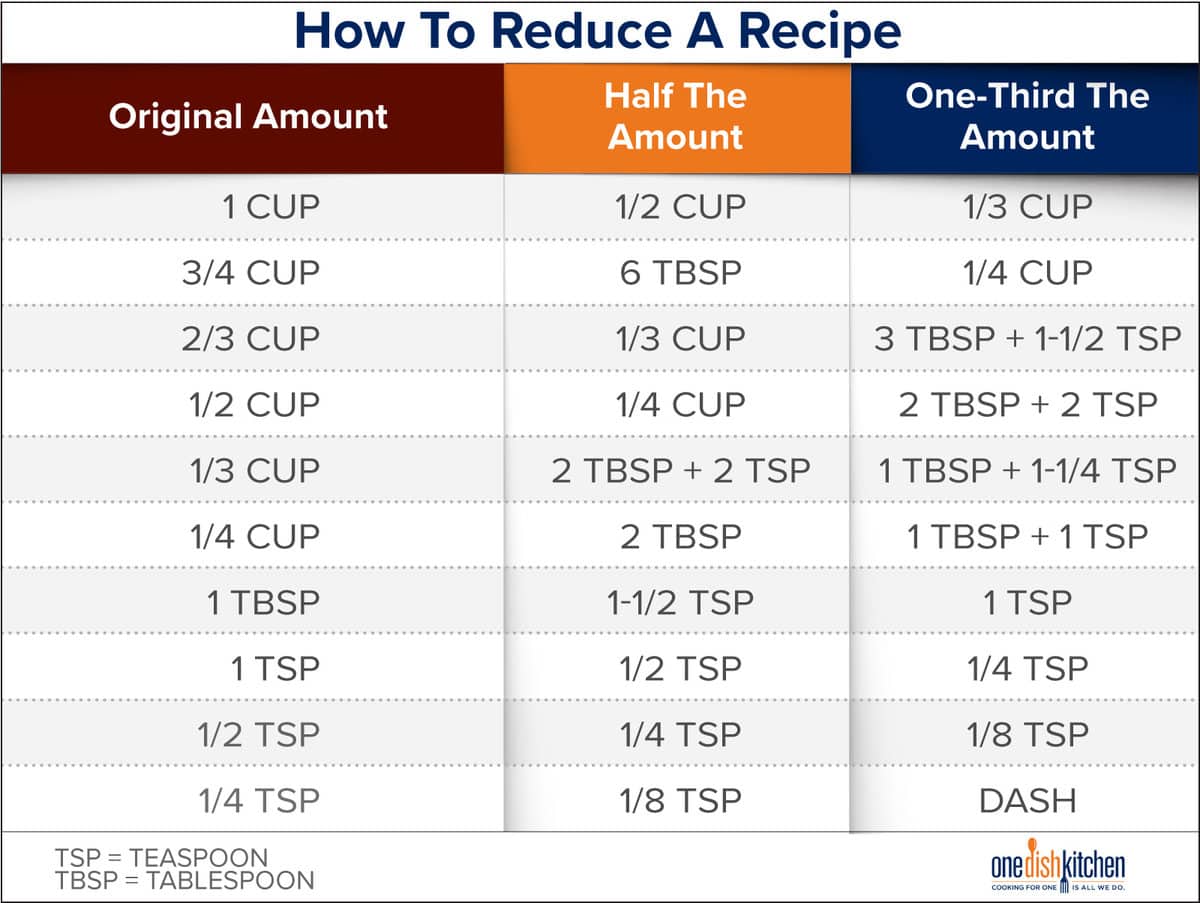 Cooking Conversions
It's easy to halve 2 cups into 1 cup, or 4 tablespoons into 2 tablespoons, but when you get into quantities that are more difficult to cut in half it can be a bit more complicated.
The key here is to change the measurement into one that can be easier to divide evenly. It's easiest to do this by converting measurements into tablespoons and teaspoons.
Remember:
1 cup = 16 tablespoons (tbsp) = 48 teaspoons (tsp)
Half of 1 cup = 8 tablespoons = 24 teaspoons
¾ cup = 12 tablespoons
Half of ¾ cup = 6 tablespoons
½ cup = 8 tablespoons
Half of ½ cup = 4 tablespoons
⅓ cup = 5 tablespoons + 1 teaspoon
Half of ⅓ cup = 2 tablespoons + 2 teaspoons
¼ cup = 4 tablespoons
Half of ¼ cup = 2 tablespoons
⅛ cup = 2 tablespoons
Half of ⅛ cup = 1 tablespoon
1 tablespoon = 3 teaspoons
½ tablespoon = 1 ½ teaspoons
8 fluid ounces (fl oz) = 1 cup
1 pint (pt) = 2 cups
1 quart (qt) = 2 pints
4 cups = 1 quart
1 gallon (gal) = 4 quarts
Weight conversions
16 ounces (oz) = 1 pound (lb)
1 ounce = 28 grams
1 pound = 454 grams
Pro Tip: To cut down recipes easily, just remember how many tablespoons are in a cup, and how many teaspoons are in a tablespoon.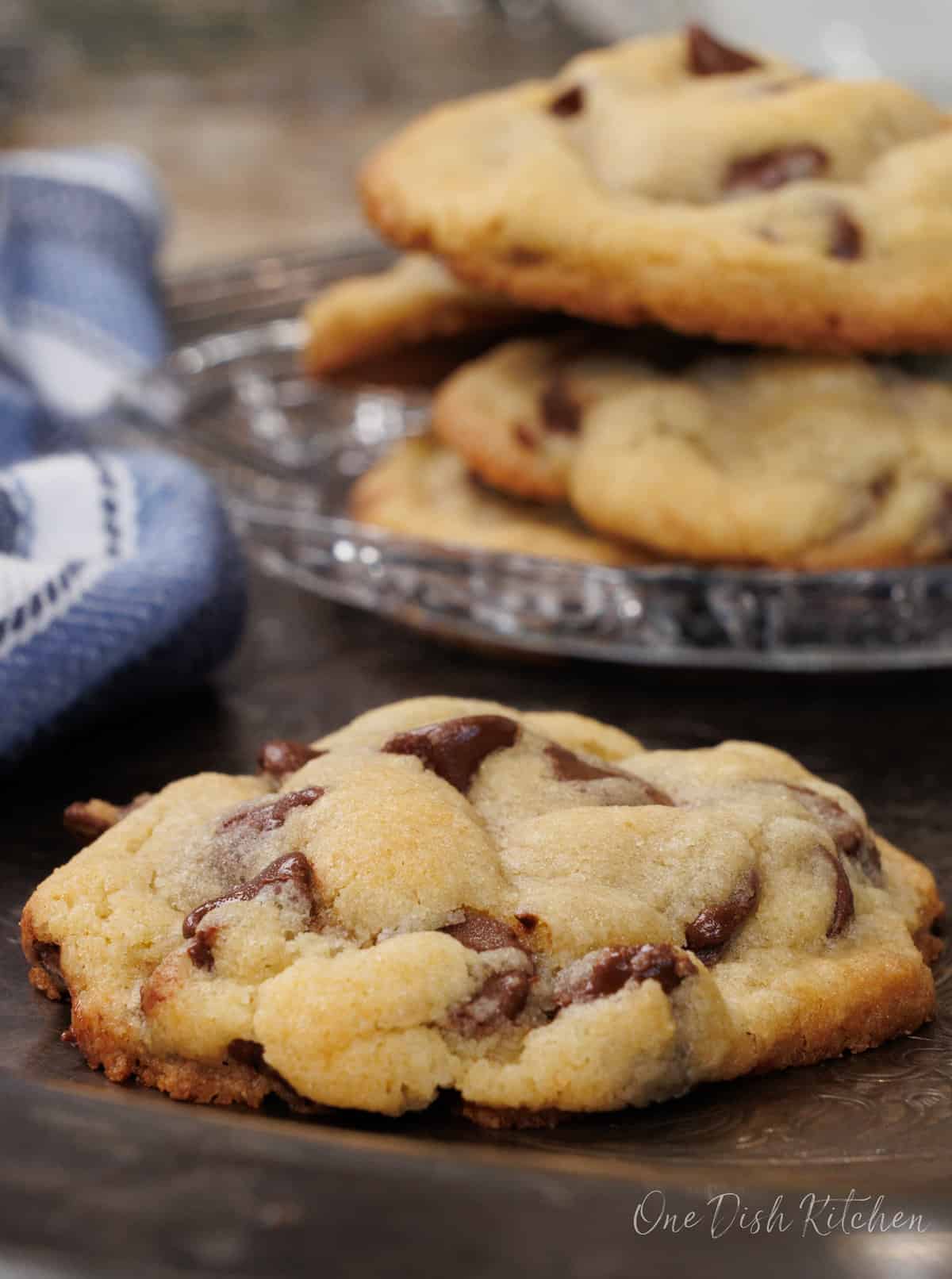 Helpful Measuring Tools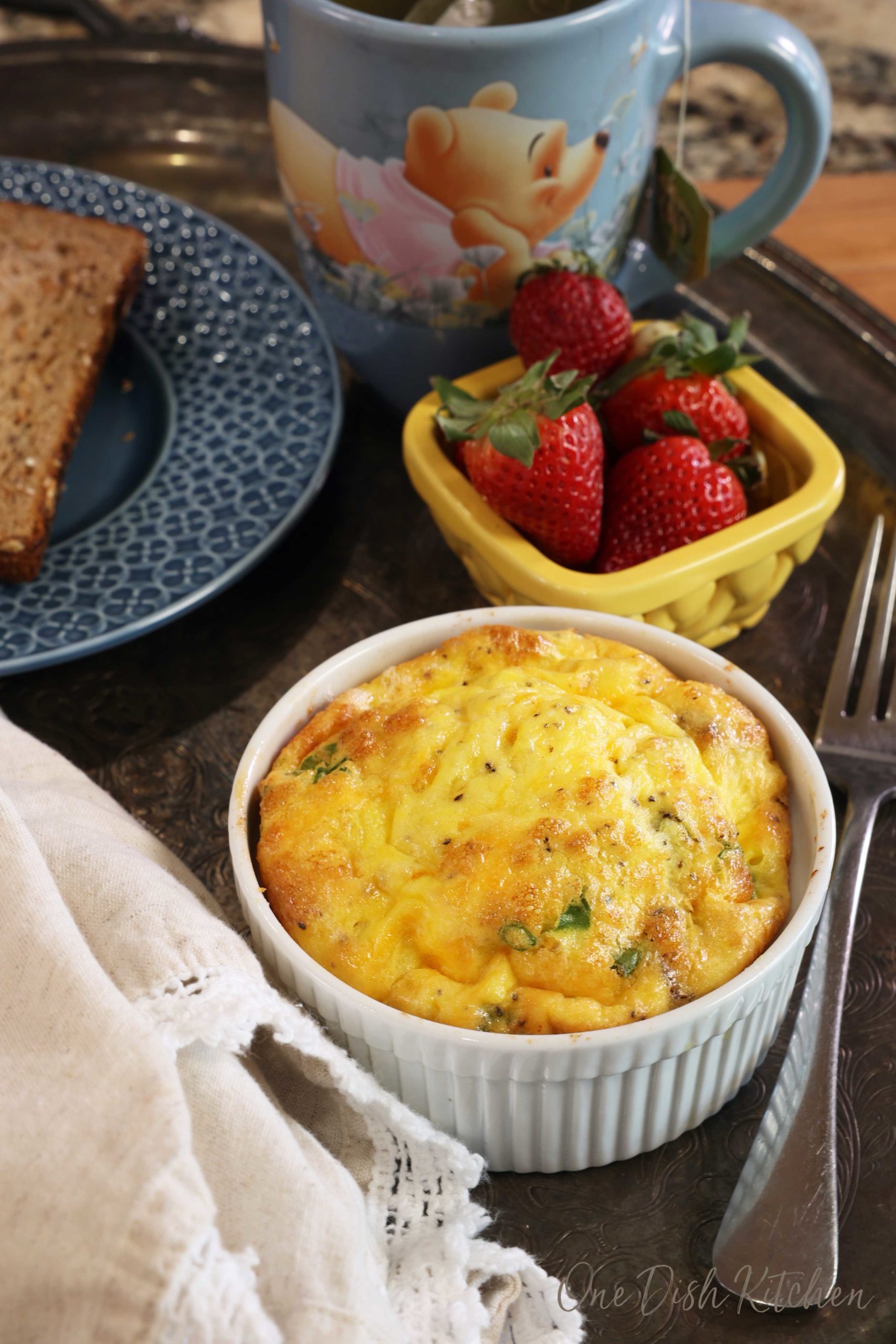 The Right Equipment
The success of a recipe depends heavily on using the proper pots, pans, and baking dishes. It is worth investing in a couple of small baking dishes and pans because when you cut a recipe in half or more and try to bake it or cook it in a dish that is too large, it can overcook, it can undercook, or it can dry out.
Here's what we recommend:
Pan: An 8-inch and/or a 10-inch skillet
Baking dish: 5x5 inch baking dish with a base area of 25 square inches or a 4x6-inch baking dish with a base area of 24 square inches. For recipes calling for a dish this size, a 6x6 inch baking dish can be used but will likely cook faster so you'll need to keep a close eye on it.
Ramekin: 10-ounce ramekin which measures 4 inches in diameter and is approximately 1 ¾ inches tall.
Pro Tip: The three dishes we use most often with One Dish Kitchen recipes are either a 5x5 inch baking dish or a 4x6 inch baking dish, a 10-ounce ramekin, and a 5x7 inch baking dish. To see the dishes we use, please visit our Store page.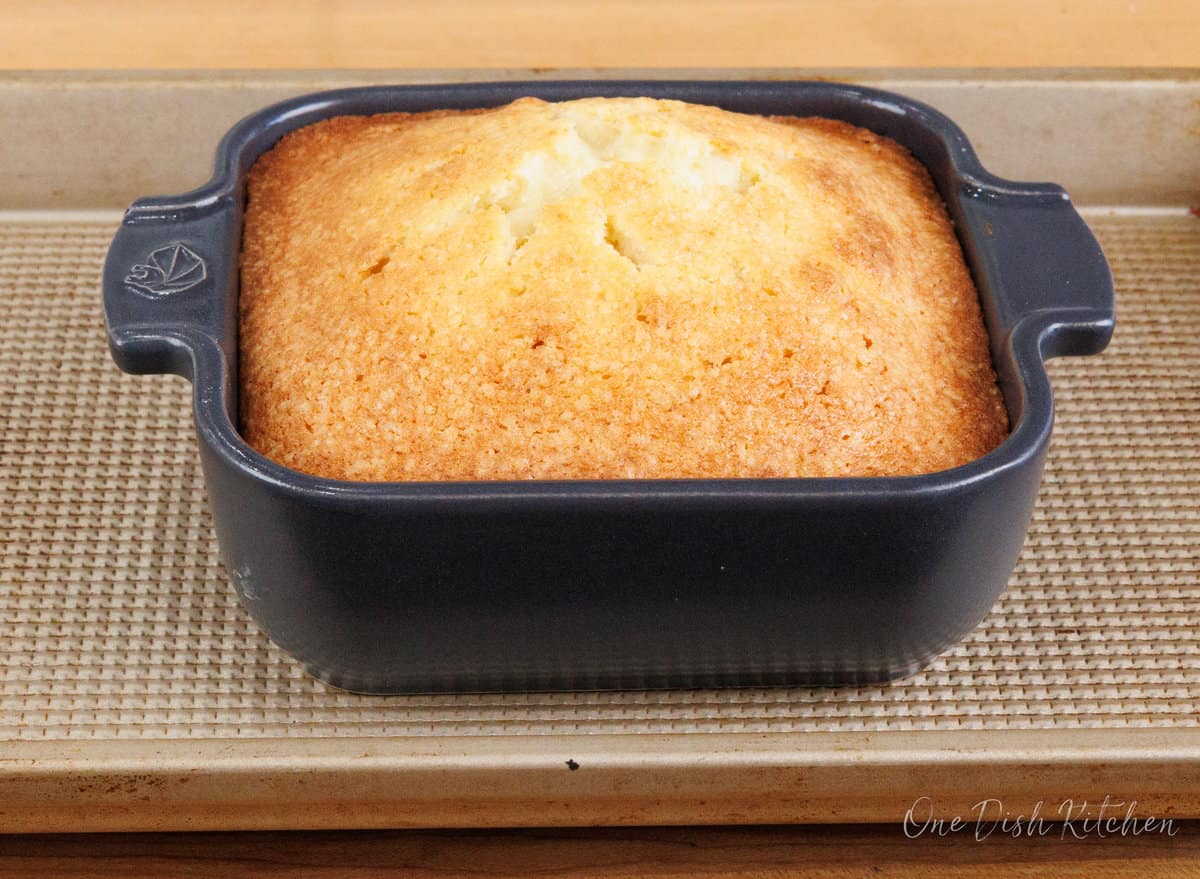 How To Halve An Egg
It can be difficult to reduce a recipe when the original recipe calls for using 1 egg. Most of our recipes call for either using the entire egg, the egg yolk, or the egg white.
Eggs are essential in traditional baking and each element of the egg plays a different role and has a different function. The egg white is made up mostly of water and proteins and can be whipped to create a fairly stable foam that helps to lighten baked goods. When folded into ingredients, egg whites work as a leavening agent which results in lighter baked goods. We use an egg white only in many of our recipes including our Mini Texas Sheet Cake and Small Batch Vanilla Cupcakes.
The egg yolk contains all of the fat as well as protein, vitamins, and minerals. Baked goods made with yolks only are richer and more tender than those made with whole eggs. We use only the egg yolk in our scones recipes and many of our cookie recipes.
We've found through our years of reducing recipes that using the entire egg in many of our single serving and small batch baked goods will alter the texture and taste of the item you are baking significantly.
If you scale down a recipe on your own and you're dealing with 1 egg in the recipe, you can either use our single serving and small batch recipes as a guide or crack the egg into a small bowl and whisk together the egg yolk and the egg white. Then measure out half of the whisked egg and add it to your recipe.
If a recipe calls for using several eggs, cut that number in half (or thirds, etc.) and follow the above step, if necessary to get the right amount.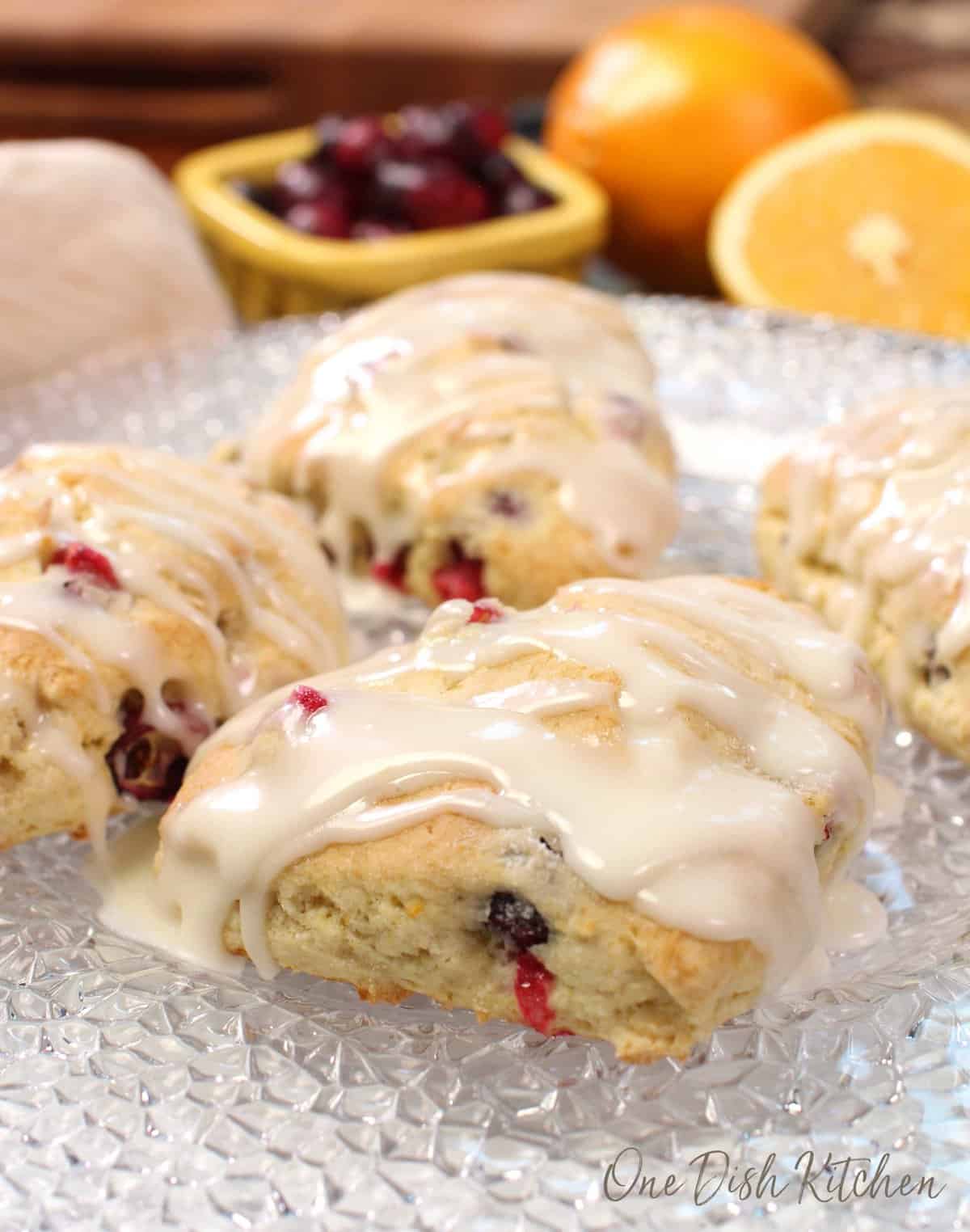 Tips For Scaling Recipes
Reducing a recipe gets easier with practice. Keep these tips in mind as you work through the recipe:
Make your conversions before you start cooking. Take some time and do the math to convert the numbers before you begin. Write the measurements down so you don't forget them.
Taste the dish as you go. You are in charge of your recipe. Taste the dish as it cooks and season accordingly. I recommend using roughly half of the seasoning called for in the original recipe and adjusting to taste as you go.
Use smaller pans and baking dishes. This was mentioned above but it's so important. The success of your meal depends on using the correct size dish.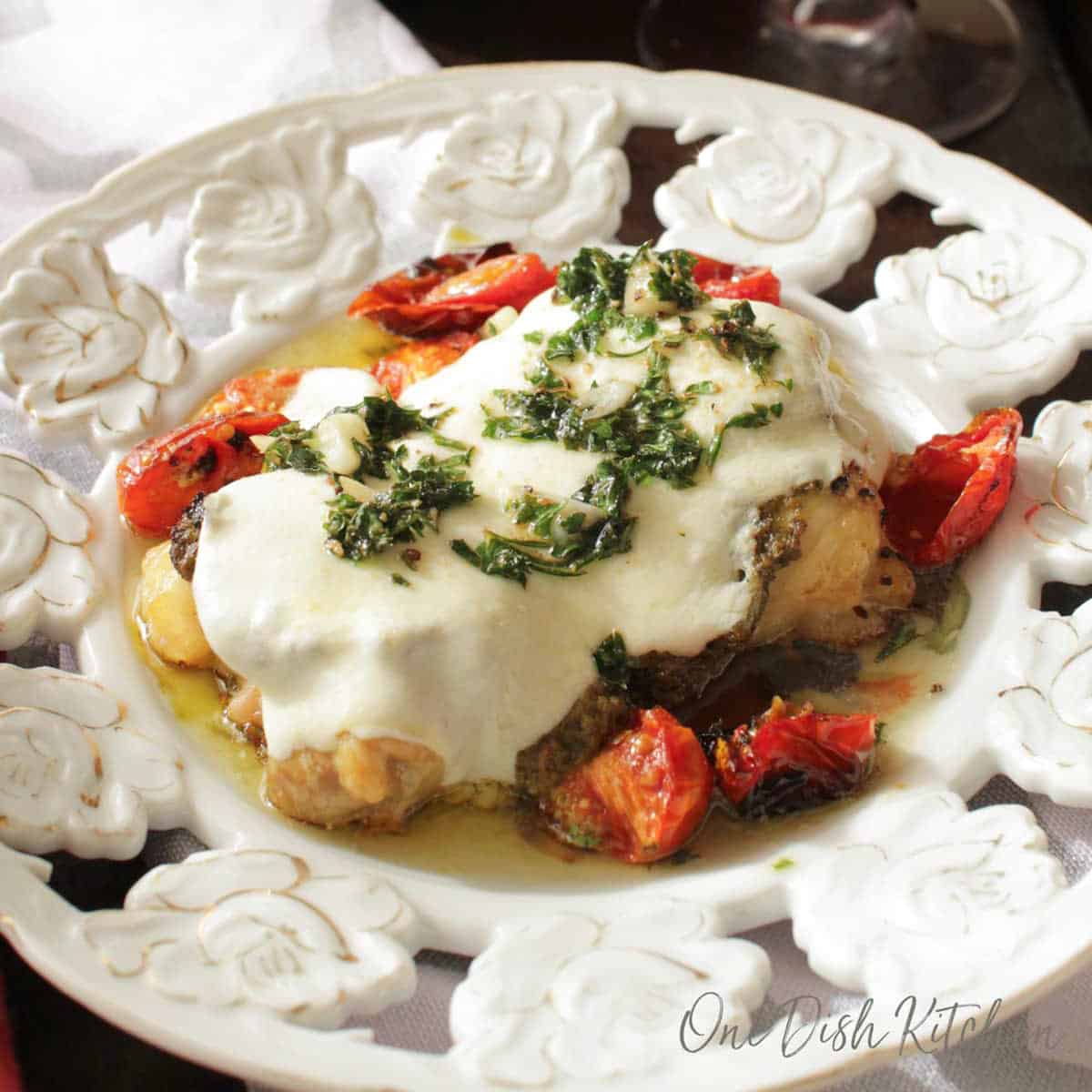 How To Adjust Crock Pot Servings
If you want to reduce the number of servings in a slow cooker recipe:
Use a smaller slow cooker. If the original recipe calls for using a 6-quart slow cooker and you cut the recipe in half, use a 3-quart or smaller slow cooker. We recommend using a 1.5-quart or a 2-quart slow cooker for our single serving slow cooker recipes.
If you don't have a smaller slow cooker, you can easily adapt your large slow cooker into a small slow cooker by placing an oven-safe bowl inside of the bowl of your slow cooker. Be sure to read through our article on cooking small meals in a large slow cooker before doing this.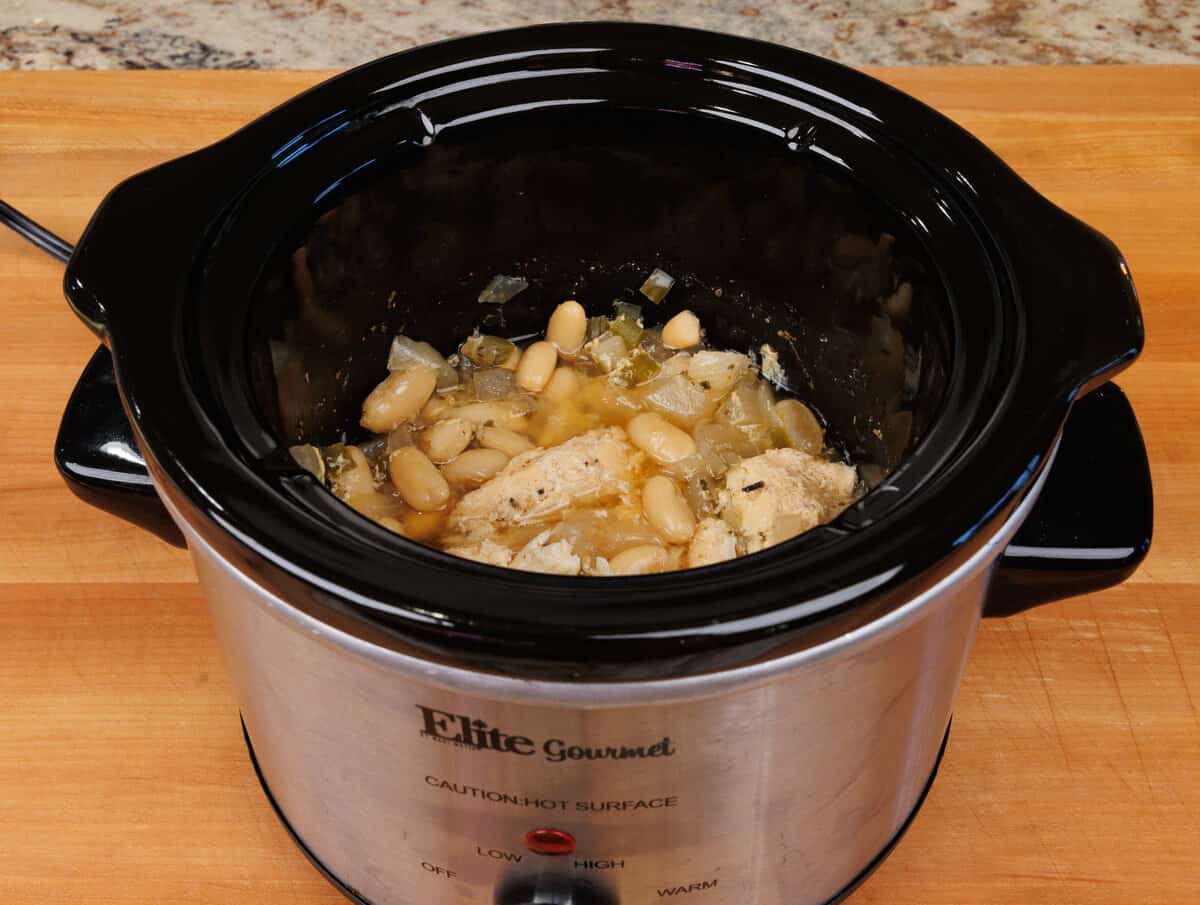 How Scaling Down A Recipe Affects Cooking Time
When you scale down the ingredients in a recipe, you do not need to reduce the oven temperature but you may need to reduce the cooking time since smaller volumes tend to cook faster.
For cookies, the baking time should remain the same. Cakes will generally take less time, so subtract 10-15 minutes off the time and check the dish during the cooking process. If it isn't done, check it about every 5 minutes until it has finished cooking. When a cake has browned on the top, double check with a toothpick inserted into the center of the cake. If it comes out clean, the cake is done.
Although we have hundreds of single serving and small batch recipes on our website. Here are a few of our most popular ones to inspire you!