Cook up some good luck with these traditional single serving and small batch New Year's Day recipes.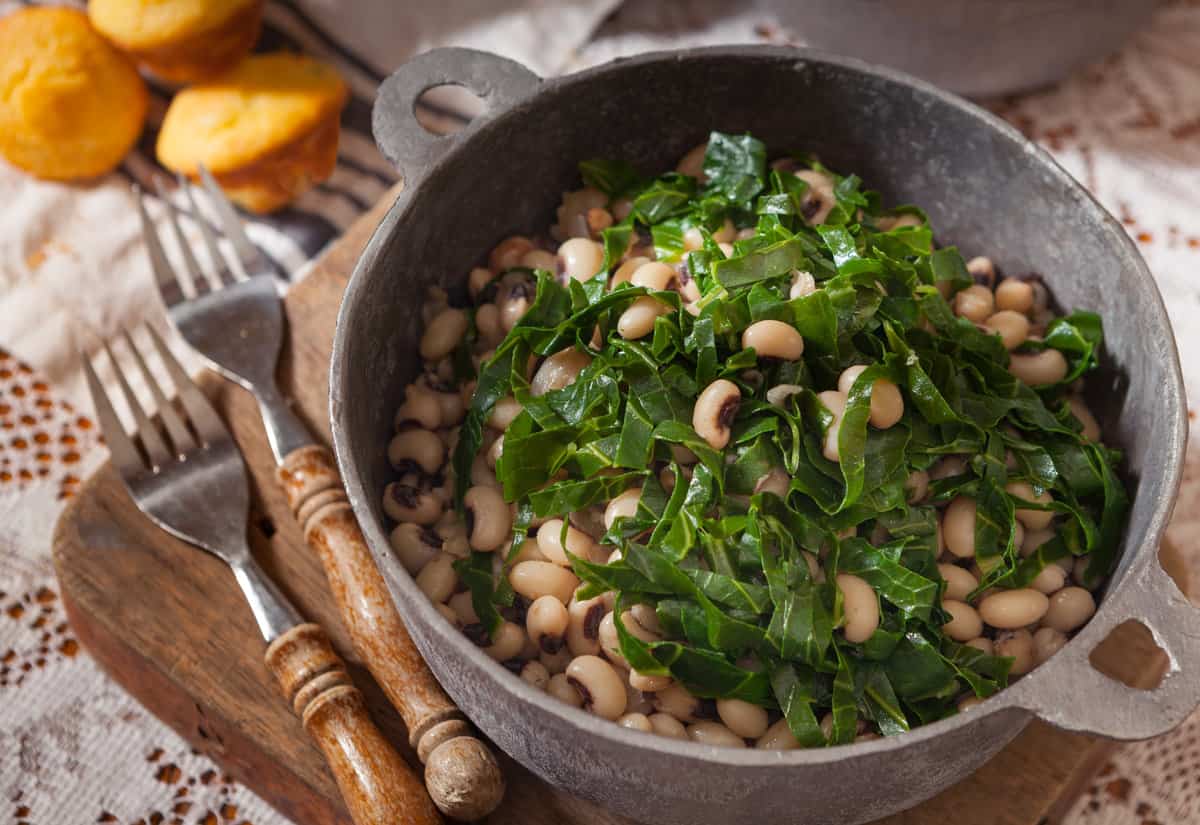 According to Southern tradition, you'll have good luck for the whole year if you have the traditional New Year's Day meal.
Why These Recipes Work
Easy to make: Each of these recipes for New Year's Day comes together quickly and are made with easy-to-find ingredients.
Perfect amounts: If you're celebrating with a small group, you might find these recipes to be the perfect amount for your gathering.
No waste: In every one of our recipes we list ways to use leftover ingredients. You can find this information at the bottom of every recipe page.
Each of the easy New Year's recipes are accessible by clicking the link for each recipe and then going to the bottom of the specific recipe's page.
What To Eat On New Year's Day
According to tradition, certain foods eaten on New Year's Day are thought to bring "good luck" to those who enjoy them. Being from the Southern United States, these items are ones we enjoy each year.
In the south, black-eyed peas are traditionally served on New Year's Day. The peas symbolize prosperity. They are said to deliver good luck because they resemble little coins. The swelling of the peas when cooked symbolizes our wealth expanding in the coming year.
Cabbage leaves are considered a sign of prosperity. The leaves are said to resemble paper money.
The color of cornbread is said to resemble gold and eating cornbread is thought to bring you spending money in the new year.
Pork is often enjoyed on New Year's day because pigs root around with their snouts moving in a forward direction which symbolizes progress for the coming year.
For dessert, consider making a bundt cake or donuts. Any cake or dessert that is made in the shape of a ring signifies a "full circle" of luck for the year ahead.
Your New Year's Menu (Choose Your Favorites)
Expert Tips
Plan your menu as soon as you can. This way you can gather the ingredients you need for the recipes you make early and not have to search for items that may be out of stock at the store.
Read through the recipes you'd like to make to determine which ones can be made ahead of time so that you are not cooking everything all at once.
If you're cooking for just you this year, bring out the nice linens and use the good plates. You are special and worth it!
In every recipe, we mention the size of the baking dish we use and recommend. For best results, use the one recommended or use a dish of similar size. All of the baking dishes we suggest using can be found on our Bakeware page. Other cooking dishes can be found on our Cookware page.
Frequently Asked Questions
Ways To Use Leftover Ingredients
In every one of our recipes, we list ways to use any leftover ingredients from our single serving and small batch recipes. To find this information, click on the recipe title, then scroll down in the post. The information can be found just before the recipe box at the bottom of the page.
Please be sure to check out these other helpful articles:
Breakfast Recipes Worth Waking Up To
Single Serving Comfort Food Recipes
If you would like additional information on the cooking and baking dishes I use in our "recipes for one", please visit our FAQ page.
To see examples of the dishes used at One Dish Kitchen, please visit our Store page.
If you've tried any of our single serving One Dish Kitchen recipes please let me know how you liked them by rating the recipe and telling me about it in the comment section below.
Also, if you take a picture please tag us on Instagram (@onedishkitchen) we'd love to see it!