All you need to know about stocking your kitchen with tools and ingredients to make cooking for yourself easy and enjoyable.
A well stocked kitchen and pantry allows you to create meals at the last minute with little or no planning. Take a protein from the freezer or refrigerator, add some spices, combine it with a vegetable or starch and a salad and within 20 to 30 minutes you will have a great tasting meal.
Once you have stocked your kitchen with things you want and use, buying groceries each week is more about replenishing what you have used the past week as well as adding specific ingredients for meals you have planned for the next week. If you are following a specific diet it is easier to keep to the diet by stocking your kitchen with foods that fit within the diet and avoid those late night or mid afternoon temptations. This is something I have done for years and has helped me avoid late evening or mid afternoon "indiscretions".
The items found on this list are the essentials that many recipes (including those on this website and in our cookbook) are built on. Keep in mind that everyone's pantry will look a little different; add or subtract items from the list based on what you love and know you will use.
You can modify most of the recipes on our website to fit what you have in your pantry and refrigerator.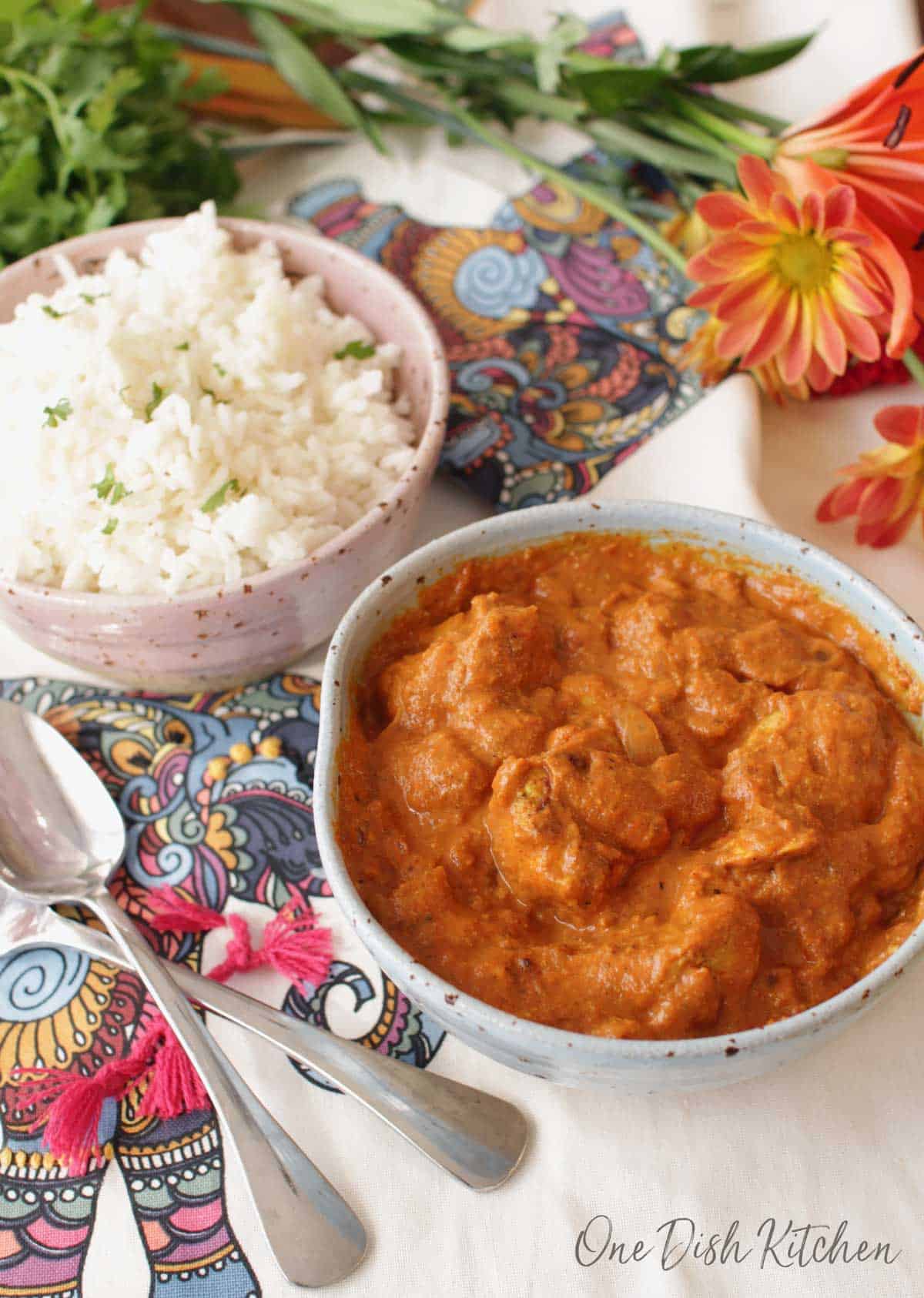 Spices and Herbs
Paying full price for spices at the grocery store can be expensive. Consider growing your own herbs and keep an eye on sales. Many mainstream grocery stores and markets have a bulk bin aisle. Buying your spices from the bulk aisles can save you lots of money. By measuring out exactly what you need and paying for a small amount, you will not be left with jars of partially used spices in your pantry. Purchasing spices this way also allows you to try a spice that you wouldn't normally buy.
Herbs and spices for your kitchen pantry:
Kosher salt
Ground black pepper
Dried basil
Italian seasoning
Smoked paprika
Cumin
Cinnamon
Garlic powder
Add your favorites
Refrigerator
Before you head to the store, look through your refrigerator. Take stock of what you already have so you don't purchase the same item again. Also note what you may be running out of so you are not stuck when cooking during the next week.
Items for your refrigerator:
Eggs
Cheese
Butter
Heavy cream
Plain yogurt
Mayonnaise
Mustard
Carrots
Bell peppers
Celery
Sausage (Italian and ground)
Onions (red and yellow)
Garlic
Tomatoes
Lettuce
Apples
Lemons
Jams or jellies
Freezer
Consider keeping pieces of meat and fish in the freezer so you can easily pull one out, defrost it, and cook it when ready. Look for packages of chicken, beef, or seafood and purchase them when they are on sale. Then, immediately divide, individually wrap and freeze pieces for later use.
Freezing and Food Safety – USDA Recommendations:
Uncooked chicken breasts: no longer than nine months
Frozen raw fish: up to 8 months
Raw shellfish: up to 12 months
Uncooked ground beef: up to 4 months
Uncooked steaks, roasts or chops: up to 8 months
Items For Your Freezer:
Frozen chicken and fish
Bread crumbs
Frozen fruit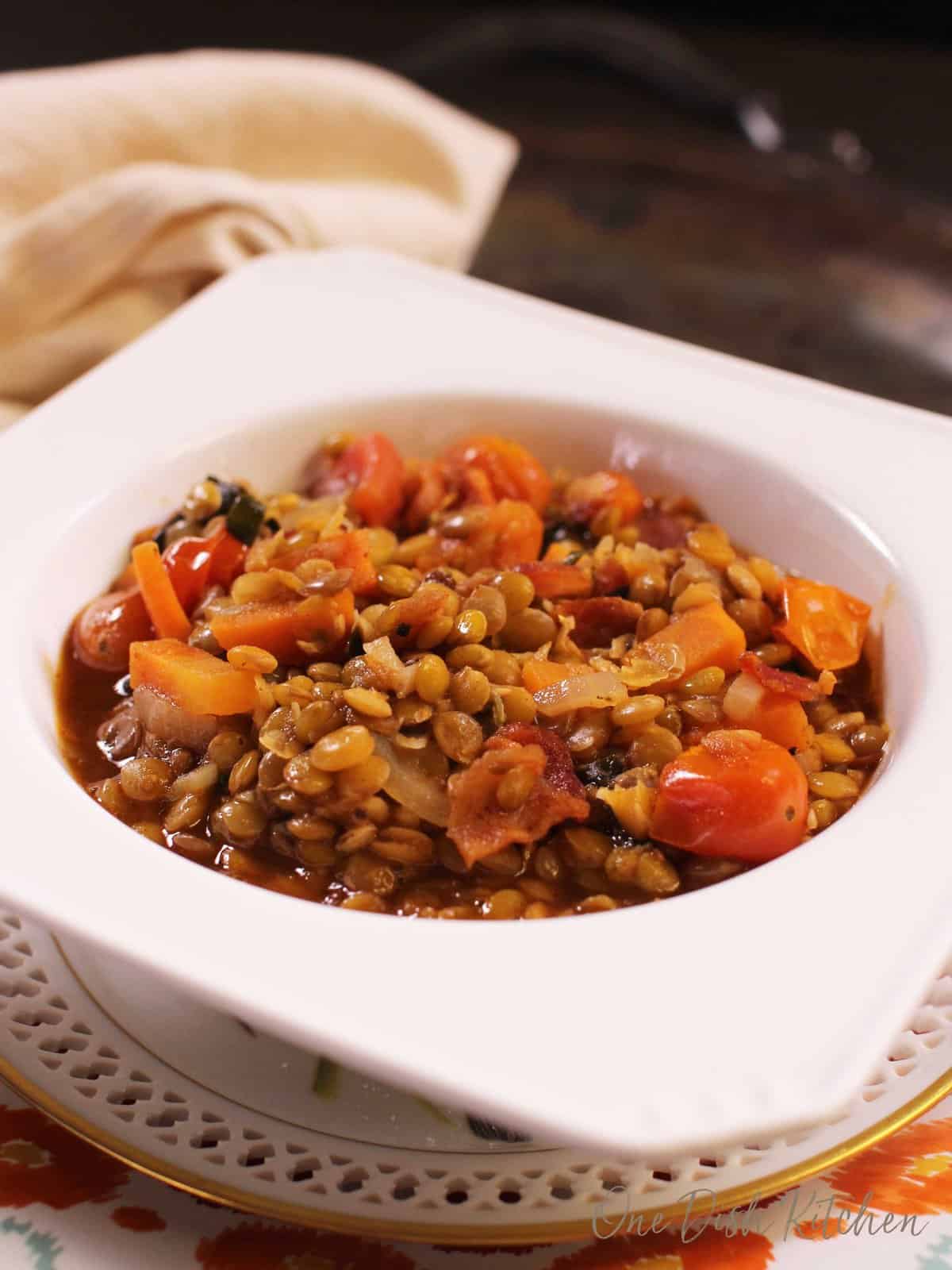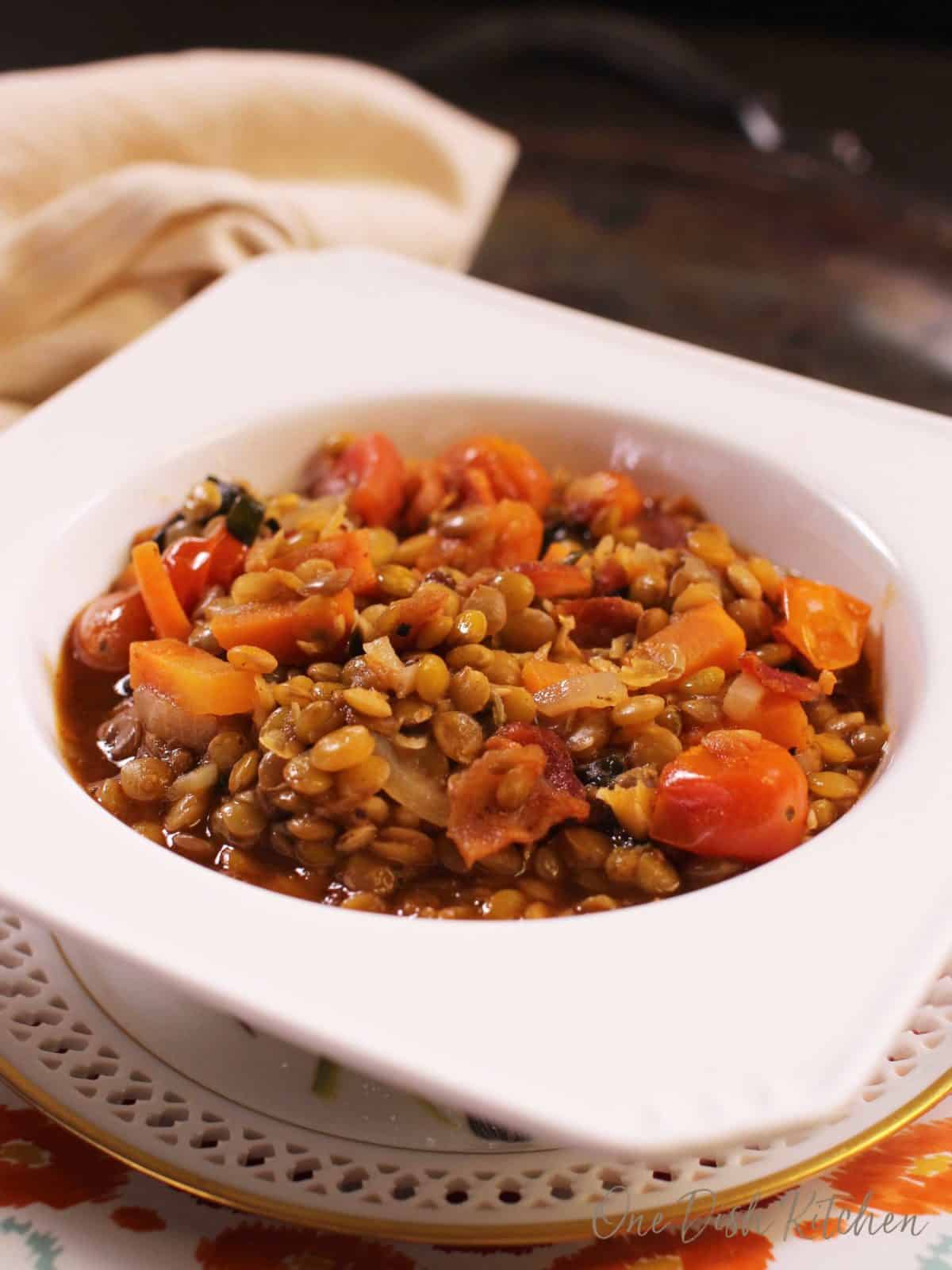 Pantry
Keep your pantry filled with canned beans, cans of diced tomatoes, rice, pasta, chicken broth and spices. Dried or canned beans, dried lentils, and rice in particular keep for a very long time. Consider purchasing extra cans of beans when you find them on sale. You might also think about purchasing larger, often less expensive bags of rice to have on hand when you want to put a meal together quickly.
Pantry Essentials
All-purpose flour
Baking powder
Baking soda
Granulated sugar
Powdered sugar
Light or dark brown sugar
Smooth peanut butter
Canned beans (red, garbanzo, and black)
Pasta (small shaped, linguine, fettuccine, and spaghetti)
Canned tuna
Canned or boxed chicken and beef broth
Vinegar (balsamic, red, white wine)
Rice (brown and white)
Tomato paste
Extra-virgin olive oil
Canola oil
If you would like more information on the cooking and baking dishes I use in our "recipes for one", please visit our FAQ page.
Examples of the dishes used at One Dish Kitchen can be found at our Store page.