The best Slow Cooker Sesame Chicken recipe for one! Made with a sweet honey sesame sauce, it's so much better than takeout and is the perfect amount if you're cooking for one.
I have to thank my daughter encouraging me to create a single serving slow cooker sesame chicken recipe. She's a big sesame chicken fan and requests it every time we order takeout.
I assure you, this dish is so much better than takeout! It's super simple and incredibly delicious. Just whisk together the few ingredients for the sauce, pour it over chicken thighs or a chicken breast and cook.
Get weekly

Cooking for One

newsletter
RELATED: 40 Easy Recipes For College Students
Chicken Crockpot Recipes
Slow cooker chicken recipes are among the easiest recipes out there – add the ingredients and walk away.
With a slow cooker, there's no heating up the kitchen and no fussing with stirring and mixing.
In the case of this sesame chicken recipe, just whisk together the ingredients for the sauce, pour it over boneless, skinless chicken thighs or a chicken breast and cook for 4 hours.
That's it!
RELATED: How To Cook Small Meals In A Large Slow Cooker
Sesame Chicken
You'll love the flavors in this single serving sesame chicken recipe. The chicken is fall-apart tender but the sauce totally makes the meal. It's heavenly and you should end up with quite a bit of sauce.
Ingredients
See recipe box below for ingredient amounts and full recipe instructions.
boneless, skinless chicken thighs or a chicken breast
salt
black pepper
honey
soy sauce
ketchup
olive oil
dried onions
garlic
red pepper flakes (optional)
cornstarch
sesame seeds (optional)
Serve over rice, if desired.
Ways To Use Leftover Ingredients
If you have any ingredients left over from this sesame chicken recipe, you might like to consider using them in any of these single serving or small batch recipes:
Other Single Serving Slow Cooker Recipes
How To Adapt Recipes To The Size Of Your Slow Cooker
For the slow cooker recipes featured on this website, I suggest using a 1.5 to 3-quart slow cooker.
If you have a large slow cooker, that's fine too. You can easily convert your large slow cooker into a small slow cooker by placing an oven safe bowl inside of the bowl of your slow cooker. This absolutely works and I've done it many times.
Rules to follow…
Be sure to use an oven safe bowl inside the big bowl of the slow cooker.
Slow cookers work best when they are about two-thirds to three-quarters full. When the bowl isn't full enough, the food will cook faster and possibly burn. If the bowl is too full, the food may need to be cooked longer than the suggested cooking times.
Always cook with the lid on your crockpot and try to avoid opening the lid while cooking.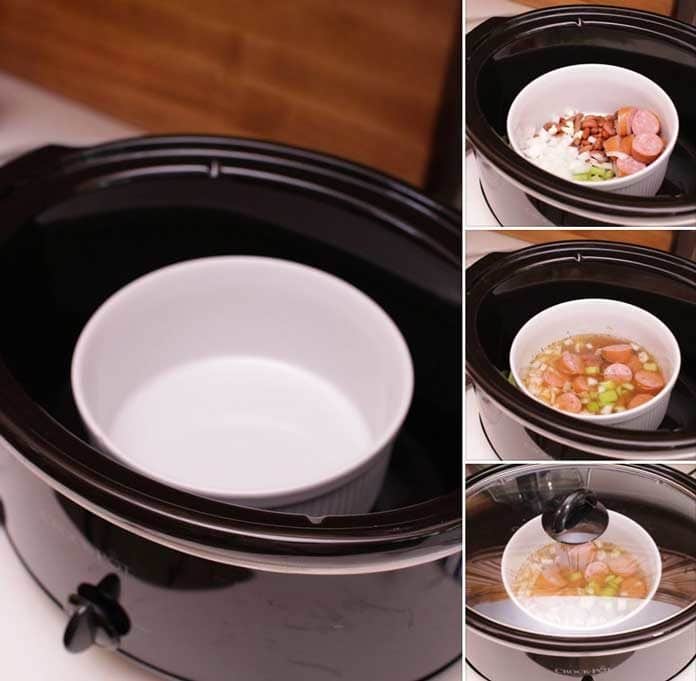 Enjoy!
For this slow cooker sesame chicken recipe, I use a 1.5 quart capacity slow cooker. For best results, please use a pan of similar size.
If you would like more information on the cooking and baking dishes I use in our "recipes for one", please visit our FAQ page.
Examples of the dishes used at One Dish Kitchen can be found at our Store page.
RELATED: Easy Comfort Food Recipes
What To Serve With Sesame Chicken
You might like to consider serving any of these single serving side dish recipes with your sesame chicken:
Recipe
Ingredients
2

boneless, skinless chicken thighs

pinch

kosher salt

pinch

black pepper

¼

cup

honey

2

tablespoons

soy sauce

2

teaspoons

ketchup

1

teaspoon

olive oil

1

teaspoon

dried onions

1

clove

garlic

, minced

pinch

red pepper flakes

(optional)

3

tablespoons

water

1

teaspoon

cornstarch

½

tablespoon

sesame seeds

1

cup

cooked rice

(optional)
Instructions
Sprinkle a pinch of salt and pepper over the tops of the chicken.

In a medium-sized bowl, whisk together the honey, soy sauce, ketchup, olive oil, dried onions, garlic and red pepper flakes.

Pour the sauce over the chicken thighs. Cover the slow cooker and cook on low until the chicken is tender, 3-4 hours.

Remove the chicken from the slow cooker and place on cutting board.

In a small bowl, whisk together the cornstarch and water. Pour the cornstarch mixture into the sauce in the slow cooker. Stir, cover and cook for an additional 10 minutes on a high temperature.

Cut the chicken into bite-sized pieces and stir into the sauce.

Top with sesame seeds and serve over rice, if desired. (See notes for the ingredients and instructions to make a single serving of rice).
Notes
TO MAKE A SINGLE SERVING OF RICE
Ingredients
1/2 cup water
1/4 teaspoon kosher salt
1/2 tablespoon butter
1/4 cup white rice 
Directions
1.  Bring the water, salt and butter to a boil in a small saucepan. Stir in the rice.
2.  Reduce to a simmer and cover with a lid.
3.  Simmer for 20 minutes or until all water is absorbed.
Nutrition
Serving:
1
serving without rice
|
Calories:
555
kcal
|
Carbohydrates:
82
g
|
Protein:
46
g
|
Fat:
13
g
|
Saturated Fat:
3
g
|
Cholesterol:
215
mg
|
Sodium:
1366
mg
|
Potassium:
735
mg
|
Fiber:
1
g
|
Sugar:
74
g
|
Vitamin A:
106
IU
|
Vitamin C:
5
mg
|
Calcium:
33
mg
|
Iron:
3
mg
The information shown is an estimate provided by an online nutrition calculator. It should not be considered a substitute for a professional nutritionist's advice.
Connecting with One Dish Kitchen
We now have a COOKING FOR ONE Facebook group.
Join us to share your favorite single serving recipes and find new ones too. We'd love to see you there!
Click HERE to join the community! 
Click HERE to sign up to receive new single serving recipes in your inbox!
This post contains affiliate links. If I like a product and that product has an affiliate program, then I will link to that product using an affiliate link. Using an affiliate link means that, at zero cost to you, I might earn a commission on a product if you buy something through my affiliate link. Click here to read my full disclosure policy.
We are a participant in the Amazon Services LLC Associates Program, an affiliate advertising program designed to provide a means for us to earn fees by linking to Amazon.com and affiliated sites.