Whip up a refreshing Watermelon Sorbet with strawberries! It's an easy, fruity recipe for a perfect summer treat. Cool down and indulge in natural sweetness!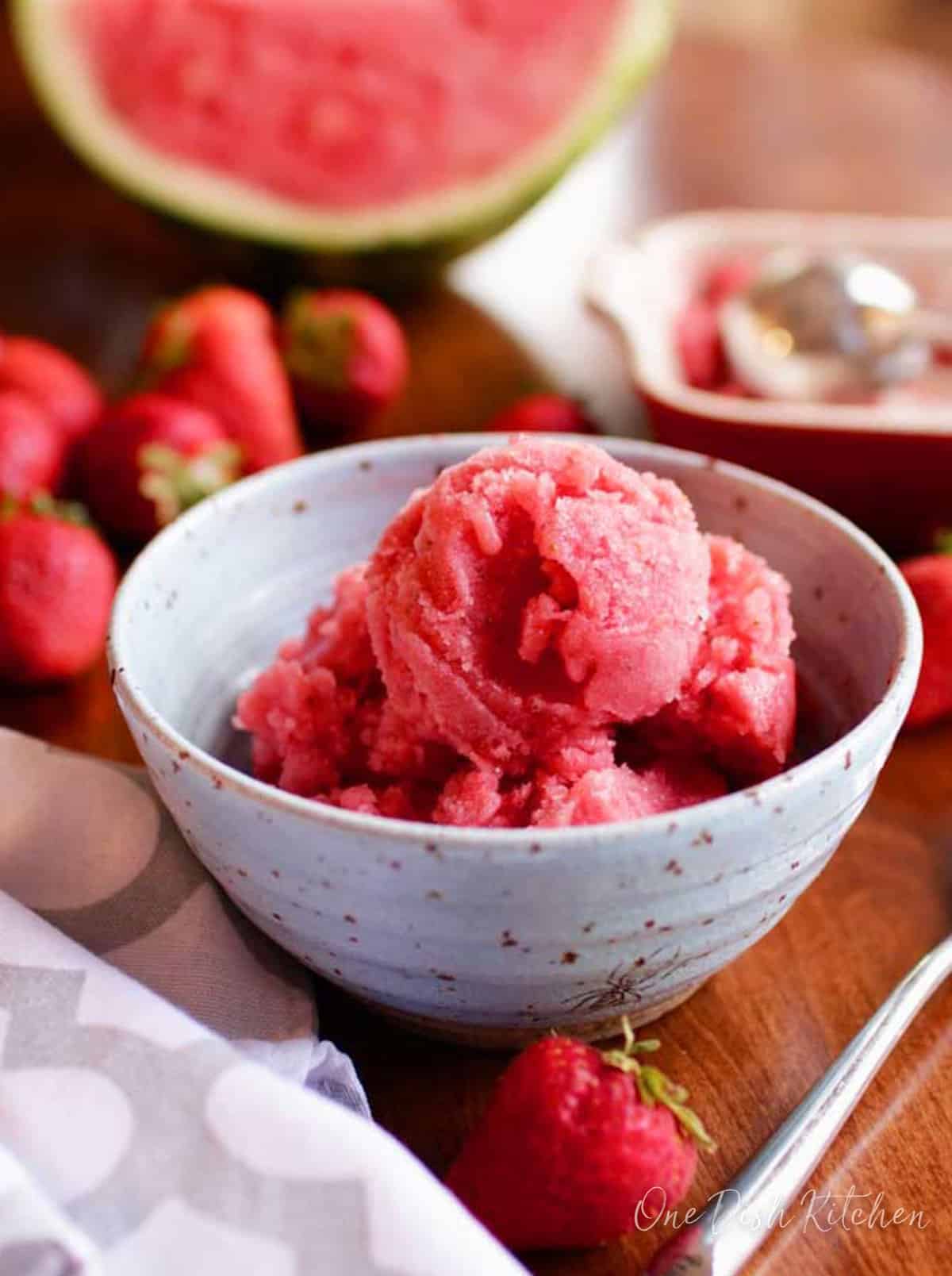 Craving a light, refreshing, and dairy-free dessert? Our single-serving Watermelon Sorbet with strawberries is the perfect treat for you! This 3-ingredient recipe is incredibly easy to make and caters to various dietary preferences. With a focus on simplicity and enjoyment, you'll love whipping up this delightful sorbet anytime you need a cool, fruity treat.
What Is A Sorbet?
A sorbet is a frozen dessert made from fruit puree, sugar or honey, and water. It has a smooth, icy texture and is typically dairy-free, making it a popular choice for those looking for a lighter or lactose-free alternative to ice cream.
The Origin And History Of Sorbets
Sorbets are believed to have originated in ancient Persia, where people would mix crushed ice with fruit juices and sweeteners to create a refreshing treat. The concept of sorbet eventually spread to Europe, where it evolved into the delicious dessert we know today.
Why This Recipe Works
This Watermelon Sorbet recipe works because it offers a simple, easy-to-follow process for creating a delightful, dairy-free frozen treat. With just three ingredients and a focus on single-serving size, you'll enjoy a fresh, perfectly balanced sorbet every time.
RELATED: 15 Easy Single Serving Dessert Recipes
Ingredients
This is just an overview of the ingredients I used and why I used them. For the full recipe please scroll down to the recipe box at the bottom of the post.
How To Make Watermelon Sorbet
Puree watermelon, strawberries, and honey in a blender, and then pour the juice into a small dish and place it in the freezer.
Expert Tips
Frequently Asked Questions
How Do You Pick A Watermelon?
* No matter the size, a watermelon should feel heavy for its size.
* Look for a yellow spot on the watermelon. Watermelons develop a yellow spot where they rest on the ground. When this spot is creamy yellow, it's ripe.
* Tap the watermelon. A ripe one will have a hollow sound, which means it is juicy and at the peak of its ripeness.
Can This Recipe Be Doubled?
Absolutely! If you'd like to make a little extra sorbet, just double the ingredients.
How Long Will Sorbet Stay Good In The Freezer?
Homemade sorbet will generally keep well for about a month, covered in the freezer.
Can I Use Different Fruit?
Definitely! Feel free to experiment with other fruits like mango, pineapple, or raspberry to create your own unique sorbet flavor.
Serving Suggestions
Serve your single-serving Watermelon Sorbet with strawberries in a chilled bowl or glass. Garnish with a sprig of fresh mint or a few fresh fruit pieces for added visual appeal. Enjoy this delightful sorbet as a refreshing snack on a hot day, a palate cleanser between courses, or as a light dessert after a meal.
Other Fruit Filled Dessert Recipes
Ways To Use Leftover Ingredients
If you have any ingredients leftover from this watermelon sorbet recipe, you might like to consider using them in any of these single serving and small batch recipes:
Freezing Watermelon
To freeze watermelon, follow these steps:
Cut the watermelon into cubes or slices, and remove any seeds.
Place the watermelon pieces on a parchment-lined baking sheet in a single layer, ensuring they don't touch each other.
Freeze the watermelon for a few hours or until fully frozen.
Transfer the frozen watermelon pieces to an airtight container or a freezer-safe plastic bag, and store them in the freezer.
Frozen watermelon can be used in smoothies and sorbets, or eaten as a cool, refreshing snack. When properly stored, frozen watermelon can last up to 10-12 months in the freezer.
If stored in the refrigerator, fresh-cut watermelon should be consumed within 3-4 days for the best quality and taste. To extend its shelf life, keep the watermelon in an airtight container or cover it with plastic wrap to prevent it from drying out or absorbing other odors from the fridge.
For more information on the cooking and baking dishes I use in our "recipes for one", please visit our FAQ page.
For examples of the dishes used at One Dish Kitchen, please visit our Store page.
If you've tried this easy watermelon sorbet or any recipe on One Dish Kitchen please let me know how you liked it by rating the recipe and telling me about it in the comment section below.
Also, if you take a picture please tag us on Instagram (@onedishkitchen) we'd love to see it!
---
Your Cooking For One Source
Because you're worth it
Recipe
Watermelon Sorbet For One
Whip up a refreshing Watermelon Sorbet with strawberries! Easy, fruity recipe for a perfect summer treat. Cool down and indulge in natural sweetness!
Ingredients
2

cups

chopped watermelon

1

cup

chopped strawberries

¼

cup

honey

3-4

tablespoons

water

(optional)
Instructions
Place the watermelon, strawberries and honey in a blender and puree until smooth. Add water if necessary to puree.

Pour watermelon/strawberry juice into a freezer-safe container or dish and freeze until firm, about 4 hours.
Notes
Expert Tips
You don't really have to use honey in this recipe if you don't want to but I find that when you puree and freeze fruit, it tastes less sweet than it would if you eat it unfrozen. You don't need to add much, just about 1/4 cup of honey is perfect.
Depending on the blender you use, you might find you need to add a little water to help the fruit puree. I use a Vitamix and don't really need to add any but when I'm making this sorbet in my other blender, I find a few tablespoons of water seems to be enough to get the fruits blended.
As for the dish I use for this dessert, I use the 5-inch baking dish I use in so many of my recipes for one. Feel free to use any freezer safe dish that will hold the juices.
Nutrition
Serving:
1
g
,
Calories:
389
kcal
,
Carbohydrates:
104
g
,
Protein:
3
g
,
Fat:
1
g
,
Saturated Fat:
1
g
,
Sodium:
8
mg
,
Potassium:
605
mg
,
Fiber:
4
g
,
Sugar:
95
g
,
Vitamin A:
1747
IU
,
Vitamin C:
110
mg
,
Calcium:
49
mg
,
Iron:
2
mg
The information shown is an estimate provided by an online nutrition calculator. It should not be considered a substitute for a professional nutritionist's advice.
Receive Our Latest Single Serving Recipes!