You won't believe how easy it is to make risotto for one person with this easy risotto recipe. This wonderful rice recipe provides you with a creamy, flavorful risotto. It's the only risotto recipe you need!
One of my favorite dishes happens to be risotto. At its simplest, risotto is a hearty, comforting rice dish where the rice is cooked in broth until it's creamy.
Since it's one of my favorite meals, I'm excited to share my easy single serving risotto recipe with you today.
Get the latest

Recipes for One.
What Is Risotto?
Risotto is a traditional Italian rice dish usually made with Arborio rice.
This short-grained rice is cooked with broth and stirred until creamy and tender. Cooking the rice slowly allows the rice to release its starches which creates a rich, velvety sauce.
Risotto is such a versatile dish, any number of ingredients can be used to enhance the flavor.
It has a reputation for being fussy, and while risotto does take a little time to cook and does require stirring the ingredients in the pan, this easy risotto actually takes no longer than about 30 minutes from start to finish.
RELATED – Comfort Foods For One
Mushroom Risotto
If you would prefer, you can leave out the mushrooms.
Step 1
Sliced mushrooms, chopped onions and garlic are softened in butter and olive oil.
Step 2
Rice is added to the pan where it absorbs the butter and oil and "toasts" in the pan.
Step 3
Add in a little white wine, then add warmed chicken broth to the pan, a little at a time, stirring until the liquid has absorbed into the rice.
This process is continued until the rice is completely cooked and the risotto is creamy.
Step 4
A handful of shredded Parmesan cheese and a dot of butter finish off the process.
Again, if you're not a fan of mushrooms feel free to leave them out.
If you want to make a vegetarian risotto, use vegetable broth instead of chicken broth.
As you can see, this is a very easy recipe. I find the time I take stirring the rice to be very relaxing, especially after a long day.
I usually pour a glass of wine, gather my ingredients for the risotto together and begin to cook – honestly, it's very therapeutic.
RELATED: The Best Soup Recipes For One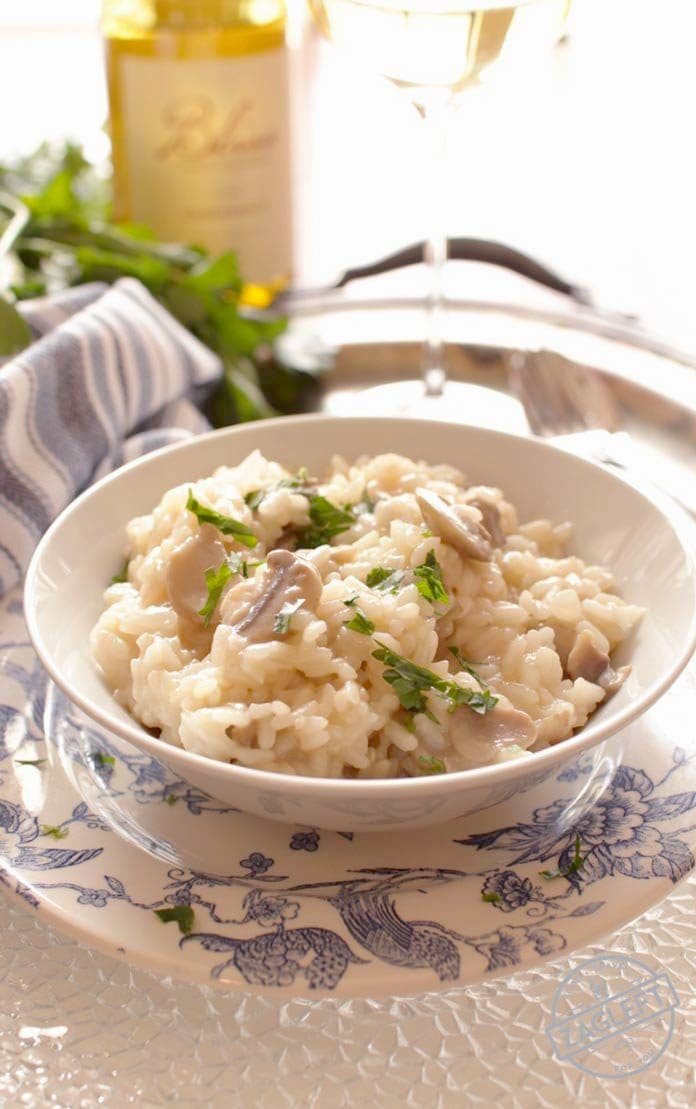 How To Make Risotto
Important Tips
First of all, you need to be sure to have all of your ingredients handy. When you're in the middle of making risotto, is not the time to search for an ingredient.
Second, the most popular rice to use here in the US is Arborio because it's easily available. This is what I use.
Third, eat the risotto as soon as it's cooked. Letting the risotto sit out will make it lose its creaminess.
This risotto recipe serves one (maybe two, if this is a side dish). If you are cooking for a group, refer to this Champagne Risotto as it serves 6 people.
I use a 10-inch skillet for this risotto recipe, For best results, please use a pan of similar size.
For more information on the cooking and baking dishes I use, please visit our FAQ page.
Examples of the dishes used at One Dish Kitchen can be found at our Store page.
Other Rice Recipes
Chocolate Rice Pudding For One
Chicken and Golden Rice For One
What To Do With Extra Mushrooms?
You will only need to use about 2-ounces of sliced mushrooms in this risotto recipe. If you purchase a package of mushrooms you might like to consider using some in any of these single serving recipes.
What To Serve With Risotto?
A big bowl of mushroom risotto makes the perfect meal, but you might like to serve it along with any of these wonderful single serving dishes:
RELATED: 15 Easy Desserts For One
Easy Risotto Recipe
Ingredients
1 1/2 – 2

cups

chicken broth

2

tablespoons

butter

, divided

1/2

tablespoon

olive oil

2

ounces

sliced mushrooms

1/4

cup

chopped onions

(3/4 ounce)

1

clove

garlic

, minced

1/4

teaspoon

kosher salt

1/2

cup

Arborio rice

2

ounces

white wine

1/4

cup

shredded Parmesan cheese
Instructions
Pour the chicken broth into a saucepan and bring it to a simmer over low heat. Make sure to have a ladle nearby.

Heat 1 tablespoon of the butter and the olive oil over medium heat in a deep sided 10-inch skillet .

When the butter has melted, add the fresh mushrooms and cook for 2 minutes.

Add the chopped onions and garlic and cook for another 2 minutes.

Season with the salt and stir in the rice. Let the oils coat the grains and continue to toast the rice, stirring for about 3 minutes.

Add the wine to the pan and simmer until the liquid has almost evaporated, about 2 minutes.

Add 1/4 cup of the broth and stir until almost completely absorbed, about 2 minutes.

Continue to add broth to the pan, 1/4 cup at a time and stir until absorbed. Continue this process until rice is tender, about 20 minutes. Taste and season with salt if necessary.

Stir in the remaining tablespoon of butter and parmesan cheese.

Remove from heat, taste and season with additional salt, if desired. Serve immediately.
Nutrition
Serving:
1
serving
|
Calories:
835
kcal
|
Carbohydrates:
88
g
|
Protein:
22
g
|
Fat:
38
g
|
Saturated Fat:
20
g
|
Cholesterol:
77
mg
|
Sodium:
1131
mg
|
Potassium:
557
mg
|
Fiber:
4
g
|
Sugar:
3
g
|
Vitamin A:
895
IU
|
Vitamin C:
5.1
mg
|
Calcium:
296
mg
|
Iron:
5.2
mg
The information shown is an estimate provided by an online nutrition calculator. It should not be considered a substitute for a professional nutritionist's advice.
Connecting with One Dish Kitchen
We now have a COOKING FOR ONE Facebook group.
Join us to share your favorite single serving recipes and find new ones too. We'd love to see you there!
Click HERE to join the community!
to join the community!
This post contains affiliate links. If I like a product and that product has an affiliate program, then I will link to that product using an affiliate link. Using this link means that, at zero cost to you, I might earn a commission on a product if you buy something through my link. Click here to read my full disclosure policy.
We are a participant in the Amazon Services LLC Associates Program, an affiliate advertising program designed to provide a means for us to earn fees by linking to Amazon.com and affiliated sites.