Easy single serving peach recipes that you can make with one peach. Crisps, scones, cobblers, and more! Perfect treats for one or two people to enjoy.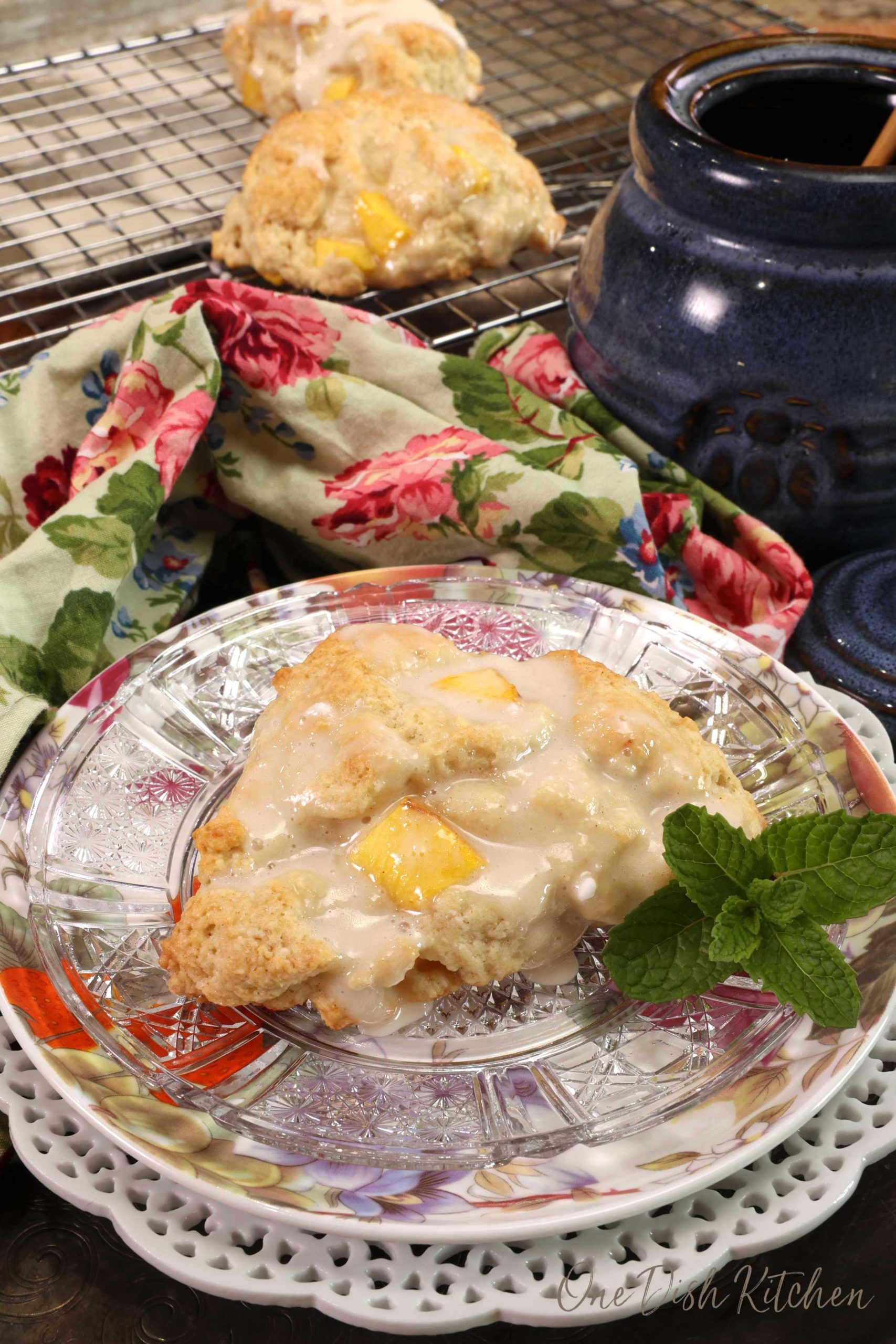 Today I'm sharing my favorite peach recipes that can each be made with just 1 peach.
I think a juicy peach eaten right over the sink is sheer summer perfection. But sometimes we'd like another way to eat them.
These recipes are made using fresh peaches, but if you don't have fresh peaches, use frozen peaches that have been thawed instead.

Why These Recipes Work
Easy to make: Each of these peach recipes comes together quickly and bake in minutes.
Made with easy-to-find ingredients: You won't find a long list of hard-to-find ingredients here. Each peach recipe is made with ingredients that are easy to find, and many might already be in your kitchen.
Made with 1 peach: If you have one peach sitting on your counter, any of these recipes would be ideal to use.
Use frozen or fresh peaches: You can make these peach recipes year-round by using frozen and thawed peaches if you don't have fresh ones.
No waste: In every one of our recipes we list ways to use leftover ingredients. You can find this information at the bottom of every recipe page.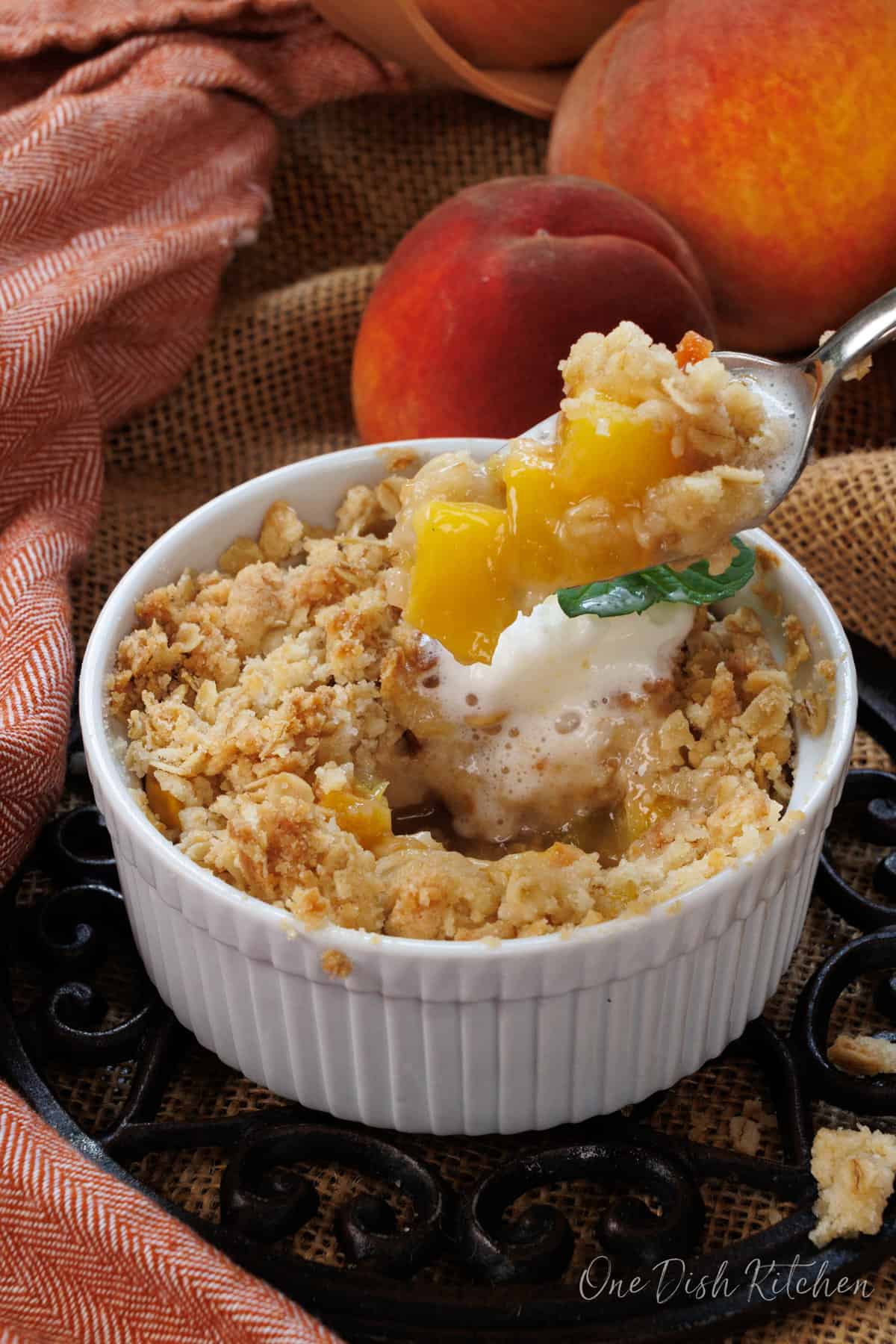 How To Pick The Perfect Peach
Look for peaches that are slightly soft and free from bruises. Peaches get sweeter and juicier as they ripen. Squeezing them will tell you what stage they're at. Gently press or squeeze near the top, if it just starts to give, it's ripe and ready to eat. 
A great peach will have a deep yellow or orange background color that is partially or fully covered by a deep red blush. Use the color of the fruit to help you choose the perfect peach.
Choose medium to large peaches.
Try to purchase tree-ripened peaches. When peaches ripen on the tree, they are sweeter. When purchasing peaches in a grocery store, look for signs indicating that they are tree-ripened. Often peaches that are picked while green will never sweeten as much as ones that ripen on the tree.
Expert Tips
Use a ripe peach: If you don't have access to fresh, juicy peaches feel free to use canned. Just make sure you drain them first.
Use the proper baking dish or pan: We mention the size of the baking dish we use in each of our recipes and link to places to purchase them.
How to soften butter: The best way to soften your butter if it's called for in a recipe is to put it out on the kitchen counter for a half-hour before you want to use it.
Single Serving Peach Recipes
Below we've gathered our most popular single serving and small batch peach recipes. Click on the boxes to go straight to the recipes.
These buttery, golden peach scones are topped with a wonderful honey vanilla glaze. It's the perfect recipe to use your fresh peaches in this summer.
Check out this recipe
A mini peach crisp made with one peach and topped with a sweet crunchy topping. Easy to make and ready in minutes!
Check out this recipe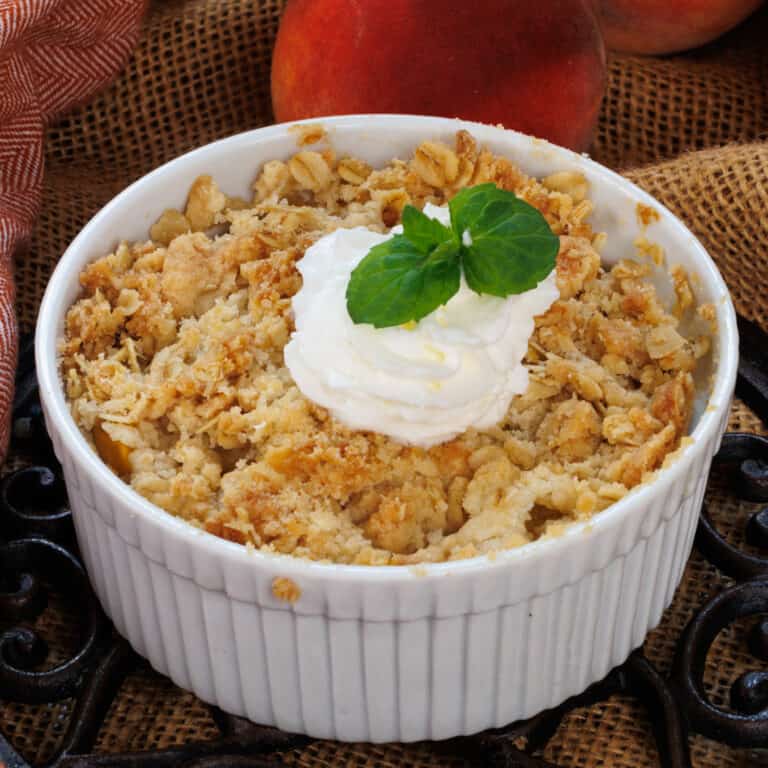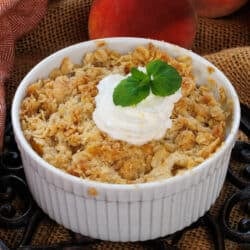 This Peach Dutch Baby is loaded with peaches and is an excellent choice for breakfast or even for dessert. Also called a puffed pancake, this single serving treat is a cross between a crepe and a pancake. It's easy to make and so incredibly delicious!
Check out this recipe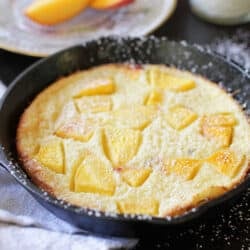 Creamy peach rice pudding filled with pecans and chopped peaches. This easy single serving dessert is made with leftover rice and can be made with fresh, frozen, or canned peaches!
Check out this recipe
This single serving peach cobbler is so easy to make from scratch and can be made with fresh or canned peaches so you can enjoy it year-round. Served alone, with whipped cream, or with ice cream, this southern fruit-filled dessert is fantastic!
Check out this recipe
Frequently Asked Questions
Can These Peach Recipes Be Doubled?
Yes. If you'd like to make additional peach treats, just double the ingredients in the recipes.
Can You Freeze Fresh Peaches?
Yes. I love to flash freeze peaches and this method is ideal for use in smoothies.

To flash freeze peaches:

1. Wash the peaches with cool water. Using a sharp knife, cut each peach in half around the pit. Gently twist each half to expose the pit. Using the knife, remove the pit from the peach. Slice the peach.
2. Place the sliced peaches on a parchment paper-lined baking sheet, making sure none of the peaches touch. Place the baking sheet in the freezer for 3 to 4 hours, or until firm.
3. Remove the tray and transfer the frozen peaches to an airtight bag. Make sure you squeeze as much air as you can from the freezer bag. Label the container with the date and freeze for up to 1 year.
What Should I Do With Leftover Ingredients?
We list ways to use up leftover ingredients in every one of our recipes. You can find this information in each of the recipe posts.
So these are our favorite single serving peach recipes that you can make with just one peach. If you've got a favorite peach recipe, please let me know in the comments below.
If you've tried one of our peach recipes, please let me know how you liked it by rating the recipe.
If you take a picture please tag us on Instagram (@onedishkitchen) we'd love to see it!
For more information on the cooking and baking dishes I use in our "recipes for one", please visit our FAQ page.