This pan fried okra is deliciously addictive! Sliced okra, browned and cooked with bacon, onions and tomatoes. Easy to make and so flavorful!
Okra is one of my favorite vegetables, I love it stewed, breaded, and especially fried. Of course, growing up in New Orleans, okra was a staple of my southern Louisiana diet. Back home, we add it to gumbo and so many other traditional Louisiana recipes. If you love okra (or if you're not sure whether or not you do), I'd urge you to try this easy pan fried okra recipe. I guarantee it will make an okra lover out of you.
Many people shy away from okra, usually because it can be a little slimy depending on how the okra is prepared. The good news is it doesn't have to be slimy. In fact, when okra is sautéed over high heat, the okra becomes crispy and you won't find any slime at all.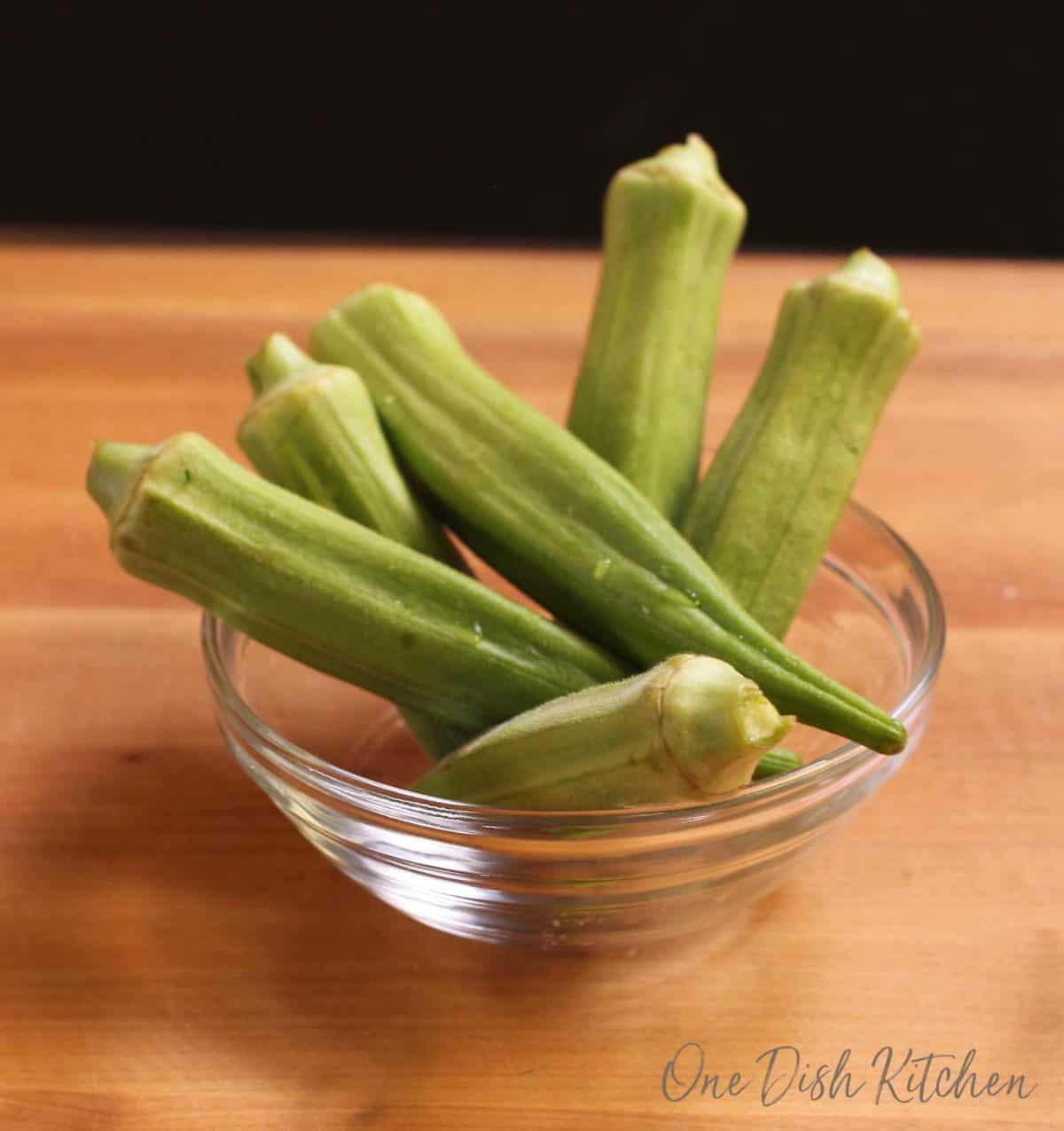 What Does Okra Taste Like?
Okra is a unique vegetable (actually, it's a fruit). Some people compare the taste to eggplant or green beans. It's very mild with an earthy, somewhat bitter taste.
Ingredients In Pan Fried Okra Without Breading
See recipe box below for ingredient amounts and full recipe instructions.
olive oil
bacon
chopped onions
okra
salt
chopped tomatoes
How To Make Pan Fried Okra and Tomatoes
Cook bacon: Cook 1 slice of bacon in a medium-sized skillet. Transfer the bacon to a plate and set aside. You can either cook the bacon strip whole of chop it into pieces before cooking.
Soften onions: Add the chopped onions to the skillet and cook until softened in the bacon grease. Remove the onions from the pan.
Add okra: If you use fresh whole okra, slice off the top and the end and cut them into ½-inch pieces. You could also use frozen and thawed chopped okra. Add the okra to the pan along with salt. Cook until okra is tender, stirring once gently, 10 minutes.
Stir in tomatoes: Add the tomatoes, the cooked bacon, and onions to the pan and cook for an additional 2 minutes. I use 4-ounces of chopped tomatoes which is the equivalent of 2 small Roma tomatoes or 8 to 10 cherry tomatoes.
Ways To Use Leftover Ingredients
If you have any ingredients left over from this fried okra recipe, you might like to consider using them in any of these single serving and small batch recipes:
How To Clean Okra
Fill a bowl with 8 cups of water and add in 4 tablespoons of apple cider vinegar. Let the okra sit in the water for 15 minutes, then rinse.
Be sure to dry the okra completely with a kitchen towel.
How To Freeze Okra
Fresh whole okra is sometimes referred to as "lady fingers" because of their long slender shape. Okra should have unblemished skin when you buy it. Follow these steps for freezing okra:
Wash and stem the okra: Wash the okra following the steps above. Cut off the stems but cut carefully so that you don't cut into the seeds.
Blanch the okra: Add the okra to boiling water. Steam them for 3 minutes.
Cool the okra: To stop the cooking process, transfer the blanched okra to a bowl filled with ice water. Let the okra pods cool for 3 minutes. Drain in a colander.
Chop the okra: You can either leave the okra whole or chop them into bite-sized pieces. Chopped okra is easier to use in soups, stews, and in this pan fried okra and tomatoes recipe. The simplest way is to leave them whole, you can always thaw and chop the okra when you're ready to use them.
Freeze the okra: Spread the okra in a single layer out on a cookie sheet and place in the freezer until frozen. This ensures that your okra freezes in individual pieces and not in clumps.
Transfer okra to a freezer bag: Once the okra is frozen, transfer to a freezer bag and return it to the freezer. Use within a year for best quality. If you're adding frozen okra to soups or stews, there is no need to thaw. Just add the okra in frozen.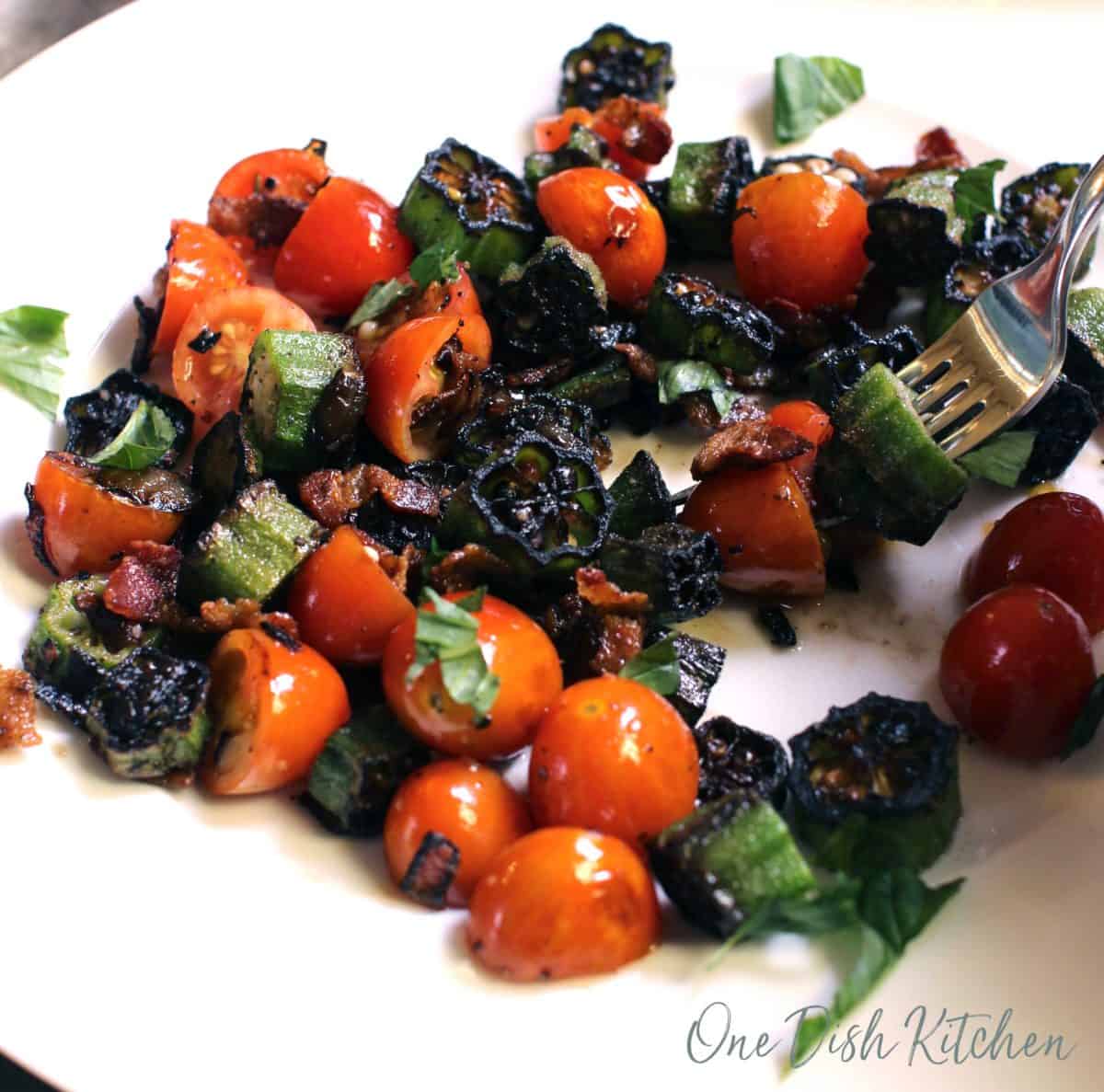 How To Know If Okra Is Good?
Fresh okra should be a vibrant green color and feel firm to the touch. If okra is spoiled, it will develop brown patches and soften. To keep okra fresh, make sure you keep it dry. Wrap it in a paper towel or brown paper bag and keep it in the vegetable crisper of your refrigerator. Okra should always be stored in the fridge.
Fresh okra can be stored in the refrigerator for 3-4 days. For long term storage, freezing is recommended.
Is Okra Good For You?
Yes, it absolutely is. Okra offers several health benefits. It's high in fiber and low in calories. Okra is high in vitamins A, C, K, and a host of B-complex vitamins. It's also high in beta-carotene and niacin.
I use a 10-inch skillet for this pan fried okra and tomatoes recipe. For best results, use a pan of similar size.
If you would like additional information on the cooking and baking dishes I use in our "recipes for one", please visit our FAQ page.
For examples of the dishes used at One Dish Kitchen, please visit our Store page.
Pan Fried Okra and Tomatoes For One
Sliced okra, browned and cooked with bacon, onions and tomatoes. This pan fried okra is deliciously addictive! Easy to make and so flavorful!
Print
Pin
Rate
See the post above for expert tips,
FAQs and ways to use leftover ingredients.
Ingredients
½

tablespoon

olive oil

1

slice

bacon

, cut into ¼-inch pieces

½

cup

chopped onions

½

pound

whole okra

, ends and tops trimmed, then cut into ½-inch pieces

¼

teaspoon

kosher salt

2

small

Roma tomatoes

, chopped (4-ounces) or use 8 grape tomatoes sliced in half.
Instructions
In a 10-inch skillet over medium heat, heat oil 30 seconds. Add bacon and cook until crisp, about 4 minutes. Use a slotted spoon to transfer the bacon to a paper towel-lined plate; set aside.

Add the onions to the bacon drippings in the skillet and cook, stirring often until caramelized, 5 minutes. Remove from the skillet and place on the plate with the bacon.

Add the okra to the skillet along with the salt. Cook for 8-10 minutes, stirring once gently, until okra is tender.

Add the bacon, onions, and tomatoes and cook for an additional 2 minutes, stirring occasionally. Serve warm.
Notes
How Much Is ½-pound Of Whole Okra?
Depending on the size of the okra, ½-pound is about 12-15 okra pods.
Nutrition Facts
Pan Fried Okra and Tomatoes For One
Amount Per Serving (1 serving)
Calories 260
Calories from Fat 99
% Daily Value*
Fat 11g17%
Cholesterol 11mg4%
Sodium 797mg35%
Potassium 454mg13%
Carbohydrates 28g9%
Protein 5g10%
Vitamin A 1033IU21%
Vitamin C 23mg28%
Calcium 31mg3%
Iron 1mg6%
* Percent Daily Values are based on a 2000 calorie diet.
The information shown is an estimate provided by an online nutrition calculator. It should not be considered a substitute for a professional nutritionist's advice.