Chocolate Rice Pudding Recipe – chocolate and cocoa powder turn traditional rice pudding into the most incredibly delicious dessert! This easy to make "rice pudding for one" is rich, creamy, and filled with chocolate. Similar to the Filipino rice dish, Champorado and can be ready in under 30 minutes!
Click
HERE
to sign up to receive the latest recipes in your inbox!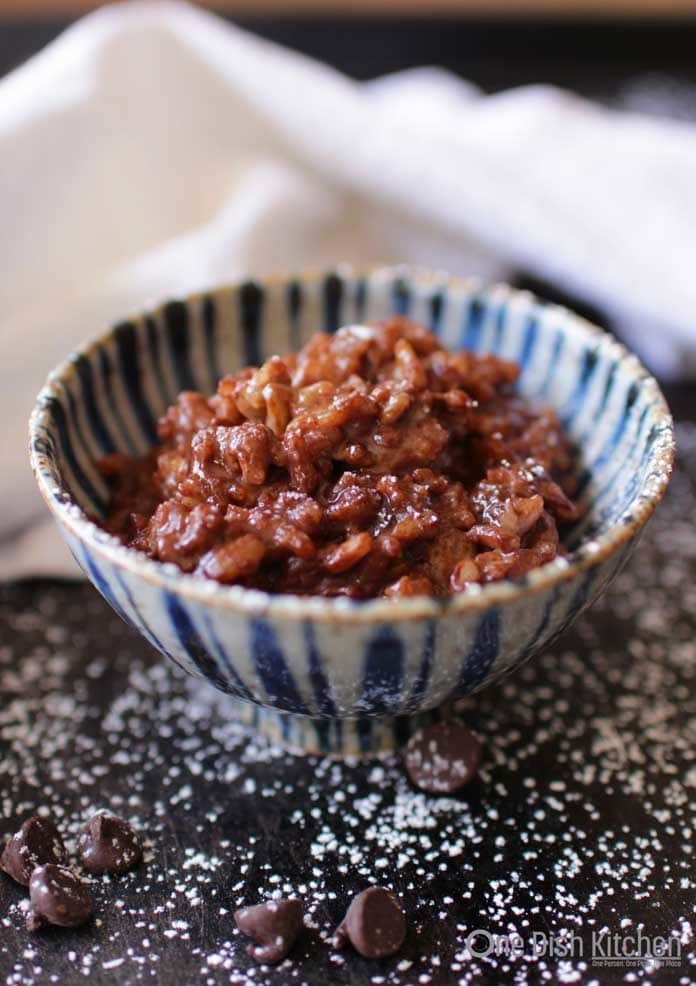 This truly incredible chocolate rice pudding is inspired by a recipe I created for our new cookbook which will be released later this year. I was experimenting with a rice pudding recipe and decided to create a rice pudding made with a little cocoa powder and a few chocolate chips. The end result was this delightful, extra creamy, chocolate rice pudding.
Rice Pudding
It might come as a surprise to know that you can make rice pudding in just 30 minutes without using leftover rice. Sure, making rice pudding from cooked rice is a great idea and a wonderful opportunity to use up leftovers. But there is something amazing that happens when you cook rice in a small pot with only a little milk, sugar, and a pinch of salt that takes rice pudding to a whole new level.
Made with just a small amount of rice and a few pantry staples, this gloriously creamy rice dessert has quickly become one of my favorites.
Chocolate rice pudding is sweet and silky smooth and certainly doesn't taste like a quick dessert. Some might be fooled into thinking that this dessert is complex, requiring hours of time and many ingredients.
It's truly amazing that a little bit of cocoa powder and a handful of chocolate chips (or chocolate chunks) can transform traditional rice pudding.
RELATED: 15 Easy Dessert Recipes For One
How To Make Rice Pudding
There are two ways to make rice pudding. Many rice puddings are baked in the oven similar to our Peaches and Cream Rice Pudding.
Others are made on the stove which results in incredibly tender, silky-smooth pudding.
I grew up with my mother making rice pudding with rice leftover from previous meals. It was a great way to use cooked rice without having to throw the rice away.
But as I mentioned, rice pudding cooked on the stove is absolutely magical and if you haven't tried it cooked this way, you simply must!
RELATED: 20 Single Serving Breakfast Recipes
Champorado (Chocolate Rice Pudding)
This chocolate rice pudding reminds me of Champorado. The two are similar but not the same.
Champorado, also called chocolate rice is a Filipino rice porridge made with chocolate and traditionally served for breakfast.
It is made with short grain glutinous rice, whereas this chocolate rice pudding is made with long grain rice.
Champorado is not always sweet and is often made with dark chocolate. It is traditionally served with dried salted fish.
Ingredients In Chocolate Rice Pudding
For this single serving chocolate rice pudding recipe, you will need:
rice
milk
sugar
salt
unsweetened cocoa powder
vanilla extract or Crème de Cacao
chocolate
Although these are the typical ingredients I use when I make chocolate rice pudding, you might like to add in a pinch of chili powder to your version. Chocolate and spice go hand in hand and I think you will find this to be a wonderful addition.
I use semi sweet chocolate chips but feel free to use bittersweet chocolate instead.
A vegan chocolate rice pudding can be made by using almond milk instead of cow's milk and by choosing vegan chocolate.
How To Make Chocolate Rice Pudding
The rice, milk, sugar, and salt cook in a small saucepan. As the rice cooks, the mixture thickens.
After about 20 minutes, remove the pan from the stove and stir in the cocoa powder, vanilla or Crème de Cacao, and the chocolate.
The pudding can be eaten warm or refrigerated and enjoyed later.
RELATED: Single Serving Comfort Food Recipes
Rice Pudding Made With Cooked Rice
If you would like to make rice pudding with cooked rice, you certainly can. As in our easy rice pudding recipe featured here at One Dish Kitchen, the rice pudding is made with a cup of cooked rice and baked in the oven for about 55 minutes.
All of the ingredients are stirred together and poured into a small baking dish.
Other Pudding Recipes
You might like to try these single serving pudding recipes:
For this chocolate rice pudding recipe, I use a 1-quart saucepan. For best results, use a pan of similar size.
If you would like additional information on the cooking and baking dishes I use in our "recipes for one", please visit our FAQ page.
For examples of the dishes used at One Dish Kitchen, please visit our Store page.
Chocolate Rice Pudding Recipe
Ingredients
1/4

cup

long grain rice

1

cup

milk

2

tablespoons

sugar

1/8

teaspoon

salt

1/2

tablespoon

cocoa powder

1/4

teaspoon

vanilla extract

(may also use Crème de Cacao instead)

2

tablespoons

semisweet chocolate chips
Instructions
Combine the rice, milk, sugar, and salt in a

1-quart saucepan

over medium heat. Bring to a boil, stirring occasionally until rice is tender and pudding is thick, 20 minutes.

Remove from heat and add cocoa powder and vanilla to the mixture.

Add the chocolate chips and stir until melted.

Transfer the mixture to a bowl and allow to cool for 10 minutes and serve warm.
Nutrition
Serving:
1
serving
|
Calories:
454
kcal
|
Carbohydrates:
90
g
|
Protein:
13
g
|
Fat:
12
g
|
Saturated Fat:
7
g
|
Cholesterol:
6
mg
|
Sodium:
399
mg
|
Potassium:
643
mg
|
Fiber:
3
g
|
Sugar:
47
g
|
Vitamin A:
10
%
|
Calcium:
33.1
%
|
Iron:
14.5
%
The information shown is an estimate provided by an online nutrition calculator. It should not be considered a substitute for a professional nutritionist's advice.
Join us to share your favorite single serving recipes and find new ones too. We'd love to see you there!
Click HERE to join the community!
Connect with One Dish Kitchen!
Be sure to follow us on social media so you never miss a post!
Facebook | Twitter | Pinterest | Instagram
This post contains affiliate links. If I like a product and that product has an affiliate program, then I will link to that product using an affiliate link. Using this link means that, at zero cost to you, I might earn a commission on a product if you buy something through my link. Click here to read my full disclosure policy.
We are a participant in the Amazon Services LLC Associates Program, an affiliate advertising program designed to provide a means for us to earn fees by linking to Amazon.com and affiliated sites.
Other recipes you might like…
Breakfast Bread Pudding For One
Old Fashioned Gingerbread For One