The baking dish you use when you're cooking for one is very important. Here are the best small baking dishes.
There are two essential things you need to know when you're baking and cooking for one. The first is that you've got to know how to reduce a recipe. Some recipes are easy to reduce and others are a little bit more involved. Don't worry, we've got you covered here. At One Dish Kitchen, we have hundreds of tested recipes that we've already scaled down for you.
The second important part is using the right baking dishes. With each recipe, I reference the baking dish or bowl I use and often provide a link to purchase it from Amazon or from another retailer. The size of the dish used in the recipes at One Dish Kitchen is very important. The recipes are developed and tested using the dish that is recommended. One thing to remember, if you use a much larger baking dish for the recipes featured, the cooking time will be different than listed in the recipe and the results may not be the same.
The 5-inch Baking Dish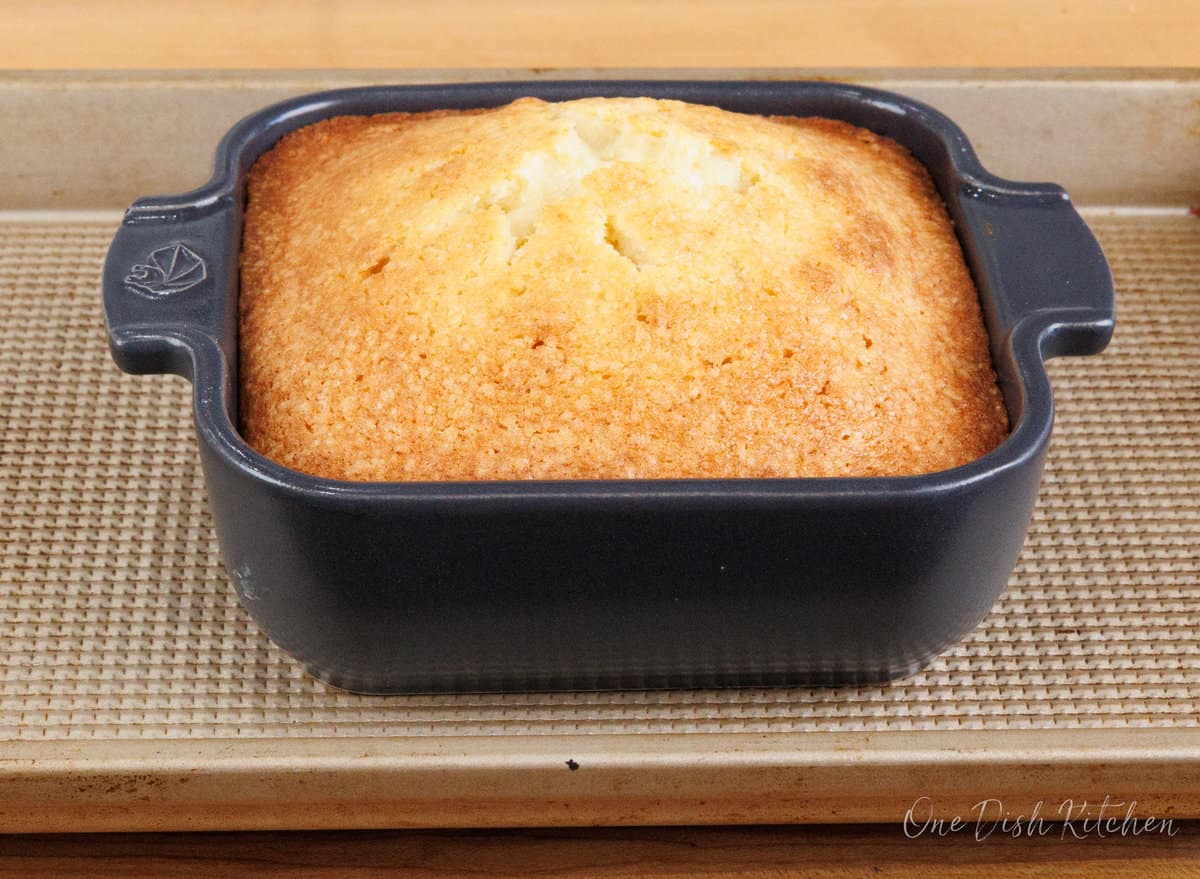 The most used and recommended baking dish on our site is the 5×5-inch baking dish which has a base of 25 square inches. It's the perfect size when cooking for one or two people. In the early days of One Dish Kitchen, we referenced the Le Creuset 5-inch x 5-inch dish. You'll still see it in many of our recipe photos. However, it appears that this wonderful little dish has been discontinued by the company. You may still be able to snag one at a discount home store, but you cannot purchase it from Amazon or from Le Creuset at this time.
This discovery led us to test other similarly sized dishes to use with the recipes requiring a 5-inch dish. The good news is that we have found a 5×5-inch baking dish that we use and love and are now selling it here on our website. This dish, made by Peugeot is absolutely beautiful. It's sturdy and deep and ideal for every one of our recipes that call for using a 5×5 or a 4×6-inch baking dish.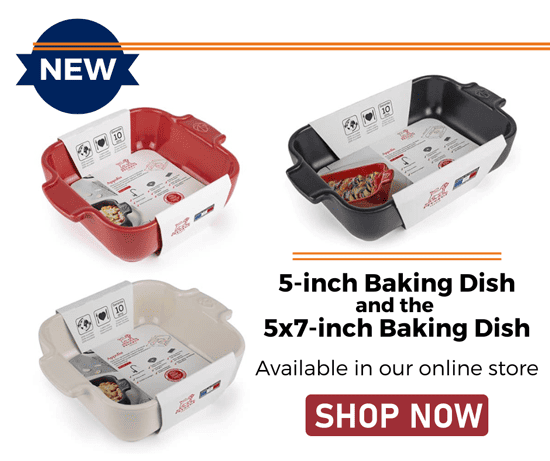 Other Dishes We Love
The Sweejar ceramic baking dish measures 6.5×4.9×1.8 and works very well in our recipes calling for a 5-inch dish. We have found this baking dish on Amazon and we link to it on the 5-inch dish section of our Store Page.
Corning Ware 5×5-inch dish
In addition, we tested 6 different small baking dishes. These dishes or similarly sized dishes should be easy for you to find in your local stores and on Amazon.
Other Dishes We Tested
We took our Mini Pound Cake recipe and baked it in 6 different baking dishes.
5 x 7-inch Le Creuset (20 fl oz)
Round 6 x 2-inch Wilton Cake Pan
Pyrex Littles: 6-inch square baking dish (24 fl oz)
Pyrex Littles: 5-inch square baking dish (18 fl oz)
Chantal: 5-inch square baking dish (16 fl oz)
Pyrex: 5 x 9-in (1.5-quart) Loaf Pan
Our Findings
Every one of these baking dishes worked perfectly! Below you will see how full the pans were with the same pound cake batter before and after baking.
I used the same baking time for each of the pans with similar results.
5×5 Peugeot – Click to purchase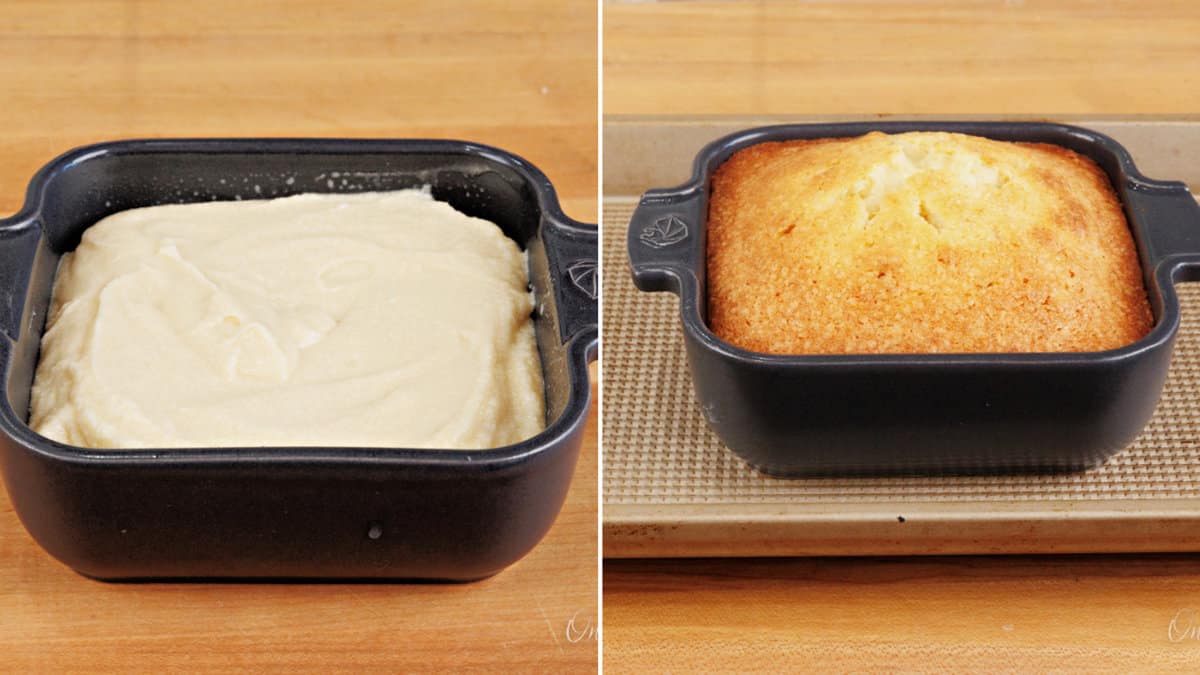 5×7 Le Creuset
Round 6-inch Wilton Cake Pan
Pyrex Littles: 6-inch square
Pyrex Littles: 5-inch square
5×5 Chantal
Pyrex 5 x 9 inch Loaf Pan
Ramekins
Many of our single serving desserts are baked and served in ramekins. We use and recommend these sizes:
8.5-ounce ramekin
10-ounce ramekin
Where To Find Small Baking Dishes
We sell the Peugeot 5×5-inch baking dish on our website.
Many other small baking dishes can be found at Amazon, and at Home Goods, Target, Walmart, Macy's, and other department stores in the US. If you live outside the United States, you should be able to find similarly sized dishes at your local stores.